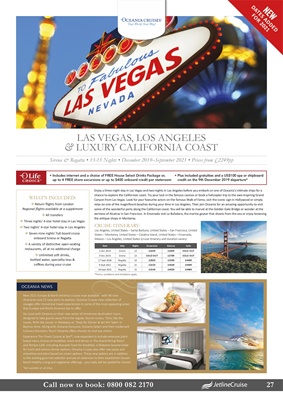 Call now to book: 0800 082 2170 27
LAS VEGAS, LOS ANGELES
& LUXURY CALIFORNIA COAST
Sirena & Regatta • 13-15 Nights • December 2019-September 2021 • Prices from £2249pp
Enjoy a three-night stay in Las Vegas and two-nights in Los Angeles before you embark on one of Oceania's intimate ships for a
chance to explore the Californian coast. Try your luck in the famous casinos or book a helicopter trip to the awe-inspiring Grand
Canyon from Las Vegas. Look for your favourite actors on the famous Walk of Fame, visit the iconic sign in Hollywood or simply
relax on one of the magnificent beaches during your time in Los Angeles. Then join Oceania for an amazing opportunity to visit
some of the wonderful ports along the Californian coast. You will be able to marvel at the Golden Gate Bridge or wonder at the
eeriness of Alcatraz in San Francisco. In Ensenada visit La Bufadora, the marine geyser that shoots from the sea or enjoy browsing
the antique shops in Monterey.
WHAT'S INCLUDED:
✥ Return flights from London
Regional flights available at a supplement
✥ All transfers
✥ Three nights' 4-star hotel stay in Las Vegas
✥ Two nights' 4-star hotel stay in Los Angeles
✥ Seven-nine nights' full-board cruise
onboard Sirena or Regatta
✥ A variety of distinctive open-seating
restaurants, all at no additional charge
✥ Unlimited soft drinks,
bottled water, speciality teas &
coffees during your cruise
CRUISE ITINERARY:
Los Angeles, United States - Santa Barbara, United States - San Francisco, United
States - Monterey, United States - Catalina Island, United States - Ensenada,
Mexico - Los Angeles, United States (cruise itinerary and duration varies)
Date Ship Nights Oceanview Balcony Suite
2 Dec 2019 Sirena 13 £2249 £2829 SOLD OUT
9 Dec 2019 Sirena 13 SOLD OUT £2789 SOLD OUT
17 Sept 2020 Regatta 14 £2929 £3599 £4499
9 Sept 2021 Regatta 15 £3159 £4039 £4999
18 Sept 2021 Regatta 15 £3149 £4029 £4989
*Terms, conditions and limitations apply.
New 2021 Europe & North America cruises now available - with 96 new
itineraries and 15 new ports to explore, Oceania Cruises new collection of
voyages offer immersive travel experiences in some of the most appealing areas
that Europe and North America has to offer.
Go Local with Oceania on their new series of immersive destination tours,
designed to take guests away from the regular tourist routes; 'Dine Like the
Locals, With the Locals' in Bordeaux or 'Shop for Dinner & Set the Table' in
Buenos Aires. Along with Oceania Exclusive, Oceania Select and their trademark
Culinary Discovery Tours† Oceania offers choices to rival any others.
Experience The Finest Cuisine at Sea™, now expanded to include extensive plantbased
menu choices at breakfast, lunch and dinner in The Grand Dining Room
and Terrace Café. Including Avocado Toast for breakfast, a Wakame Sesame Salad
for lunch and various dinner options, Oceania Cruises also offer raw juices and
smoothies and plant-based ice cream options. These new options are in addition
to the existing gourmet selection and are an extension to their established Canyon
Ranch Healthy Living and vegetarian offerings - you really will be spoiled for choice!
†Not available on all ships.
• Includes internet and a choice of FREE House Select Drinks Package or,
up to 4 FREE shore excursions or up to $400 onboard credit per stateroom • Plus included gratuities and a US$100 spa or shipboard
credit on the 9th December 2019 departure*
OCEANIA NEWS
NEW
DATES ADDED
FOR 2021