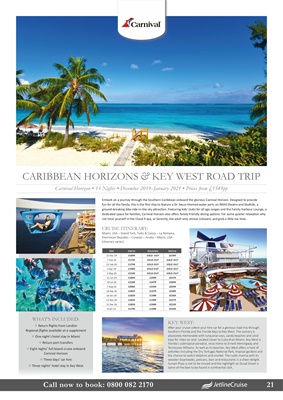 Call now to book: 0800 082 2170 21
WHAT'S INCLUDED:
✥ Return flights from London
Regional flights available at a supplement
✥ One night's hotel stay in Miami
✥ Return port transfers
✥ Eight nights' full-board cruise onboard
Carnival Horizon
✥ Three days' car hire
✥ Three nights' hotel stay in Key West
Embark on a journey through the Southern Caribbean onboard the glorious Carnival Horizon. Designed to provide
fun for all the family, this is the first ship to feature a Dr. Seuss-themed water park, an IMAX theatre and SkyRide, a
ground-breaking bike-ride-in-the-sky attraction. Featuring kids' clubs for all age ranges and the Family Harbour Lounge, a
dedicated space for families, Carnival Horizon also offers family-friendly dining options. For some quieter relaxation why
not treat yourself in the Cloud 9 spa, or Serenity, the adult only retreat onboard, and grab a little me time.
CRUISE ITINERARY:
Miami, USA - Grand Turk, Turks & Caicos - La Romana,
Dominican Republic - Curacao - Aruba - Miami, USA
(itinerary varies)
CARIBBEAN HORIZONS & KEY WEST ROAD TRIP
Carnival Horizon • 13 Nights • December 2019-January 2021 • Prices from £1549pp
Date Interior Oceanview Balcony
13 Dec 19 £1899 SOLD OUT £2399
7 Feb 20 £1749 SOLD OUT SOLD OUT
21 Feb 20 £1799 SOLD OUT SOLD OUT
3 Apr 20 £1989 SOLD OUT SOLD OUT
1 May 20 £1549 SOLD OUT SOLD OUT
12 Jun 20 £1849 £2099 £2479
10 Jul 20 £2189 £2479 £2899
7 Aug 20 £2089 £2359 £2699
18 Sep 20 £1829 £1979 £2289
16 Oct 20 £1829 £1999 £2369
13 Nov 20 £1829 £1999 £2279
11 Dec 20 £1859 £2069 £2339
8 Jan 21 £1799 £1999 £2349
KEY WEST:
After your cruise collect your hire car for a glorious road trip through
Southern Florida and the Florida Keys to Key West. The scenery is
absolutely memorable with turquoise seas, sandy beaches and coral
bays for miles on end. Located closer to Cuba than Miami, Key West is
Florida's subtropical paradise, once home to Ernest Hemingway and
Tennessee Williams. As well as its beaches, Key West offers a host of
activities including the Dry Tortugas National Park, tropical gardens and
the chance to watch dolphins and snorkel. The rustic marina with its
wooden boardwalks, pelicans, bars and restaurants is a sheer delight.
Sunset Plaza is not to be missed and the nightlight on Duval Street is
some of the best to be found in continental USA.