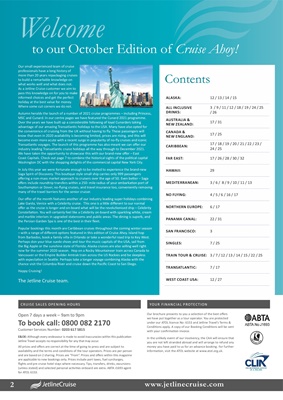 2 Open 7 days a week - 9am to 9pm
To book call: 0800 082 2170
Customer Services Number: 0203 617 5815
E&OE: Although every endeavour is made to avoid inaccuracies within this publication
Jetline Travel accepts no responsibility for any that may occur.
All prices and offers are correct at the time of going to press and are subject to
availability and the terms and conditions of the tour operators. Prices are per person
and are based on 2 sharing. Prices are "From". Prices and offers within this magazine
are applicable to new bookings only. Prices include port taxes, fuel surcharges,
flights and pre cruise hotel stays where necessary. Tips, transfers, drinks, excursions
(unless stated) and selected personal activities onboard are extra. ABTA J1693 agent
for ATOL 6153.
CRUISE SALES OPENING HOURS
Our brochure presents to you a selection of the best offers
we have put together as a tour operator. You are protected
under our ATOL licence No: 6153 and Jetline Travel's Terms &
Conditions apply. A copy of our Booking Conditions will be sent
with your confirmation invoice.
In the unlikely event of our insolvency, the CAA will ensure that
you are not left stranded abroad and will arrange to refund any
money you have paid to us for an advance booking. For further
information, visit the ATOL website at www.atol.org.uk.
YOUR FINANCIAL PROTECTION
Our small experienced team of cruise
professionals have a long history of
more than 20 years repackaging cruises
to build a remarkable knowledge on
what works well and what does not.
As a Jetline Cruise customer we aim to
pass this knowledge on for you to make
informed choices and get the perfect
holiday at the best value for money.
Where some cut corners we do not.
Autumn heralds the launch of a number of 2021 cruise programmes - including Princess,
MSC and Cunard. In our centre pages we have featured the Cunard 2021 programme.
Over the years we have built up a considerable following of loyal Cunarders taking
advantage of our amazing Transatlantic holidays to the USA. Many have also opted for
the convenience of cruising from the UK without having to fly. These passengers will
know that even in 2020 availability is becoming limited, prices are rising, and this will
become even more acute with a recent surge in popularity of no-fly cruises and iconic
Transatlantic voyages. The launch of this programme has also meant we can offer our
industry leading Transatlantic cruise holidays all the way through to December 2021.
We have taken the opportunity to showcase this with our brand-new offer - East
Coast Capitals. Check out page 7 to combine the historical sights of the political capital
Washington DC with the shopping delights of the commercial capital New York City.
In July this year we were fortunate enough to be invited to experience the brand-new
Saga Spirit of Discovery. This boutique style small ship carries only 999 passengers
offering a non-mass market approach to cruisers over the age of 50. Even better - Saga
offers include roundtrip transfers within a 250- mile radius of your embarkation port of
Southampton or Dover, no-flying cruises, and travel insurance too, conveniently removing
many of the travel barriers for the senior cruiser.
Our offer of the month features another of our industry leading super holidays combining
Lake Garda, Venice with a Celebrity cruise. This one is a little different to our normal
offer as the cruise is longer and on-board what will be the revolutionised ship - Celebrity
Constellation. You will certainly feel like a Celebrity on-board with sparkling white, cream
and marble interiors in upgraded staterooms and public areas. The dining is superb, and
the Persian Garden Spa is one of the best in their fleet.
Popular bookings this month are Caribbean cruises throughout the coming winter season
- with a range of different options featured in this edition of Cruise Ahoy. Island hop
from Barbados, book a family villa in Orlando or take a wonderful road trip to Key West.
Perhaps don your blue suede shoes and tour the music capitals of the USA, sail from
the Big Apple or the sunshine state of Florida. Alaska cruises are also selling well right
now for the summer 2020 season. Hop on a Rocky Mountaineer train across Canada to
Vancouver or the Empire Builder Amtrak train across the US Rockies and be sleepless
with expectation in Seattle. Perhaps take a longer voyage combining Alaska with the
chance visit the Columbia River and cruise down the Pacific Coast to San Diego.
Happy Cruising!
The Jetline Cruise team.
to our October Edition of Cruise Ahoy!
Welcome
ALASKA: 12 / 13 / 14 / 15
ALL INCLUSIVE
DRINKS:
3 / 9 / 11 / 12 / 18 / 19 / 24 / 25
/ 26
AUSTRALIA &
NEW ZEALAND:
17 / 31
CANADA &
NEW ENGLAND:
17 / 25
CARIBBEAN:
17 / 18 / 19 / 20 / 21 / 22 / 23 /
24 / 25
FAR EAST: 17 / 26 / 28 / 30 / 32
HAWAII: 29
MEDITERRANEAN: 3 / 6 / 8 / 9 / 10 / 11 / 13
NO FLYING: 4 / 5 / 6 / 16 / 17
NORTHERN EUROPE: 6 / 17
PANAMA CANAL: 22 / 31
SAN FRANCISCO: 3
SINGLES: 7 / 25
TRAIN TOUR & CRUISE: 3 / 7 / 12 / 13 / 14 / 15 / 22 / 25
TRANSATLANTIC: 7 / 17
WEST COAST USA: 12 / 27
Contents