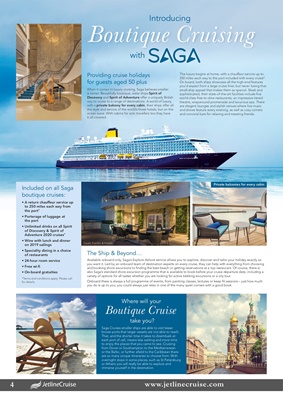 4
Providing cruise holidays
for guests aged 50 plus
When it comes to luxury cruising, Saga believes smaller
is better. Beautifully boutique, sister ships Spirit of
Discovery and Spirit of Adventure offer a uniquely British
way to cruise to a range of destinations. A world of luxury,
with a private balcony for every cabin, their ships offer all
the style and service of the world's finest hotels, but on the
ocean wave. With cabins for solo travellers too they have
it all covered.
The luxury begins at home, with a chauffeur service up to
250 miles each way to the port included with every cruise*.
On board, both ships showcase all the high-end features
you'd expect from a large cruise liner, but never losing that
small-ship appeal that makes them so special. Sleek and
sophisticated, their state-of-the-art facilities include five
world-class free-to-dine restaurants, an impressive tiered
theatre, wraparound promenade and luxurious spa. There
are elegant lounges and stylish venues where live music
and shows feature every evening, as well as cosy corners
and convivial bars for relaxing and meeting friends.
Included on all Saga
boutique cruises:
• A return chauffeur service up
to 250 miles each way from
the port*
• Porterage of luggage at
the port
• Unlimited drinks on all Spirit
of Discovery & Spirit of
Adventure 2020 cruises*
• Wine with lunch and dinner
on 2019 sailings
• Speciality dining in a choice
of restaurants
• 24-hour room service
• Free wi-fi
• On-board gratuities
*Terms and conditions apply. Please call
for details.
Introducing
Boutique Cruising
with
Saga Cruises smaller ships are able to visit lesser
known ports that larger vessels are not able to reach.
That, and the shorter time it takes to disembark at
each port of call, means less waiting and more time
to enjoy the places that you came to see. Cruising
from Dover or Southampton to the Mediterranean
or the Baltic, or further afield to the Caribbean there
are so many unique itineraries to choose from. With
overnight stops in some places, such as St Petersburg
or Athens you will really be able to explore and
immerse yourself in the destination.
Boutique Cruise
take you?
Where will your
The Ship & Beyond…
Available onboard only, Saga's Explore Ashore service allows you to explore, discover and tailor your holiday exactly as
you want it. Led by an onboard team of destination experts on every cruise, they can help with everything from choosing
and booking shore excursions to finding the best beach or getting reservations at a top restaurant. Of course, there is
also Saga's standard shore excursion programme that is available to book before your cruise departure date, including a
variety of options for all tastes whether you are looking for active trekking excursions or a city tour.
Onboard there is always a full programme of events, from painting classes, lectures or keep fit sessions - just how much
you do is up to you; you could always just relax in one of the many quiet corners with a good book.
Private balconies for every cabin
Credit: Franklin & Franklin Credit: Franklin & Franklin