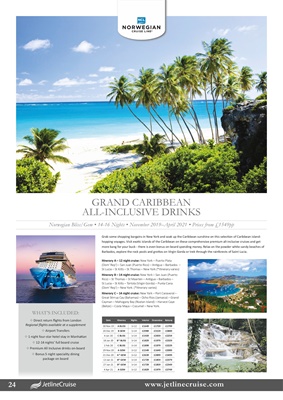 24
GRAND CARIBBEAN
ALL-INCLUSIVE DRINKS
Norwegian Bliss/Gem • 14-16 Nights • November 2019-April 2021 • Prices from £1549pp
Itinerary A - 12 night cruise: New York - Puerto Plata
(Dom' Rep') - San Juan (Puerto Rico) - Antigua - Barbados -
St Lucia - St Kitts - St Thomas - New York (*Itinerary varies)
Itinerary B - 14 night cruise: New York - San Juan (Puerto
Rico) - St Thomas - St Maarten - Antigua - Barbados -
St Lucia - St Kitts - Tortola (Virgin Gorda) - Punta Cana
(Dom' Rep') - New York. (*Itinerary varies)
Itinerary C - 14 night cruise: New York - Port Canaveral -
Great Stirrup Cay (Bahamas) - Ocho Rios (Jamaica) - Grand
Cayman - Mahogany Bay (Roatan Island) - Harvest Caye
(Belize) - Costa Maya - Cozumel - New York.
Grab some shopping bargains in New York and soak up the Caribbean sunshine on this selection of Caribbean islandhopping
voyages. Visit exotic islands of the Caribbean on these comprehensive premium all-inclusive cruises and get
more bang for your buck - there is even bonus on-board spending money. Relax on the powder white sandy beaches of
Barbados, explore the rock pools and grottos on Virgin Gorda or trek through the rainforests of Saint Lucia.
WHAT'S INCLUDED:
✥ Direct return flights from London
Regional flights available at a supplement
✥ Airport Transfers
✥ 1 night four-star hotel stay in Manhattan
✥ 12-14 nights' full board cruise
✥ Premium All Inclusive drinks on-board
✥ Bonus 5 night speciality dining
package on board
Date Itinerary Nights Interior Oceanview Balcony
30 Nov 19 A BLISS 1+12 £1649 £1739 £1799
20 Dec 19 B GEM 1+14 £2989 £3159 £3889
4 Jan 20 C BLISS 1+14 £1929 £2059 £2259
18 Jan 20 B* BLISS 1+14 £1829 £1979 £2329
1 Feb 20 C BLISS 1+14 £1899 £1979 £2229
29 Nov 20 A GEM 1+12 £1549 £1649 £2089
21 Dec 20 A* GEM 1+12 £2639 £2899 £3499
13 Jan 21 B* GEM 1+14 £1729 £1859 £2379
27 Jan 21 B* GEM 1+14 £1729 £1859 £2349
4 Apr 21 A GEM 1+12 £1829 £1979 £2749