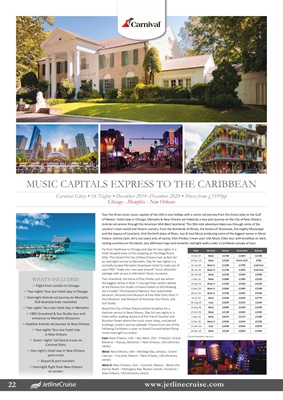 22
WHAT'S INCLUDED:
✥ Flight from London to Chicago
✥ Two nights' four-star hotel stay in Chicago
✥ Overnight Amtrak rail journey to Memphis
(full-board/private roomette)
✥ Two nights' four-star hotel stay in Memphis
✥ FREE Graceland & Sun Studio tour and
entrances to Memphis Museums
✥ Daytime Amtrak rail journey to New Orleans
✥ Two nights' four-star hotel stay
in New Orleans
✥ Seven nights' full-board cruise on
Carnival Glory
✥ One night's hotel stay in New Orleans
post cruise
✥ Airport & port transfers
✥ Overnight flight from New Orleans
to London
Tour the three iconic music capitals of the USA in one holiday with a scenic rail journey from the Great Lakes to the Gulf
of Mexico. Hotel stays in Chicago; Memphis & New Orleans are linked by a two-part journey on the City of New Orleans
Amtrak rail service through the American Mid-West heartland. This 926-mile adventure takes you through some of the
country's most varied and historic scenery; from the farmlands of Illinois, the forests of Tennessee, the mighty Mississippi
and the bayous of Louisiana. Visit the birth place of Blues, Jazz & Soul Music producing some of the biggest names in Music
history: Johnny Cash, Jerry Lee Lewis and, of course, Elvis Presley. Crown your USA Music Cities tour with breakfast on deck,
sizzling sunshine on the beach, lazy afternoon naps and romantic midnight walks under a Caribbean canopy of stars.
Fly from Heathrow to Chicago and stay for two nights in a
hotel situated close to the shopping on the Magnificent
Mile. Then board the City of New Orleans train at 8pm for
an overnight service to Memphis. Stay for two nights in a
centrally located Memphis Downtown Hotel to make use of
your FREE "make your own way around" music attraction
package with access to Memphis' Music museums.
Tour Graceland, the home of Elvis Presley and see where
the biggest names in Rock 'n' Soul got their careers started
at the famous Sun Studio. Entrance tickets to the following
are included: The Graceland Mansion Tour, Automobile
Museum, Sincerely Elvis Museum & Elvis After Dark, Rock 'n'
Soul Museum, Stax Museum of American Soul Music, and
Sun Studio.
Board the City of New Orleans before breakfast for a
daytime service to New Orleans. Stay for two nights in a
hotel within walking distance of the French Quarter and
Bourbon Street where the music never stops, and period
buildings crowd a narrow sidewalk. Choose from one of the
following Caribbean cruises on board Carnival before flying
home overnight to London:
East: New Orleans, USA - Key West, USA - Freeport, Grand
Bahama - Nassau, Bahamas - New Orleans, USA (itinerary
varies)
West: New Orleans, USA - Montego Bay, Jamaica - Grand
Cayman - Cozumel, Mexico - New Orleans, USA (itinerary
varies)
West II: New Orleans, USA - Cozumel, Mexico - Belize (for
Barrier Reef) - Mahogany Bay, Roatan Islands, Honduras -
New Orleans, USA (itinerary varies)
MUSIC CAPITALS EXPRESS TO THE CARIBBEAN
Carnival Glory • 16 Nights • December 2019-December 2020 • Prices from £1599pp
Chicago - Memphis - New Orleans
Date Itinerary Interior Oceanview Balcony
8 Dec 19 West £1769 £1929 £2149
22 Dec 19 West £2339 SOLD OUT 2769
12 Jan 20 West II £1599 £1799 Sold Out
26 Jan 20 West II £1749 £1829 Sold Out
16 Feb 20 West £2199 £2349 £2589
1 Mar 20 West £1889 £1999 £2259
19 Apr 20 West II £1939 £2189 £2329
3 May 20 West II £1869 £1999 £2189
28 Jun 20 West II £2199 £2359 £2569
19 Jul 20 West £2439 £2549 £2779
30 Aug 20 East £2039 £2139 £2329
13 Sep 20 West £2099 £2199 £2399
25 Oct 20 West £2139 £2249 £2439
1 Nov 20 West £2079 £2179 £2389
6 Dec 20 West II £2039 £2149 £2329
13 Dec 20 East £2499 £2649 £2879
20 Dec 20 West £2549 £2699 £2959
Cruise itineraries may vary