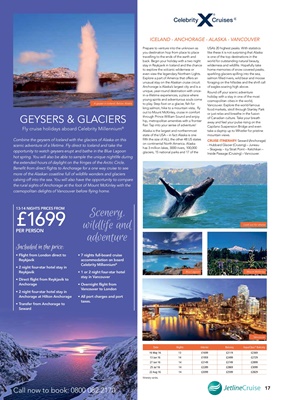 GEYSERS & GLACIERS
Fly cruise holidays aboard Celebrity Millennium®
Combine the geysers of Iceland with the glaciers of Alaska on this
scenic adventure of a lifetime. Fly direct to Iceland and take the
opportunity to watch geysers erupt and bathe in the Blue Lagoon
hot spring. You will also be able to sample the unique nightlife during
the extended hours of daylight on the fringes of the Arctic Circle.
Benefit from direct flights to Anchorage for a one way cruise to see
more of the Alaskan coastline full of wildlife wonders and glaciers
calving off into the sea. You will also have the opportunity to compare
the rural sights of Anchorage at the foot of Mount McKinley with the
cosmopolitan delights of Vancouver before flying home.
Included in the price:
• Flight from London direct to
Reykjavik
• 2 night four-star hotel stay in
Reykjavik
• Direct flight from Reykjavik to
Anchorage
• 2 night four-star hotel stay in
Anchorage at Hilton Anchorage
• Transfer from Anchorage to
Seward
13-14 NIGHTS PRICES FROM
£1699PER PERSON
Prepare to venture into the unknown as
you destination hop from place to place
travelling to the ends of the earth and
back. Begin your holiday with a two night
stay in Reykjavik in Iceland and the chance
to explore the volcanic wilderness or
even view the legendary Northern Lights.
Explore a part of America that offers an
unusual stay on the Alaskan cruise circuit.
Anchorage is Alaska's largest city and is a
unique, year-round destination with oncein-a-lifetime experiences, a place where
young spirits and adventurous souls come
to play. Step foot on a glacier, fish for
king salmon, hike to a mountain vista, fly
out to Mount McKinley, cruise in comfort
through Prince William Sound and enjoy
hip, metropolitan amenities with a frontier
flair. Tap into your sense of adventure!
Alaska is the largest and northernmost
state of the USA - in fact Alaska is one
fifth the size of ALL the other 48 US states
on continental North America. Alaska
has 3 million lakes, 3000 rivers, 100,000
glaciers, 15 national parks and 17 of the
USA's 20 highest peaks. With statistics
like these it is not surprising that Alaska
is one of the top destinations in the
world for outstanding natural beauty,
wilderness and wildlife. Hopefully take
home memories of snow covered peaks,
sparkling glaciers spilling into the sea,
salmon filled rivers, wild bear and moose
foraging on the hillsides and the shrill call
of eagles soaring high above.
Round off your scenic adventure
holiday with a stay in one of the most
cosmopolitan cities in the world,
Vancouver. Explore the world-famous
food markets, stroll through Stanley Park
or just relax and breathe in the fusion
of Canadian culture. Take your breath
away and feel your pulse rising on the
Capilano Suspension Bridge and even
take a daytrip up to Whistler for pristine
mountain views.
CRUISE ITINERARY: Seward (Anchorage)
- Hubbard Glacier (Cruising) - Juneau
- Skagway - Icy Strait Point - Ketchikan -
Inside Passage (Cruising) - Vancouver. 17
Call now to book: 0800 082 2170
A geyser in Iceland. Below: Alaska
Scenery,
wildlife and
adventure
Date Nights Interior Balcony AquaClass® Balcony
16 May 16 13 £1699 £2119 £2369
13 Jun 16 14 £1959 £2499 £2729
27 Jun 16 14 £2149 £2749 £2899
25 Jul 16 14 £2289 £2869 £3099
22 Aug 16 14 £2099 £2599 £2829
Itinerary varies.
Blue Lagoon Mount McKinley
• 7 nights full-board cruise
accommodation on board
Celebrity Millennium®
• 1 or 2 night four-star hotel
stay in Vancouver
• Overnight flight from
Vancouver to London
• All port charges and port
taxes.
Look out for whales
ICELAND - ANCHORAGE - ALASKA - VANCOUVER
Vancouver