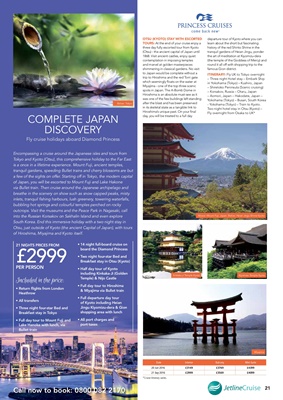 Below: Tokyo
COMPLETE JAPAN
DISCOVERY
Fly cruise holidays aboard Diamond Princess
Encompassing a cruise around the Japanese isles and tours from
Tokyo and Kyoto (Otsu), this comprehensive holiday to the Far East
is a once in a lifetime experience. Mount Fuji, ancient temples,
tranquil gardens, speeding Bullet trains and cherry blossoms are but
a few of the sights on offer. Starting off in Tokyo, the modern capital
of Japan, you will be escorted to Mount Fuji and Lake Hakone
via Bullet train. Then cruise around the Japanese archipelago and
breathe in the scenery on show such as snow capped peaks, misty
inlets, tranquil fishing harbours, lush greenery, towering waterfalls,
bubbling hot springs and colourful temples perched on rocky
outcrops. Visit the museums and the Peace Park in Nagasaki, call
into the Russian Korsakov on Sakhalin Island and even explore
South Korea. End this immersive holiday with a two night stay in
Otsu, just outside of Kyoto (the ancient Capital of Japan), with tours
of Hiroshima, Miyajima and Kyoto itself.
Included in the price:
• Return flights from London
Heathrow
• All transfers
• Three night four-star Bed and
Breakfast stay in Tokyo
• Full day tour to Mount Fuji and
Lake Hanoke with lunch, via
Bullet train
21 NIGHTS PRICES FROM
£2999PER PERSON
OTSU (KYOTO) STAY WITH ESCORTED
TOURS: At the end of your cruise enjoy a
three day fully escorted tour from Kyoto
(Otsu) - the ancient capital of Japan until
1868. Visit ancient castles, enjoy quiet
contemplation in imposing temples
and marvel at golden masterpieces
shimmering in classical gardens. No visit
to Japan would be complete without a
trip to Hiroshima and the red Torri gate
which seemingly floats on the water at
Miyajima - one of the top three scenic
spots in Japan. The A-Bomb Dome in
Hiroshima is an absolute must-see as it
was one of the few buildings left standing
after the blast and has been preserved
in its skeletal state as a tangible link to
Hiroshima's unique past. On your final
day, you will be treated to a full day
departure tour of Kyoto where you can
learn about the short but fascinating
history of the red Shinto Shrine in the
tranquil gardens of Heian Jingu, ponder
the art of meditation at Kiyomizu-dera
(the temple of the Goddess of Mercy) and
round it all off with shopping trip to the
famous Gion district.
ITINERARY: Fly UK to Tokyo overnight
- Three night Hotel stay - Embark Ship
in Yokohama (Tokyo) - Kushiro, Japan
- Shiretoko Peninsula (Scenic cruising)
- Korsakov, Russia - Otaru, Japan
- Aomori, Japan - Hakodate, Japan -
Yokohama (Tokyo) - Busan, South Korea
- Yokohama (Tokyo) - Train to Kyoto.
Two night hotel stay in Otsu (Kyoto) -
Fly overnight from Osaka to UK*
21
Call now to book: 0800 082 2170
Above: Mount Fuji, Japan. Below: Heian Jingu Shrine Kyoto
Date Interior Balcony Mini-Suite
20 Jun 2016 £3149 £3769 £4399
21 Sep 2016 £2999 £3569 £4099
*Cruise itinerary varies.
Kinkaku-ji Temple Kyoto Kiyomizu Temple Kyoto
• 14 night full-board cruise on
board the Diamond Princess
• Two night four-star Bed and
Breakfast stay in Otsu (Kyoto)
• Half day tour of Kyoto
including Kinkaka-Ji (Golden
Temple) & Nijo Castle
• Full day tour to Hiroshima
& Miyajima via Bullet train
• Full departure day tour
of Kyoto including Heian
Jingu Kiyomizu-dera & Gion
shopping area with lunch
• All port charges and
port taxes
Miyajima