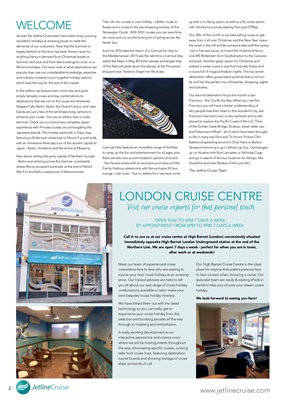 2
Call in to see us at our cruise centre at High Barnet (London) conveniently situated
immediately opposite High Barnet London Underground station at the end of the
Northern Line. We are open 7 days a week - perfect for when you are in town,
after work or at weekends!
Meet our team of experienced cruise
consultants face to face who are waiting to
source your next cruise holiday at an amazing
price. Our trained advisors are here to tell
you all about our vast range of cruise holiday
combinations available or tailor make your
own bespoke cruise holiday itinerary.
We have kitted them out with the latest
technology so you can really get to
experience your cruise holiday from the
selection and booking process all the way
through to ticketing and embarkation.
A really exciting development is our
interactive experience and cinema room
where we will be hosting events throughout
the year, showcasing specific cruises, running
talks from cruise lines, featuring destination
tourist boards and showing footage of cruise
ships and ports of call.
Our High Barnet Cruise Centre is the ideal
place for anyone that prefers persona face
to face contact when choosing a cruise. Our
specialist team are ready & waiting (iPads in
hand) to help you choose your dream cruise
holiday.
We look forward to seeing you here!
OPEN 9AM TO 6PM 7 DAYS A WEEK
BY APPOINTMENT FROM 6PM TO 9PM 7 DAYS A WEEK
LONDON CRUISE CENTRE
Visit our cruise experts for that personal touch
WELCOME
As ever the Jetline Cruise team have been busy sourcing
wonderful holidays at amazing prices to meet the
demands of our customers. Now that the Summer is
largely behind us the door has been thrown open for
anything being in demand from Christmas breaks to
Summer next year and from late bookings to once -in-alife-time holidays. Our team look
at what destinations are
popular then use our considerable knowledge, expertise
and industry contacts to put together holiday options
which lead the way for the rest of the market.
In this edition we feature even more new and quite
simply fantastic cruise and stay combinations to
destinations that are not on the cruise line itineraries.
Niagara Falls, Berlin, Kyoto, the Grand Canyon and Lake
Garda are just a few of the land based stay options to
enhance your cruise - but are no-where near a cruise
terminal. Check out our brand new complete Japan
experience with Princess cruises circumnavigating the
Japanese Islands. The holiday starts with a Tokyo stay
featuring a Bullet train adventure to Mount Fuji and ends
with an immersive three day tour of the ancient capital of
Japan - Kyoto, Hiroshima and the shrine at Miyajima.
How about visiting the party capital of Northern Europe
- Berlin and whizzing across the German countryside
where Monty accepted surrender at the end of World
War II to the Baltic coastal port of Warnemunde.
Then do two cruises in one holiday - a Baltic cruise to
Russia and a cruise to the jaw-dropping scenery of the
Norwegian Fjords . With MSC cruises you can save time,
do more and cut out the boring bit of sailing across the
North Sea.
Summer 2016 sees the return of a Carnival fun ship to
the Mediterranean. 2013 was the last time a Carnival ship
sailed the Med; in May 2016 the newest and largest ship
of the fleet will glide down the slipway at the Fincantieri
shipyard near Trieste to begin her life at sea.
Carnival Vista features an incredible range of facilities
to ramp up the fun and entertainment for all ages, plus
there are two new accommodation options on board
- the Havana suites with an exclusive pool area and the
Family Harbour staterooms with the exclusive 24 hour
lounge / club room. True to Jetline form we have come
up with a no flying option as well as a fly cruise option
with introductory prices starting from just £799pp.
Our offer of the month is our best selling cruise to get
away from it all over Christmas and the New Year. Leave
the tinsel in the loft and let someone else stuff the turkey
; sail in five-star luxury on board the Holland America
Line MS Rotterdam from Southampton to the Canaries
and back. Another great option for Christmas and
indeed a winter cruise is one that includes Dubai and
a cruise full of magical Arabian nights. This top winter
destination offers guaranteed sunshine that is not too
far and has the perfect mix of beaches, shopping, sights
and activities.
Our second destination focus this month is San
Francisco - the City By the Bay .When you visit San
Francisco you will have a better understanding of
why people lose their heart to this wonderful city. San
Francisco has lots to see, is very laid back and is well
placed to explore the Pacific Coast of the U.S. Think
of the Golden Gate Bridge, Alcatraz, street cable cars
and Fisherman's Wharf - all of which have been brought
to life in many top films and TV shows. Picture Clint
Eastwood speeding around in Dirty Harry or Barbra
Streisand hamming it up in What's Up Doc. Get banged
up on Alcatraz with Burt Lancaster or Nicholas Cage
and go in search of famous locations for Vertigo, Mrs
Doubtfire and even Raiders of the Lost Ark !
The Jetline Cruise Team.