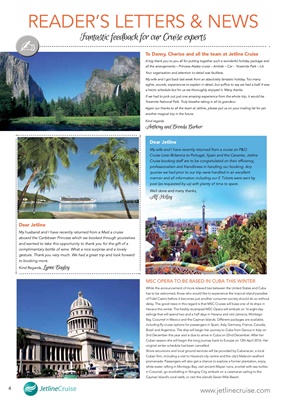 4 READER'S LETTERS & NEWS
Fantastic feedback for our Cruise experts
To Danny, Cherise and all the team at Jetline Cruise
A big thank you to you all for putting together such a wonderful holiday package and
all the arrangements - Princess Alaska cruise - Amtrak - Car - Yosemite Park - LA.
Your organisation and attention to detail was faultless.
My wife and I got back last week from an absolutely fantastic holiday. Too many
sights, sounds, experiences to explain in detail, but suffice to say we had a ball! It was
a hectic schedule but for us we thoroughly enjoyed it. Many thanks.
If we had to pick out just one amazing experience from the whole trip, it would be
Yosemite National Park. Truly breathe taking in all its grandeur.
Again our thanks to all the team at Jetline, please put us on your mailing list for yet
another magical trip in the future.
Kind regards
Anthony and Brenda Barber
Dear Jetline
My husband and I have recently returned from a Med a cruise
aboard the Caribbean Princess which we booked through yourselves
and wanted to take this opportunity to thank you for the gift of a
complimentary bottle of wine. What a nice surprise and a lovely
gesture. Thank you very much. We had a great trip and look forward
to booking more.
Kind Regards, Lynne Bayley
Dear Jetline
My wife and I have recently returned from a cruise on P&O
Cruise Liner Britannia to Portugal, Spain and the Canaries. Jetline
Cruise booking staff are to be congratulated on their efficiency,
professionalism and friendliness in handling our booking. Any
queries we had prior to our trip were handled in an excellent
manner and all information including our E Tickets were sent by
post (as requested by us) with plenty of time to spare.
Well done and many thanks,
Alf Holley
MSC OPERA TO BE BASED IN CUBA THIS WINTER
While the announcement of more relaxed ties between the United States and Cuba
has to be welcomed, those who would like to experience the tropical island paradise
of Fidel Castro before it becomes just another consumer society should do so without
delay. The good news in this regard is that MSC Cruises will base one of its ships in
Havana this winter. The freshly revamped MSC Opera will embark on 16 eight-day
sailings that will spend two and a half days in Havana and visit Jamaica, Montego
Bay, Cozumel in Mexico and the Cayman Islands. Different packages are available,
including fly-cruise options for passengers in Spain, Italy, Germany, France, Canada,
Brazil and Argentina. The ship will begin her journey to Cuba from Genoa in Italy on
2nd December this year and is due to arrive in Cuba on 22nd December. After her
Cuban season she will begin the long journey back to Europe on 12th April 2016. Her
original winter schedule has been cancelled.
Shore excursions and local ground services will be provided by Cubanacan, a local
Cuban firm, including a visit to Havana's city centre and the city's Malecón seafront
promenade. Passengers will also get a chance to explore a former plantation, enjoy
white-water rafting in Montego Bay, visit ancient Mayan ruins, snorkel with sea turtles
in Cozumel, go snorkelling in Stingray City, embark on a catamaran sailing to the
Cayman Island's coral reefs, or visit the island's Seven Mile Beach.