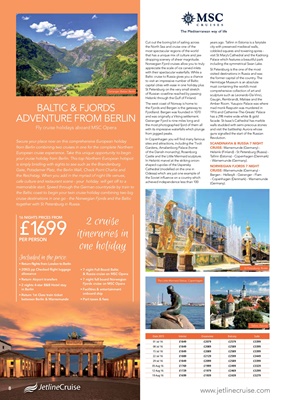 Cut out the boring bit of sailing across
the North Sea and cruise one of the
most spectacular regions of the world
that has a unique mix of culture and jaw
dropping scenery of sheer magnitude.
Norwegian Fjord cruises allow you to truly
appreciate the scale of ice carved inlets
with their spectacular waterfalls. While a
Baltic cruise to Russia gives you a chance
to visit an impressive number of Baltic
capital cities with ease in one holiday plus
St Petersburg on the very small stretch
of Russian coastline reached by passing
Helsinki through the Gulf of Finland.
The west coast of Norway is home to
the Fjords and Bergen is the gateway to
Fjordland. Bergen was founded in 1070
and was originally a Viking settlement.
Geiranger Fjord is nine miles long and
the most photographed fjord of them all
with its impressive waterfalls which plunge
from jagged peaks.
In Copenhagen you will find many famous
sites and attractions, including the Tivoli
Gardens, Amalienborg Palace (home
of the Danish monarchy), Rosenborg
Castle and the Little Mermaid sculpture.
In Helsinki marvel at the striking onionshaped cupolas of the Uspensky
Cathedral (modelled on the one in
Odessa) which are just one example of
the Soviet influence on a country which
achieved independence less than 100 www.jetlinecruise.com
Date 2015 Interior Oceanview Balcony Suite
01 Jul 16 £1849 £2079 £2579 £3399
08 Jul 16 £1849 £2089 £2589 £3399
15 Jul 16 £1849 £2089 £2589 £3399
22 Jul 16 £1889 £2129 £2599 £3449
29 Jul 16 £1849 £2099 £2589 £3399
05 Aug 16 £1769 £1999 £2499 £3329
12 Aug 16 £1729 £1979 £2469 £3299
19 Aug 16 £1699 £1939 £2439 £3279
BALTIC & FJORDS
ADVENTURE FROM BERLIN
Fly cruise holidays aboard MSC Opera
Secure your place now on this comprehensive European holiday
from Berlin combining two cruises in one for the complete Northern
European cruise experience. Take this unique opportunity to begin
your cruise holiday from Berlin. This top Northern European hotspot
is simply bristling with sights to see such as the Brandenburg
Gate, Potsdamer Platz, the Berlin Wall, Check Point Charlie and
the Reichstag. When you add in the myriad of night life venues,
cafe culture and restaurant scene - your holiday will get off to a
memorable start. Speed through the German countryside by train to
the Baltic coast to begin your twin cruise holiday combining two big
cruise destinations in one go - the Norwegian Fjords and the Baltic
together with St Petersburg in Russia.
years ago. Tallinn in Estonia is a fairytale
city with preserved medieval walls,
cobbled squares and towering spires -
visit St Mary's Cathedral and the Kadriorg
Palace which features a beautiful park
including the symmetrical Swan Lake.
St Petersburg is the one of the most
visited destinations in Russia and was
the former capital of the country. The
Hermitage Museum is an absolute
must containing the world's most
comprehensive collection of art and
sculpture such as Leonardo-Da-Vinci,
Gaugin, Rembrandt, Matisse and the
Amber Room. Yusupov Palace was where
mad monk Rasputin was murdered in
1916 and Catherine-The-Greats' Palace
has a 298 metre wide white & gold
facade. St-Isaac's Cathedral has marble
walls studded with semi-precious stones
and visit the battleship Aurora whose
guns signalled the start of the Russian
Revolution.
SCANDINAVIA & RUSSIA 7 NIGHT
CRUISE: Warnemunde (Germany) -
Helsinki (Finland) - St Petersburg (Russia) -
Tallinn (Estonia) - Copenhagen (Denmark)
- Warnemunde (Germany).
NORWEGIAN FJORDS 7 NIGHT
CRUISE: Warnemunde (Germany) -
Bergen - Hellesylt - Geiranger - Flam
- Copenhagen (Denmark) - Warnemunde
(Germany).
Included in the price:
• Return flights from London to Berlin
• 20KG pp Checked flight luggage
allowance
• Return Airport transfers
• 2 nights 4-star B&B Hotel stay
in Berlin
• Return 1st Class train ticket
between Berlin & Warnemunde
16 NIGHTS PRICES FROM
£169 9PER PERSON
8
Geiranger. Below: Berlin
The Little Mermaid Statue, Copenhagen
Tallinn, Estonia
2 cruise
itineraries in
one holiday
St Petersburg, Russia
• 7 night Full Board Baltic
& Russia cruise on MSC Opera
• 7 night full board Norwegian
Fjords cruise on MSC Opera
• Facilities & entertainment
onboard ship
• Port taxes & fees