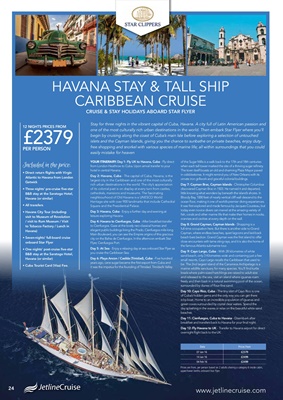 24
HAVANA STAY & TALL SHIP
CARIBBEAN CRUISE
CRUISE & STAY HOLIDAYS ABOARD STAR FLYER
Stay for three nights in the vibrant capital of Cuba, Havana. A city full of Latin American passion and
one of the most culturally rich urban destinations in the world. Then embark Star Flyer where you'll
begin by cruising along the coast of Cuba's main Isle before exploring a selection of untouched
islets and the Cayman Islands, giving you the chance to sunbathe on private beaches, enjoy dutyfree
shopping and snorkel with various species of marine life; all within surroundings that you could
easily mistake for heaven
Included in the price:
• Direct return flights with Virgin
Atlantic to Havana from London
Gatwick
• Three nights' pre-cruise five-star
B&B stay at the Saratoga Hotel,
Havana (or similar)
• All transfers
• Havana City Tour (including:
visit to Museum of Revolution
/ visit to Rum Museum / Visit
to Tobacco Factory / Lunch in
Havana)
• Seven-nights' full-board cruise
onboard Star Flyer
• One nights' post-cruise five-star
B&B stay at the Saratoga Hotel,
Havana (or similar)
• Cuba Tourist Card (Visa) Fee.
12 NIGHTS PRICES FROM
£2379PER PERSON
YOUR ITINERARY: Day 1: Fly UK to Havana, Cuba - Fly direct
from London Heathrow to Cuba. Upon arrival transfer to your
hotel in central Havana.
Day 2: Havana, Cuba - The capital of Cuba, Havana, is the
largest city in the Caribbean and one of the most culturally
rich urban destinations in the world. The city's appreciation
of its colonial past is on display at every turn from castles,
cathedrals, mansions and museums. The fascinating
neighbourhood of Old Havana is a UNESCO World
Heritage site with over 900 landmarks that include Cathedral
Square and the Presidential Palace.
Day 3: Havana, Cuba - Enjoy a further day and evening at
leisure exploring Havana.
Day 4: Havana to Cienfuegos, Cuba - After breakfast transfer
to Cienfuegos. Gaze at the lovely neo-classical homes and
elegant public buildings lining the Prado, Cienfuegos mile-long
Main Boulevard, you can see the Empire origins of this gracious
city on the Bahia de Cienfuegos. In the afternoon embark Star
Flyer, Cienfuegos Port.
Day 5: At Sea - Enjoy a relaxing day at sea onboard Star Flyer as
you cruise the Caribbean Sea.
Day 6: Playa Ancon / Casilda (Trinidad), Cuba - Five hundred
years ago, cane sugar became the first export from Cuba and
it was the impetus for the founding of Trinidad. Trinidad's Valley
Date Prices From
07 Jan 16 £2379
14 Jan 16 £2499
04 Feb 16 £2499
Prices are from, per person based on 2 adults sharing a category 6 inside cabin,
upper/lower berths onboard Star Flyer.
of the Sugar Mills is a walk back to the 17th and 18th centuries
when each tall tower marked the site of a thriving sugar refinery.
The town itself boasts an old and charming Plaza Mayor paved
in cobblestones. It might remind you of New Orleans with its
ornate iron grillwork and graceful colonial buildings.
Day 7: Cayman Brac, Cayman Islands - Christopher Columbus
discovered Cayman Brac in 1503. He named it and departed,
little knowing what wonders lay beneath the island's shores. In
Bloody Bay, 1000 feet of nearly vertical cliff wall descend to the
ocean floor, making it one of world's premier diving experiences.
It was first explored and made famous by Jacques Cousteau, but
today even novice divers can marvel at the amazing variety of
fish, corals and other marine life that make their homes in nooks,
crannies and cavities at every depth on the wall.
Day 8: Grand Cayman, Cayman Islands - Shopping is a
full-time occupation here. But there is another side to Grand
Cayman, where endless beaches, quiet lagoons and laid-back
beach bars beckon. Grand Cayman was the first island to offer
close encounters with tame sting-rays, and it is also the home of
the famous Atlantis submarine tour.
Day 9: Cayo Largo, Cuba - With 28 kilometres of white
sand beach, only 3 Kilometres wide and containing just a few
small resorts, Cayo Largo recalls the Caribbean that used to
be. The 2nd largest island of the Canarreos Archipelago is a
marine wildlife sanctuary for many species. You'll find turtle
kraals where palm-sized hatchlings are raised to adult size
and released to the sea, visit an island where iguanas roam
freely and then bask in a natural swimming pool of the ocean,
surrounded by dunes of flour-fine sand.
Day 10: Cayo Rico, Cuba - The tiny islet of Cayo Rico is one
of Cuba's hidden gems and the only way you can get there
is by boat. Home to an incredible population of iguanas and
green coves surrounded by crystal clear waters. Spend the
day splashing in the waves or relax on the beautiful white sand
beaches.
Day 11: Cienfuegos, Cuba to Havana - Disembark after
breakfast and transfers back to Havana for your final night.
Day 12: Fly Havana to UK - Transfer to Havana airport for direct
overnight flight back to the UK.