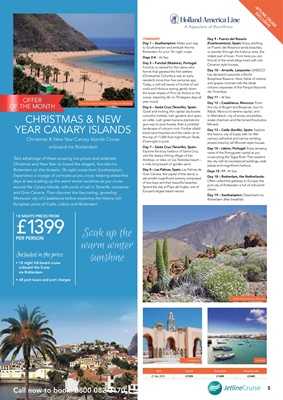 CHRISTMAS & NEW
YEAR CANARY ISLANDS
Christmas & New Year Canary Islands Cruise
onboard ms Rotterdam
Take advantage of these amazing low prices and celebrate
Christmas and New Year on board the elegant, five-star ms
Rotterdam on this fantastic 18-night cruise from Southampton.
Experience a voyage of contrasts as you enjoy relaxing stress-free
days at sea soaking up the warm winter sunshine as you cruise
around the Canary Islands, with ports of call in Tenerife, Lanzarote
and Gran Canaria. Then discover the fascinating, sprawling
Moroccan city of Casablanca before exploring the history-rich
European ports of Cadiz, Lisbon and Rotterdam.
Included in the price:
• 18 night full-board cruise
onboard the 5-star
ms Rotterdam
• All port taxes and port charges
18 NIGHTS PRICES FROM
£1399PER PERSON
ITINERARY:
Day 1 - Southampton: Make your way
to Southampton and embark the ms
Rotterdam for your 18- night cruise.
Days 2-4 - At Sea
Day 5 - Funchal (Madeira), Portugal:
Funchal, is named for the native wild
fennel that greeted the first settlers
(Christopher Columbus was an early
resident) more than five centuries ago.
Today, a visit will reveal a Funchal of red
roofs and hibiscus easing gently down
the lower slopes of Pico do Arieiro to the
ocean, kissed by 60- to 70-degree days all
year round.
Day 6 - Santa Cruz (Tenerife), Spain:
Quiet and inviting, this capital city boasts
colourful markets, lush gardens and openair cafés. Lush green
banana plantations
give way to pine forests, then a jumbled
landscape of volcanic rock. Further afield:
black sand beaches and the cable car to
the top of 11,000-foot-high Mount Teide.
(Overnight in port)
Day 7 - Santa Cruz (Tenerife), Spain:
Explore the busy harbour of Santa Cruz,
visit the sleepy fishing village of San
Andreas, or relax on Las Teresitas beach -
a mile-long beach of golden sand.
Day 8 - Las Palmas, Spain: Las Palmas de
Gran Canaria, the capital of the island, is
set amidst magnificent scenery composed
of two bays and their beautiful beaches.
Spend the day at Playa del Ingles, one of
Europe's largest beach resorts.
Day 9 - Puerto del Rosario
(Fuerteventura), Spain: Enjoy strolling
on Puerto del Rosario's sandy beaches,
or wander through the harbour area, the
oldest part of town. From here you can
find all of the small alleys lined with old
Canarian style houses.
Day 10 - Arrecife, Lanzarote: UNESCO
has declared Lanzarote a World
Biosphere Reserve. Here, fields of melons
and grapes contrast with the bleak
volcanic expanses of the Parque Nacional
de Timanfaya.
Day 11 - At Sea
Day 12 - Casablanca, Morocco: From
the city of Bogart and Bergman, tour to
Rabat, Morocco's serene capital, and
to Marrakech, city of souks, storytellers,
snake charmers and the famed Koutoubia
Minaret.
Day 13 - Cadiz (Seville), Spain: Explore
the historic city of Cadiz with its 18th
century cathedral and narrow winding
streets lined by tall Moorish-style houses.
Day 14 - Lisbon, Portugal: Enjoy amazing
views of the Portuguese capital as you
cruise along the Tagus River. Then explore
the city with its neoclassical buildings, wide
plazas and magnificent harbour.
Days 15 -17- At Sea
Day 18 - Rotterdam, the Netherlands:
Often called the gateway to Europe, the
port city of Rotterdam is full of old-world
charm.
Day 19 - Southampton: Disembark ms
Rotterdam after breakfast.
5
Call now to book: 0800 082 2170
Tenerife. Below: Botanical Gardens in Madeira
Soak up the
warm winter
sunshine
Date Interior Oceanview Veranda Suite
21 Dec 2015 £1399 £1499 £2449
Casablanca Arrecife
OFFER
OF THE MONTH
Teide National Park, Tenerife
JETLINE CRUISE
EXCLUSIVE