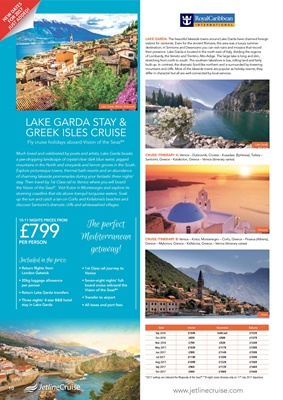 CARNIVAL CONQUEST Cruising aboard
Carnival Conquest elevates fun at sea to
an art form - the ship demonstrates a
true mastery of the craft with an onboard
collage of fun spots for you to enjoy, like
Guy's Burger Joint, Red-Frog Rum Bar and
SKYBOX Sports Bar.
There's fun everywhere you look, from the
dance club (great for people-watching)
to the show lounges (great for showwatching). The Taste
Bar delivers small
bites with big flavour, and the Alchemy Bar serves up not only one-of-a-kind drinks, but a
complete experience for your senses concocted by lab technicians in white coats. There's
even The Punchliner Comedy Club, which gives stand-up comedians a microphone and a
place to share their craft for your enjoyment. And let's not forget Seuss at Sea, which turns
classic Dr. Seuss stories and characters into big fun for all.
You don't need to be able to tell a Monet from a Renoir to dine in our two artful dining
rooms, you just need to be hungry. You don't need a performing arts degree to enjoy
lively musical shows on stage at Playlist Productions, but you can say you're experiencing
art from your seat. You don't even need to read a rule book to enjoy Hasbro, The Game
Show, where big fun takes the stage in a live game show anyone can enjoy.
The spa has separate his and her steam rooms and saunas. Enjoy outdoor movies by the
pool at the Seaside Theatre, there are also three separate swimming pools, three hot-tubs
and a waterslide. With delicious food, bars and entertainment, Carnival Conquest has a
scene for everybody.
Date Itinerary Interior Oceanview Balcony
8 Nov 16 East £1099 £1189 £1329
22 Nov 16 South £1199 £1329 £1489
6 Dec 16 South £1239 £1299 £1459
19 Dec 16 East £1699 £1779 £1999
3 Jan 17 East £1429 £1499 £1649
17 Jan 17 South £1359 £1449 £1699
31 Jan 17 South £1279 £1359 £1619
14 Feb 17 East £1259 £1339 £1549
28 Feb 17 East £1199 £1339 £1529
14 Mar 17 South £1359 £1459 £1679
28 Mar 17 East £1369 £1459 £1659
11 Apr 17 South £1619 £1739 £1949
25 Apr 17 South £1519 £1599 £1829
Cruise itineraries may vary.
LAS VEGAS &
THE CARIBBEAN
Fly cruise holidays aboard Carnival Conquest
Fly to one of the top holiday hotspots of the US to experience the
glitz and glamour that is Las Vegas. Roll the dice, have a flutter,
see a head line act or sample one of the many themed hotels on
the famous Las Vegas Strip. With fabulous resort pools, world class
shopping, the Grand Canyon, Hoover Dam and desert adventures
within striking distance - there is something for everyone. Then fly
over to Florida to continue the fun on-board a Carnival 2.0 Fun Ship
beach hopping around the Caribbean.
Included in the price:
• One way flight from London to
Las Vegas
• 3 nights' four-star hotel stay on
the Las Vegas Strip
• One way overnight flight
between Las Vegas & Miami
• Port transfers
• 8 nights' full-board cruise on
board Carnival Conquest
• One way overnight flight from
Miami or Fort Lauderdale to
London
• Regional departures are
available at a supplement.
13 NIGHTS PRICES FROM
£1099PER PERSON
Las Vegas. Below: St Maarten
Hoover Dam
CONNOISSEUR'S
CARIBBEAN
ALL INCLUSIVE DRINKS CRUISE
Fly cruise holidays aboard MSC Poesia
Choose this wonderful island hopping cruise to become a connoisseur
of the Caribbean visiting some of the more exotic and lesser
frequented islands. Spend the day on Grand Anse Beach amid the
aromas of nutmeg and cinnamon or go river tubing on the Balthazar
River in Grenada. Take the Sugar Cane Express on St Kitts and wander
through the leafy courtyard cafes and fine collection of West Indian
gingerbread houses on St Maarten. Pop over the hill on Tortola to
the palm tree lined majestic sweep of Sugar Cane beach and visit the
rum capital of the world on Martinique with its colonial flair and yacht
filled harbour at Fort De France. Perhaps wallow in the Baths at Virgin
Gorda - the massive volcanic boulders which form secluded pools and
grottos, and tour La Soufriere Volcanic peak on Guadeloupe.
Included in the price:
• Direct return BA flights from
Gatwick to Barbados
• All transfers
• 14 nights' full-board cruise on
board MSC Poesia
• Port taxes, fees & airline tax
• FREE all-inclusive drinks
package#
• FREE Upgrade to ocean-view
stateroom on selected dates
15 NIGHTS PRICES FROM
£1599PER PERSON
MSC POESIA was the third of the
Musica class of four cruise ships and
offers the perfect blend of design and
comfort. This 89,600 tonne ship is a
shining gem among cruise ships with an
atmosphere of luxury cruising. Passenger
accommodations and facilities are spread
over 12 decks; including the spacious
Aurea Spa with serene meditation area
and a large fitness centre overlooking the
bow of the ship. By day sunbathe at the
stunning Coral Bay pool, in four hot tubs
or by the Cayo Levantado pool with a
massive LED screen for watching movies
under the stars. The kids have two indoor
play areas, a virtual games room and their
own separate pool area too!
Choose from five restaurants onboard
including the L'Obelisco A-La-Carte
restaurant, The Villa Pompeiana selfservice restaurant
and the sophisticated
Kaito Sushi bar. Listen to live music
in the exotic animal-print Zebra Bar,
entertainment in the la Moulin Rouge
lounge, grab a coffee in the Bar De Poeti
or enjoy Hollywood-style glamour in the
chic Giada Bar for a pre-dinner drink.
After dinner try you luck in the casino,
watch a show in the Carlo Felice theatre
and dance the night away in the S32
nightclub.
Virgin Gorda
2 major
holiday
hotspots in
one holiday
Visit the
more exotic
and lesser
frequented
islands!
Date Inside Outside Balcony S3 Aurea Spa Suite
13 Dec 16 £1599 £1699 £1829 £2499
27 Dec 16 £1959 £1959 £2179 Sold out
10 Jan 17 £1699 £1699 £1969 £2579
24 Jan 17 £1779 £1779 £2049 £2659
07 Feb 17 £1699 £1699 £1899 £2579
21 Feb 17 £1699 £1699 £1899 £2579
# Terms, conditions and limitations apply.
St Lucia
MSC Poesia pool
18 19
Call now to book: 0800 082 2170
ITINERARY: Fly to Barbados - Port of Spain (Trinidad & Tobago) - Grenada - Dominica
- Martinique - Guadeloupe- St Maarten - Tortola (British Virgin Islands for Virgin Gorda)-
St Kitts & Nevis - Antigua & Barbuda- Martinique - Guadeloupe - St Lucia - Barbados
- Fly home overnight.
Zebra Lounge, MSC Poesia
EAST ITINERARY: Fort Lauderdale -
St Maarten - St Kitts - San Juan (Puerto
Rico) - Grand Turk - Fort Lauderdale.
SOUTH ITINERARY: Fort Lauderdale
- Grand Turk - La Romana (Dom Rep) -
Curacao - Aruba - Fort Lauderdale.