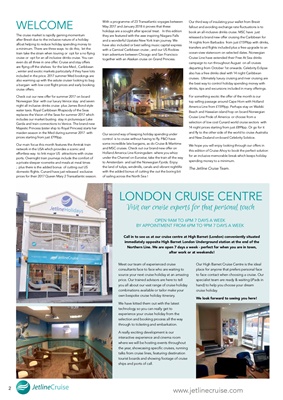 2 3
Call now to book: 0800 082 2170
Our brochure presents to you a selection of the best offers we have put
together as a tour operator. You are protected under our ATOL licence
No: 6153 and Jetline Travel's Terms & Conditions apply. A copy of our
Booking Conditions will be sent with your confirmation invoice.
In the unlikely event of our insolvency, the CAA will ensure that you
are not left stranded abroad and will arrange to refund any money you
have paid to us for an advance booking. For further information, visit
the ATOL website at www.atol.org.uk.
Open 7 days a week - 9am to 9pm
To book call: 0800 082 2170
Customer Services Number: 0203 617 5815
E&OE: Although every endeavour is made to avoid inaccuracies within this publication Jetline
Travel accepts no responsibility for any that may occur.
All prices and offers are correct at the time of going to press and are subject to availability and
the terms and conditions of the tour operators. Credit card charges of 2.5% will be charged on all
credit card payments (4% for American Express) and 0% for debit cards. Prices are per person
based on 2 sharing. Prices are From. Prices include Port Taxes fuel surcharges flights where
necessary and pre cruise hotel stays where necessary. Tips transfers (unless stated) drinks
excursions and selected personal activities on board are extra. ABTA J1693 agent for ATOL 6153.
CRUISE SALES OPENING HOURS YOUR FINANCIAL PROTECTION
CONTENTS
Alaska 22 / 23 / 24 / 25
All Inclusive Drinks 12 / 13 / 19 / 20 / 21 / 40 / 41 / 42 / 43
Amtrak 14 - 15
Australia 26 / 30
Canaries 12
Caribbean 8 / 17 / 18 / 19 / 20 / 21 / 41
Far East 28 / 29 / 36 / 39 / 40 / 44
Hawaii 26 / 27
Indian Ocean 42
Las Vegas 18 / 27
Luxury cruising 37- 43
Mediterranean 7 / 8 / 10 / 11 / 12 / 13 / 33 / 39 / 43
Niagara Falls 16
No Fly Cruises 6 / 7 / 8 / 9
Northern Europe 6 / 7 / 8 / 9 / 34
31- 36
South Africa 26
South America 5
Train Tour & Cruise 9 / 10 / 16 / 17 / 23 / 24 / 25 / 29
Transatlantic 8 / 16 / 26
WELCOMEThe cruise market is rapidly gaining momentum
after Brexit due to the inclusive nature of a holiday
afloat helping to reduce holiday spending money to
a minimum. There are three ways to do this; let the
train take the strain when touring or opt for a no flying
cruise or opt for an all inclusive drinks cruise. You can
even do all three in one offer. Cruise and stay offers
are flying off the shelves for the late Med , Caribbean
, winter and exotic markets particularly if they have lots
included in the price. 2017 summer Med bookings are
also warming up with the astute cruiser looking to bag
a bargain with low cost flight prices and early booking
cruise offers.
Check out our new offer for summer 2017 on board
Norwegian Star with our luxury Venice stay and seven
night all inclusive drinks cruise plus James Bond style
water taxis. Royal Caribbean Rhapsody of the Seas
replaces the Vision of the Seas for summer 2017 which
includes our market busting stay in picturesque Lake
Garda and train connections to Venice. The brand new
Majestic Princess (sister ship to Royal Princess) starts her
maiden season in the Med during summer 2017 with
prices starting from just £799pp.
Our main focus this month features the Amtrak train
network in the USA which provides a scenic and
effortless way to link major US attractions with cruise
ports. Overnight train journeys include the comfort of
a private sleeper roomette and meals at meal times
; plus there is the added bonus of cutting out US
domestic flights. Cunard have just released exclusive
prices for their 2017 Queen Mary 2 Transatlantic season.
With a programme of 23 Transatlantic voyages between
May 2017 and January 2018 it proves that these
holidays are a sought after special treat. In this edition
they are featured with the awe inspiring Niagara Falls
and a wonderful Upstate New York train journey. We
have also included or best selling music capital express
with a Carnival Caribbean cruise ; and our US Rockies
train adventure between Chicago and San Francisco
together with an Alaskan cruise on Grand Princess.
Our second way of keeping holiday spending under
control is to cruise without having to fly. P&O have
some incredible late bargains, as do Cruise & Maritime
and MSC cruises. Check out our brand new offer on
Holland America Line Koningsdam where you whizz
under the Channel on Eurostar, take the train all the way
to Amsterdam and sail the Norwegian Fjords. Enjoy
the land of tulips, windmills, canals and vibrant nightlife
with the added bonus of cutting the out the boring bit
of sailing across the North Sea !
Our third way of insulating your wallet from Brexit
fallout and avoiding exchange rate fluctuations is to
book an all-inclusive drinks cruise. MSC have just
released a brand new offer cruising the Caribbean for
14 nights from Barbados from just £1599pp with drinks,
transfers and flights included plus a free upgrade to an
ocean-view stateroom on selected dates. Norwegian
Cruise Line have extended their Free At Sea drinks
campaign to run throughout August on all cruises
departing from October 1st onwards. Celebrity Eclipse
also has a free drinks deal with 14 night Caribbean
cruises. Ultimately luxury cruising and river cruising are
the best way to control holiday spending money with
drinks, tips and excursions included in many offerings.
For something exotic the offer of the month is our
top selling passage around Cape Horn with Holland
America Line from £1599pp. Perhaps stay on Waikiki
Beach and Hawaiian island hop on board Norwegian
Cruise Line Pride of America or choose from a
selection of low cost Cunard world cruise sectors with
14 night prices starting from just £899pp. Or go for it
and fly to the other side of the world to cruise Australia
and New Zealand on-board Celebrity Solstice.
We hope you will enjoy looking through our offers in
this edition of Cruise Ahoy to book the perfect solution
for an inclusive memorable break which keeps holiday
spending money to a minimum.
The Jetline Cruise Team.
Call in to see us at our cruise centre at High Barnet (London) conveniently situated
immediately opposite High Barnet London Underground station at the end of the
Northern Line. We are open 7 days a week - perfect for when you are in town,
after work or at weekends!
Meet our team of experienced cruise
consultants face to face who are waiting to
source your next cruise holiday at an amazing
price. Our trained advisors are here to tell
you all about our vast range of cruise holiday
combinations available or tailor make your
own bespoke cruise holiday itinerary.
We have kitted them out with the latest
technology so you can really get to
experience your cruise holiday from the
selection and booking process all the way
through to ticketing and embarkation.
A really exciting development is our
interactive experience and cinema room
where we will be hosting events throughout
the year, showcasing specific cruises, running
talks from cruise lines, featuring destination
tourist boards and showing footage of cruise
ships and ports of call.
Our High Barnet Cruise Centre is the ideal
place for anyone that prefers personal face
to face contact when choosing a cruise. Our
specialist team are ready & waiting (iPads in
hand) to help you choose your dream
cruise holiday.
We look forward to seeing you here!
OPEN 9AM TO 6PM 7 DAYS A WEEK
BY APPOINTMENT FROM 6PM TO 9PM 7 DAYS A WEEK
LONDON CRUISE CENTRE
Visit our cruise experts for that personal touch