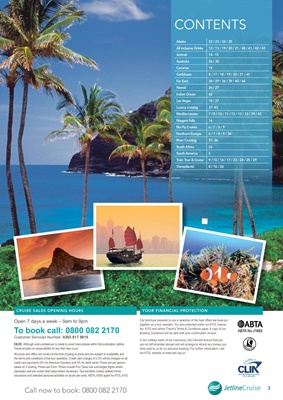 YOUR ITINERARY:
Day 1 - London Heathrow to Buenos
Aires: Fly overnight from London
Heathrow to Buenos Aires, Argentina.
Day 2 - Buenos Aires, Argentina:
Upon arrival in Buenos Aires transfer by
private car to the port and embark the ms
Zaandam. Overnight in port, Buenos Aires.
Day 3 - Buenos Aires, Argentina:
Buenos Aires has been the gateway
to Argentina for centuries; this stylish,
energetic port city is rich in culture and
history and well worth exploring
Day 4 - Montevideo, Uruguay: Friendly
and genteel, Montevideo honours colonial
customs: long lunches, siestas, high tea.
Nearby: Colonia del Sacramento, the
oldest city in Uruguay (ca. 1680) and a
UNESCO World Heritage Site.
Day 5 & 6 - At Sea.
Day 7 - Port Stanley, Falkland Islands:
Stanley is the only town in the sparsely
populated Falkland Islands. Visit a local
pub, take a walk across the moorlands and
see penguins of every type.
Sea conditions permitting (otherwise
scenic cruising Falkland Sound)
Day 8- Strait of Magellan, cruising:
Enjoy a day of cruising through the Strait of
Magellan, a natural passage that links the
Atlantic and Pacific Oceans.
Day 9 - Punta Arenas, Chile & Cockburn
Channel, Beagle Channel & Glacier Alley
- Scenic Cruising: From Punta Arenas you
can venture to the high scarps of Torres
del Paine National Park, the penguin
colony at Seno Otway, or the Martian
volcanic topography of Pali Aike National
Park. Look out for wildlife and enjoy
spectacular scenery as you cruise through
the narrow waterways of the Cockburn
and Beagle channel's as you head towards
Ushuaia.
Day 10 - Ushuaia, Argentina: The
southernmost town in the world, where
dominating peaks loom on three sides;
the fourth opens to the Beagle Channel,
where sea lions bellow and king crab rules.
Day 11 - Scenic cruising Cape Horn:
Magellan's fleet first circled this massive,
treacherous rock at continent's end, and
until the Panama Canal was constructed,
this was the main shipping route from the
Atlantic to the Pacific.
Date Interior Oceanview Veranda Suite
07-Nov-16 £1599 £1749 £2399
20-Nov-16* £1699 £1859 £2539
05-Dec-16 £1749 £1899 £2579
20-Feb-17 £1699 £1979 £2539
05-Mar-17* £1799 £1949 £2629
20-Mar-17 £1689 £1839 £2499
*Itinerary operates in reverse with 1 night's pre-cruise hotel stay in Santiago
SOUTH AMERICA
PASSAGE
Fly cruise holidays aboard the ms Zaandam
This luxury fourteen-night cruise begins in Buenos Aires, the
birthplace of poets, composers and a dance called Tango; a city with
European flair and a Latin heartbeat. Then cruise to the ends of the
earth through the Cockburn and Beagle Channel's as you make your
way to Ushuaia, the southernmost town in the world. Prepare to have
your breath taken away by the mesmerising beauty of the Chilean
Fjords and marvel at unusual rock formations and imposing granite
cliffs as you enjoy scenic cruising around Cape Horn. At the end of
your cruise you will spend a night in Santiago Chile, a lush, irresistible
tangle of serpentine streets, steep hills and the famous ascensores.
Day 12 - Canal Sarmiento, scenic
cruising: Be among the lucky few to spend
a glorious day scenic cruising through
Tierra del Fuego and the snow-capped
peaks and ethereal blue glaciers of Canal
Sarmiento. Cutting through Chile's Torres
del Paine National Park, this majestic
waterway is surrounded by other-worldly
beauty.
Day 13 - Chilean Fjords, scenic cruising:
Fjords more spectacular than those in
Norway or Alaska? See them here along
the southern coastline of Chile . . . a
1,000-mile maze of virgin-forested islands,
glistening glaciers and more fjords than in
all of Scandinavia.
Day 14 - Puerto Montt, Chile: Gateway
to the scenic Lake District, a series of
fragrant eucalyptus and pine forests, icy
lakes, Bavarian hamlets and luminous
snow-capped volcanoes.
Day 15 - At Sea.
Day 16 - Valparaiso (Santiago), Chile:
After breakfast onboard disembark and
transfer by private car to a 4-star centrally
located hotel in Santiago. Afternoon and
evening at leisure to explore Santiago.
Day 17 - Santiago, Chile: Check out from
your hotel and transfer to Santiago airport
for your overnight flight back to London
Heathrow.
Included in the price:
• Return scheduled flights from
London Heathrow
• All transfers by private car
• 23Kg luggage allowance per
person
• 14- nights' full-board cruise on
5-star ms Zaandam
• 1 night's four-star hotel
accommodation, Santiago.
17 NIGHTS PRICES FROM
£1599PER PERSON Dance the
tango & see
breathtaking
scenery
La Boca, Buenos Aires
Penguins in Punta Arenas
Puerto Montt
4
CRUISE NEWS
Catch up on the latest cruise industry news
5
Call now to book: 0800 082 2170
Norwegian
Cruise Line has
announced
alterations to Norwegian Jade and
Norwegian Spirit's 2017 summer season
itineraries - two of five ships sailing
in European waters in 2017. To meet
customers' demand, the international
cruise line increases the variety in its cruise
product by adding new destinations in the
Mediterranean and offering an expanded
choice in Northern Europe. Norwegian
Jade, the first NCL-ship based in Hamburg,
will offer a series of cruises from Hamburg
for those looking to embark in Germany
in June and July as well as a number of
itineraries departing from Southampton
throughout the summer season. The
ship will set sail from Hamburg on three
Norwegian Fjord itineraries as well as two
12-night North Cape sailings and one
14-night Norway, Iceland & UK cruise. The
ship will also call in Hamburg on September
9 as part of the Hamburg Cruise Days
and join the spectacular parade. From
Southampton, in addition to one European
Capitals cruise, the ship will embark on
two Norwegian Fjord itineraries as well as
a whole new 11-night British Isles cruise
departing Southampton in May and two
14-night Norway, Iceland & UK itineraries
in August and September. Norwegian
Spirit will redeploy to her new seasonal
homeport of Civitavecchia (Rome) in early
May and sail a series of different 10- and
11-night cruises including stops in smaller
ports such as Cagliari in Sardinia, Palma de
Majorca, Koper or Malta as well as three
new 11-night Holy Land itineraries with an
overnight in Haifa. On the announcement,
Christian Böll, Managing Director EMEA,
Norwegian Cruise Line, said: "We're
delighted that thanks to these new
itineraries, we are in a position to offer our
clients an even wider choice of cruises to
Europe's most beautiful ports from Iceland
in the North to the Canaries in the South."
Norwegian Spirit's new cruises are on sale
now and Norwegian Jade's new itineraries
will go live in August.
OFFER
OF THE MONTH
Strictly, sequins and salsa -
from Spain to Russia with P&O Cruises
Strictly Come
Dancing is
back on board
P&O Cruises in 2017 for more dazzling
performances across the Med and Baltic
from some of your favourite professional
dancers and the outspoken judges everyone
loves to hate. Guests can sit back and enjoy
the sizzling shows, or get in on the action
and try the Tango, Quickstep or Salsa. P&O
Cruises senior vice president Paul Ludlow
said: "We are the only holiday company
to have this partnership with one of the
country's best loved shows and these Strictly
themed cruises appeal to people who can
dance, want to learn to dance or just like to
admire the glitz and glamour in person."
2017 dates for P&O Cruises Strictly Come
Dancing themed cruises include:
· A 14-night Western Mediterranean
cruise on Azura departing April 2, 2017.
· A 14 night Western Mediterranean cruise
on Ventura departing April 30, 2017.
· A 14-night Baltic cruise on Britannia
departing June 4, 2017.
· A 14-night Central Mediterranean cruise
on Britannia departing June 25, 2017.
The Strictly professional dancers and
judges who will be on board each cruise
will be announced later in the year. In
association with BBC Worldwide, each
cruise will feature a guest judge and four
of the BBC's show's favourite professional
dancers with the opportunity to meet them
and maybe learn a move or two from the
experts themselves during the regular
dance classes on board. The Strictly team
will offer up close and personal interviews
on board, photo and meet and greet
opportunities, and spectacular Strictly
Come Dancing showcase performances
produced by BBC Worldwide. P&O
Cruises will also be joined by a team
from DanceSport International, suppliers
of dresses and costumes to the show.
A stunning selection of these costumes
will be on display around the ship, and
available to buy, with organised fashion
events to showcase them at their very best.
The highlight of the two-week cruises is
the passenger dance competition which
culminates in a grand finale performance
in the ship's main theatre, with a judging
panel including a Strictly professional
dancer and guest judge.
Norwegian Cruise Line increases variety in
Europe for the 2017 summer season
Cunard cruise line's Commodore Club
cocktail bar has announced a revised
cocktail menu which shares 'the
unique story of the Knighted Cunard
Commodores'. The cruise line said that
its gifted onshore and on-board bar
teams have created these drinks by
meticulously mixing ingredients that
reflect the appeal of 'these celebrated
men'. Every historical and decorated
chronicle, the line continued, is instilled
into the cocktail experience with the
contemporary menu design, artwork, and
magnificent new trademark cocktails.
The press release continued: "These new
and fresh additions to the renowned bar,
found in prime locations on each of the
Cunard Queens, highlight the incredible
craftsmanship that has gone into each
drink." A perfect example is the new
'Punch Romain à la Carpathia', popularly
believed to be the last beverage ever
served on the ill-fated Titanic. This mix
was inspired by Commodore Sir Arthur
Rostron, who was in charge of the rescue
attempt, and features Advocaat as its
core ingredient. The cruise line joined
forces with illustrator Lauren Crowe to
bring to life these famous personalities,
producing complex pencil illustrations of
all seven knighted Commodores. Richard
Meadows, Cunard North America's
President, said with over 176-years of
cruise history, the line has continued to
be recognised globally as a pioneer in
exploring the earth. He added Cunard
was proud to recognise seven of the
most honoured Cunard Commodores in
the Queen Mary 2's already legendary
Commodore Club, men who have been
in charge of Cunard flagships and fleets
during its glorious history. Meadows
concluded: "Inspired by character
and history, each cocktail has been
thoughtfully created to honour their
remarkable stories."
Cunard introduces cocktail range
to honour the Commodores