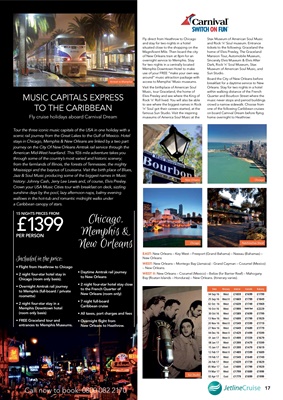 493609927
32
VENICE & GEMS OF NORTHERN ITALY
Po River cruise on board River Countess
Soak up the enchantment of "The City of Water" and three outer lying Venetian islands, Burano, Mazzorbo and Torcello. Be treated to an
exclusive evening opening and lighting ceremony at St. Mark's Basilica. Discover the charm of seaside Chioggia loved by fishermen and
artists alike. Enjoy a special glassmaking demonstration on Murano and explore medieval Padua, once home to Galileo and Copernicus; and
much more!
Included in the price:
• Return London flights
• All transfers
• 7 nights all inclusive Po river
cruise on board River Countess
• Includes a wide choice of
complimentary shore excursions
• All dining including alcoholic,
soft drinks, tea and coffee
7 NIGHTS PRICES FROM
£1839*
PER PERSON
33
UNIWORLD BOUTIQUE RIVER CRUISE COLLECTION
ALL INCLUSIVE RIVER CRUISING
The difference is in the details
A luxurious river cruise journey is the
ideal way to see some of the world's
most captivating destinations.
Uniworld delivers unrivalled luxury,
impeccable attention to detail,
unmatched amenities and first-class
service throughout Europe… and it's
all included!
From the enchanting Danube
to the legendary Rhine; France's
breathtaking Seine to Italy's iconic
Venetian Lagoon and Po River; and
Portugal and Spain's majestic Douro
to Russia's mighty Volga, Europe's
rivers have shaped the continent's
history and culture for millennia.
With unsurpassed convenience and
everything included- airport transfers,
all gratuities onboard and onshore,
all meals onboard with unlimited
beverages, hosted excursions, port
charges and Wi-Fi access- all you
need to do is simply relax, and
Uniworld will take care of the rest.
THE ONBOARD EXPERIENCE
Each one-of-a-kind Uniworld ship is a
work of art designed to be as unique
and inspiring as the destinations
you visit. With exquisite furnishings
and original art, everything blends in
perfect harmony with modern luxuries,
so you'll be treated to a beautiful
journey both onboard and onshore.
Sleep on heavenly handcrafted beds
draped in the finest linens and dine on
a parade of culinary delights, including
regional specialities and good
old-fashioned comfort foods.
MOMENTS TO TREASURE
A stately castle or ancient temple
appears across the water and suddenly
your day-to-day concerns and
responsibilities seem a world away.
Echoes of the past surround you as
your ship glides under stone bridges
along gently flowing and peaceful
waterways. You'll come to rest in the
heart of historic towns, mere steps away
from quaint artists' villages, imposing
medieval fortresses, and bastions of
music and culture. Uniworld does more
than just take you from here to there-
they take you away.
HEARTFELT HOSPITALITY
At every turn, you will be made to
feel at home by the warm and caring
staff, with whom you'll feel an instant
connection. From the moment you step
onboard your luxurious ship (and find
your luggage effortlessly whisked to
your stateroom), you'll be treated to
gracious and attentive hospitality.
UNPARALLELED CONVENIENCE
The intimate scale of Uniworld ships
makes it possible to dock in the heart
of grand capitals, medieval villages,
and intriguing locales inaccessible by
big ocean cruise ships. You'll never
wait in long lines to get on or off the
ship. Simply step ashore and you're
close to everything, ready to explore.
Uniworld takes care of all the details
to ensure that your journey is as
comfortable as it is unforgettable.
Call now to book: 0808 281 1490
Prices are per person based on 2 adults sharing departing from London - regional flights are subject to availability at a supplement. Overseas airport transfers are included in the cost. Itineraries are subject to change and availability. Prices include early booking offer of £300 per
person in a Cat 5 stateroom. Saving of up to £1200 per couple is based on a suite, twin share. Book by 31 Aug 2016. *Extension includes 2 night stay in Milan and time in Verona with included excursions. Price is based on tour only, flights to be advised independently.
Enjoy delicious dishes
Category 1 Stateroom, River Countess
Lobby on River Countess
Stateroom on the River Countess
Savoy Restaurant, River Countess
WHY NOT ENHANCE YOUR VOYAGE WITH 2 NIGHTS IN MILAN AND A TOUR OF VERONA?
PRICES FROM £460PP*
YOUR ITINERARY:
Day 1 - Venice - Arrive at Venice
airport, transfer to River Countess for
embarkation. Evening at leisure.
Day 2 - Venice - Wind through Venice's
labyrinthine back lanes on a walking tour
that features the city's top sights and a
Venetian glassmaking demonstration.
Later, you're in for a once-in-a-lifetime
experience-a crowd-free, after-hours
visit inside St. Mark's Basilica. In the
evening, enjoy a Captain's Welcome
Reception and Gala Dinner.
Day 3 - Chioggia (Padua) - Enjoy
magnificent views of "The Floating
City's" greatest sights, including the
Grand Canal, as your ship departs
Venice. Explore of one of the oldest
cities in Northern Italy, Padua or discover
Chioggia, often referred to as "Little
Venice". For those who wish for a more
active day, bicycle along the beaches
of Chioggia.
Day 4 - Polesella (Bologna or Ferrara)
- Spend the day in Bologna, Italy's
culinary capital, an ideal place to learn
the art of making pasta. Or, spend a
half day in Ferrara, a UNESCO World
Heritage Site with a long history as a
centre for the arts.
Day 5 - Taglio di Po, Chioggia,
Venice Stroll through a bustling fish
market in Chioggia, a colourful fishing
village on the Venice Lagoon. Later,
head to the Sun Deck of your ship
for views of two Venice Lagoon isles,
sleepy Pellestrina and Lido, home to
the Venice Film Festival.
Day 6 - Venice Island (Burano,
Mazzorbo & Torcello), Venice -
Spend the day exploring the Venice
Lagoon and three of its entrancing
islands. Stroll through Burano with its
rainbow of colorful homes, and visit
a lace-maker. While on Mazzorbo,
be treated to a very special Prosecco
tasting. Visit Torcello, home to
spectacular Byzantine mosaics in the
seventh-century Cathedral of Santa
Maria Dell'Assunta.
Day 7 - Venice - Get a feel for daily
life in Venice with a guided stroll
through the bustling Rialto Market, or
tour the renowned Accademia Gallery
with an art historian. In the evening,
enjoy a Captain's Farewell Reception
and Gala Dinner.
Day 8 - Venice (disembark) - transfer
to Venice Airport for your flight home.
Save up to £1,200 per couple*
Cabin Upgrades Available
Please ask for details
Date Riverview Stateroom
9 Apr 17 £2289pp
21 May 17 £2489pp
18 Jun 17 £2389pp
23 Jul 17 £2289pp
13 Aug 17 £2289pp
10 Sep 17 £2689pp
5 Nov 17 £2089pp
Captains Lounge, River Countess
Il Castillo Bar, River Countess