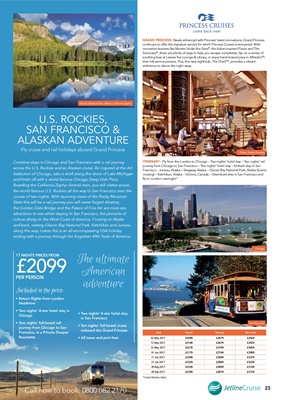 LUXURY BALI STAY & TALL SHIP
INDONESIAN CRUISE
Fly cruise holidays aboard Star Clipper
Your Indonesian adventure begins with a five-night luxury hotel stay in the stylish resort of Seminyak, home
to ancient temples, world-class restaurants, high-end boutiques and some of Bali's finest beaches. Then
climb aboard Star Clipper for a unique Tall Ship sailing experience and discover a collection of remote, often
uninhabited Indonesian Islands that are only accessible to smaller vessels. Visit the Gili Islands; an archipelago
of three small islands fringed by powdery white-sand beaches, dotted with coconut palms set in a turquoise
blue sea surrounded by coral reefs. Explore Komodo Island, the desolate domain of the fierce dragon that
bears the islands name and relax on Pink Beach, one of only seven such beaches on the planet.
Included in the price:
• Return flights from London
Heathrow
Regional flights available at a
supplement
• 5-nights' 5-star bed-andbreakfast
hotel stay at the Trans
Resort Bali (or similar)
• All overseas transfers
• 7-nights' full-board cruise
onboard Star Clipper
• All port charges and port taxes
14 NIGHTS PRICES FROM
£1999PER PERSON
Day 1: Fly UK Bali - Fly overnight
from London Heathrow to Bali. Upon
arrival transfer to hotel for 5 nights
stay.
Days 2 - 6: Seminyak, Bali - Upon
arrival transfer to your hotel in
Seminyak for 5 nights stay.
Day 7: Embark Star Clipper, Benoa,
Bali - After breakfast transfer to Benoa
Port and embark Star Clipper for your
seven night cruise.
Day 8: Gili Kondo (Lombok Island),
Indonesia - This uninhabited island
is one of 33 small islands of eastern
Lombok. Snorkel directly from the
beach in calm, crystal clear waters,
soak up some rays or take a stroll
along its white sand beach.
Date Prices from
14 May 17 £1999
25 Jun 17 £2059
09 Jul 17 £2179
06 Aug 17 £2199
19 Aug 17 £2199
03 Sep 17 £2179
Prices are from, per person based on 2 adults sharing
a category 6 inside cabin, upper/lower berths onboard
Star Clipper.
Visit www.jetlinecruise.com
or call 0800 082 2170
44
Day 9: At Sea - Enjoy a relaxing day
at sea and soak up the scenery as you
glide across the Indian Ocean.
Day 10: Komodo National Park,
Indonesia and Pink Beach (Komodo
Island), Indonesia - In the morning
visit Komodo National Park, a UNESCO
World Heritage Site and home to the
fierce Komodo Dragon. These unique
lizards grow to up to three metres
in length and resemble a relic from
when dinosaurs walked the earth. In
the afternoon dock at Pink Beach. The
amazing colour of the beach comes
from microscopic animals called
Foraminifera which leave a red pigment
on the coral which break off and
combine with silvery sand to produce
the glorious pink shade.
Day 11: Satonda Island, Indonesia
- Satonda is surrounded by beautiful
coral reefs with a large variety of tropical
fish; to protect this unique underwater
paradise the island was declared to be
a Marine Nature Park in 1999. Prepare
your snorkelling equipment and wear
comfortable shoes if you want to climb
to the salt water Crater Lake in the
middle of the island (the walk takes
about 15 minutes depending on your
pace).
Day 12: Gili Meno and Gili Trawangan
(Lombok Island), Indonesia - Known
as "Gili T" Gili Trawangan is the most
cosmopolitan of the Gili Islands where
you can enjoy fresh seafood, snorkel,
sunbathe, join a dive trip, rent a bike
or take a horse carriage ride. Gili Meno
is the smallest of the Gili Islands and is
home to the Green Sea and Loggerhead
turtle which can often be spotted in the
shallow waters of the island.
Day 13: Gili Nanggu (Lombok Island),
Indonesia - Gili Nanggu is a serene
island paradise where there is nothing
to do except relax and unwind or
maybe indulge in a little snorkelling or
swimming.
Day 14: Benoa (Bali), Indonesia - After
breakfast onboard transfer to the airport
for your overnight flight back to the UK.