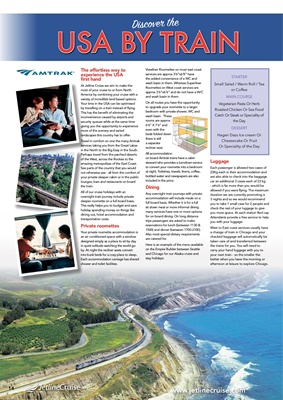 Waikiki Beach
Hawaiian Tikis
Maui
Las Vegas
2017 CUNARD WORLD
CRUISE HOLIDAYS
Cruise both the Tropics and the Equator in one cruise or sail the
South Pacific islands including time travelling into the future across
the International Dateline. Or simply take a leisurely cruise across
the Atlantic to the sunshine and beaches of Bermuda and Fort
Lauderdale. Take this amazing opportunity to explore the world
on these once in a lifetime journeys. If you do not have the time to
spare for the full world cruise, it is still possible to enjoy the sense
of occasion and visit some of the unique destinations not found on
regular cruises by selecting a one of our sections of the 2017 Cunard
world cruises.
WHY CRUISE WITH CUNARD?
• The Finest traditions at sea
• Dress for Dinner
• Themed Balls and Captain's Cocktail
parties in the Queens Room
• Superb dining in the Britannia
restaurant
• Speciality Pop-Up Restaurants in the
Lido or Kings Court
• Superlative White Gloved
afternoon tea
• FREE 24 Hour room service
• FREE Guest Launderettes
• Cunard Insights Programme / RADA
/ Guest Speakers
• Morning fencing lessons on
Queen Elizabeth & Queen Victoria
• The Only Planetarium at sea
on-board Cunard Queen Mary 2
14-26 NIGHTS PRICES FROM
£899PER PERSON
Date Nights Interior Balcony Pr Grill Suite
05-Jan-17 14 £899 £1,199 £1,899
19-Apr-17 16 £999 £1,499 £3,059
BERMUDA & FORT LAUDERDALE SUNSHINE
ON CUNARD QUEEN VICTORIA
Sample the pink coral sands of Bermuda and enjoy the Floridian sunshine with just one
flight and a classic cruise across the Atlantic between Southampton and Fort Lauderdale.
Experience the finest traditions at sea on board Cunard Queen Victoria; expect to dress
for dinner, meet interesting people and be pampered with legendary Cunard White
Star service. The Queens Ballroom is the venue for a range of themed balls throughout
your cruise, a champagne cocktail party with the captain and is also where superlative
afternoon tea is served by white gloved waiters on fine bone china. Choose our 14 night
January west-bound departure from Southampton to beat the winter blues or plan for a
longer spring break in April east-bound to Southampton via Orlando and the southern
charm of Charleston South Carolina.
05 January 2017: 11 night cruise from Southampton - Hamilton (Bermuda) - Port
Everglades (Fort Lauderdale) - 2 nights 4-star Fort Lauderdale Beach hotel stay -
Overnight direct flight to Gatwick.
19 April 2017: Fly direct from Gatwick to Fort Lauderdale - 2 nights' 4-star Fort Lauderdale
beach hotel stay - 14 night cruise from Port Everglades - Port Canaveral (Orlando) -
Charleston (South Carolina) - Hamilton (Bermuda) - Ponta Delgada (Azores) - Southampton. HAWAIIAN ISLANDS
- WAIKIKI BEACH
- LAS VEGAS
Fly cruise holidays aboard Pride Of America
Spend less time crossing the ocean and more time sailing around
the Hawaiian Islands on this immersive Hawaiian Holiday. The
Pride of America is the only ship completely crewed by American
nationals which allows it to be dedicated to only Hawaiian ports of
call and no-where else starting and ending in Honolulu. This creates
a unique opportunity to fully experience island life starting with
a beach holiday on Waikiki beach and followed by seven nights
Hawaiian island hopping. This cruise itinerary includes overnight
stops in Maui and Kauai to experience Hawaii -not only by day but
also by night. The whole holiday is topped off with a visit to the
bright lights of Las Vegas on the way home for a chance to roll the
dice . spin the wheel and have a flutter.
Included in the price:
• Flight from Heathrow to
Honolulu
• 5 nights 4-star Hilton Hotel stay
on Waikiki Beach
• 7 night full board cruise on
Pride Of America
17 NIGHTS PRICES FROM
£2289PER PERSON
For many in their 40's Hawaii conjures up images of Magnum PI and red Ferraris. For
those in their 50's Steve Garret and Hawaii Five O, frantically canoeing though the
surf; whilst 60 something's may think of Elvis in his films Blue Hawaii and Rockahula.
However, most think of exotic beaches, Hula Girls, Lei Garlands, swaying palms
and magnificent sunsets. On Oahu perhaps visit Pearl Harbour and the Arizona
monument or try out surfing on Waikiki Beach. On Kauai explore scenery made
famous in the Jurassic Park films, wallow in the Wailua Falls or sunbathe on Kalapaki
Beach - just a short stroll from Nawilliwilli Harbour. Go on a breathtaking Volcano
adventure on the Big Island from Hilo or simply have a night time Luau - the
Hawaiian version of a BBQ but much more colourful and fun!
CRUISE ITINERARY: Honolulu - Kahului (overnight in Port - Maui) - Hilo (Big Island) -
Kona (Big Island) - Nawiliwili (overnight in port - Kauai) - Honolulu.
Date Interior Oceanview Balcony
17 Oct 16 £2 629 £2 799 £3 079
21 Nov 16 £2 289 Sold Out £2 689
26 Dec 16 £3 399 £3 629 £3 999
02 Jan 17 £2 759 £2 979 £3 249
23 Jan 17 £2 449 £2 669 £2 949
06 Feb 17 £2 499 £2 699 £2 999
20 Feb 17 £2 589 £2 799 £3 099
27 Feb 17 £2 579 £2 729 £3 089
20 Mar 17 £2 599 £2 759 £3 059
27 Mar 17 £2 599 £2 829 £3 179
03 Apr 17 £2 679 £2 869 £3 199
01 May 17 £2 779 £2 969 £3 299
22 May 17 £2 849 £3 029 £3 389
# Terms, conditions and limitations apply - Available only
if booked more than 30 days before departure.
• Overnight flight from
Honolulu to Las Vegas
• 3 nights 4-star hotel stay on
the Las Vegas Strip
• Flight from Las Vegas to
London
• CHOOSE EITHER a FREE
Speciality Dining Package#
on 4 nights of the cruise
• OR FREE Shore Excursion
Credit# -$50 per port, per
stateroom at 4 ports of call.
27
Call now to book: 0800 082 2170
26
EQUATOR AND TROPICS VOYAGE
TO CAPE TOWN WITH SAFARI
ON CUNARD QUEEN MARY 2
Go on Safari in South Africa and cross
the Equator and both Tropics all in one
cruise. This exotic sector of the world
cruise features an exciting stay in vibrant
Cape Town, a Safari in Africa, Namibia
and the sense of occasion setting sail from
Southampton at the start of a world cruise.
As this voyage is the first and an unusual
sector of the Cunard Queen Mary 2 2017
world cruise it is strictly capacity controlled
and is selling fast. Toboggan down the
streets of Funchal, explore the volcanic
peak of Mount Teide sand soak up the
unspoilt natural charm of Namibia.
Set sail for 17 nights from Southampton on the first leg of the Cunard Queen Mary 2 2017
world voyage to Madeira-Tenerife-Walvis Bay (Namibia) - Cape Town (Overnight in port).
Spend two nights in a four-star bed-and-breakfast hotel in the heart of all the action on the
V&A Waterfront. Enjoy a full day safari tour with lunch to the Inverdoorn game Reserve on
a quest to spot the big five. Perhaps take the cable-car up to the top of Table Mountain to
admire the views or sample world class wines on a tour of a local vineyard. Then fly home
overnight to Heathrow. (All transfers in Cape Town are included).
Reverse itinerary is available on 17 April 2017 on board Cunard Queen Elizabeth for
21 nights from Cape Town to Southampton from only £2299pp
Date Nights Interior Balcony Pr Grill Suite
10-Jan-17 20 £1799 £2199 £4199
SAN FRANCISCO - SOUTH PACIFIC- AUSTRALIA
ON CUNARD QUEEN ELIZABETH
BONUS UPTO $1300 PER STATEROOM ON BOARD SPENDING MONEY
Cruise the furthest flung regions of the world on this exotic cruise to Hawaii, the South
Pacific, New Zealand and Australia. Enjoy the Streets of San Francisco, visit Alcatraz, soak
up the views of the Golden Gate Bridge and sample the fresh seafood at Fisherman's
Wharf. Indulge in time travel as you cross the International Dateline into tomorrow and
enjoy three nights exploring the delights of Sydney with superb beaches such as Bondii
Beach and Manly Beach; plus magnificent views from Circular Quay overlooking the
Opera House and Sydney Harbour Bridge.
Fly direct from Heathrow to San Francisco for two nights' four-star hotel stay close to
Union Square. Cruise for 21 nights on Cunard Queen Elizabeth to - Honolulu (Oahu) -
Lahaina (Maui) - Cross the International Dateline - Apia (Western Samoa) and Nukualofa
(Tonga). Then on to New Zealand to visit Auckland and the Bay of Islands (cruising) before
reaching Sydney to spend overnight on board ship. Stay for two further nights in Sydney in
a four-star hotel close to all of the action at Darling Harbour, then transfer to the airport for
your overnight flight to Heathrow. (All transfers included).
Date Nights Interior Oceanview Balcony
02-Feb-17 26 £3239 £3329 £4099
Hawaii. Below: QM2, Britannia Restaurant