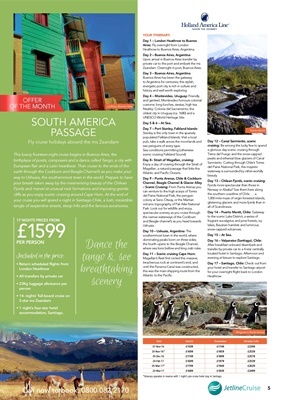 Bruges
Barbados Dubrovnik
Dep Date Nights Ship Itinerary Highlights From
11 Sep 16 24 Arcadia New York# - Rhode Island - Boston - Portland - Bar Harbor - Halifax -
Quebec# - Sydney
£2199
18 Sep 16 14 Azura Seville - Cartagena - Rome - Cannes - Barcelona# - Gibraltar £999
30 Sep 16 14 Ventura Cartagena - Barcelona - Monte Carlo-Rome - Sardinia - Gibraltar - Lisbon £949
02 Oct 16 5 Azura Amsterdam# - Le Havre (Paris) £349
05 Oct 16 17 Arcadia Seville - Sardinia - Salerno - Sicily - La Spezia - Elba - Toulon - Barcelona - Ceuta £1599
08 Oct 16 24 Aurora La Coruna - Tortola - Antigua - St Maarten - St Lucia - Barbados - Azores £1399
21 Oct 16 7 Azura Vigo - Lisbon - Opporto - Cherbourg £579
21 Oct 16 15 Britannia Azores - St Maarten - St Kitts - Dominica - Grenada - Barbados#-Fly home £999
22 Oct 16 18 Arcadia Seville - Sicily - Corfu - Dubrovnik - Venice# - Hvar - Gibraltar £1099
22 Oct 16 34 Oriana St Maarten - Jamaica - Grand Cayman - Cozumel - Progresso - New Orleans#
- Fort Lauderdale - Orlando - Charleston# (South Carolina) - Bermuda
£1999
27 Oct 16 3 Ventura Taster cruise to Zeebrugge for Bruges £279
28 Oct 16 14 Azura Azores - St Maarten - St Lucia - Dominica - Grenada - Barbados - Fly home £879
01 Nov 16 19 Aurora Cadiz - Sardinia - Naples - Sicily - Athens - Kusadasi - Rhodes - Malta -Lisbon £1049
23 Nov 16 10 Ventura La Coruna - Seville - Malaga - Gibraltar- Lisbon £579
25 Nov 16 24 Arcadia Antigua - Tortola - St Maarten - St Kitts - Martinique - St Lucia - Azores £1499
06 Dec 16 10 Aurora Hamburg - Copenhagen - Oslo - Amsterdam# - Bruges £699
16 Dec 16 24 Aurora Antigua - St Maarten - Dominica - Grenada - Barbados - Azores £2099
18 Jan 16 28 Ventura La Coruna - Barbados - St Lucia - Dominica - St Maarten - Tortola
- St Kitts - Antigua - Azores
£1699
22 Feb 17 12 Oriana The Northern Lights & North Cape £899
11 Mar 17 13 Britannia Fly to Barbados# - Dominica - St Maarten - Tortola - Azores - UK £849
# Overnight in Port. Prices are changing daily - Call for the latest prices. Based on Saver Fares - Terms & Conditions apply.
AUTUMN & WINTER
2016 SALE - NO FLYING
No Flying Cruise Offers From Southampton
A multiple holiday experience awaits on the doorstep of the UK
without having to fly at all! Soak up beautiful scenery, witness natural
phenomenon and walk through ancient structures. Sample exotic
cuisine, enjoy the thrill of a theme park, sink your toes into warm
golden sand, wallow in azure seas or rub shoulders with the rich and
famous. Take a two week cruise around western Med hotspots and
Rome or set sail for 17 nights to island hop around the Greek Isles
or go on an 18 night voyage to visit Venice and the Adriatic. Treat
yourself to a short break or explore the beautiful scenery of Norway.
Tick off numerous European capital cities in one holiday or join the
party crowd in Ibiza and Amsterdam. Perhaps take an extended 34
night voyage to visit key sights of the Caribbean, the French Quarter
of New Orleans, Florida and the deep south hospitality of Charleston
- South Carolina before calling at Bermuda on the way home.
Why cruise with P&O?
• Dedicated to the discerning
British cruise market
• Silver Service in the Main
Dining rooms (Club dining)
• Tea & Coffee making Facilities
in your stateroom
• Adults only cruising on P&O
Arcadia / Oriana
• Family friendly ships on P&O
Aurora / Azura / Oceana /
Ventura / Britannia
• FREE childcare in the Night
Nursery (6pm to 2am) on all
Family friendly ships from 6
months to 5 year olds
• Celebrity Chef Al A Carte
Dining restaurants (Select
Dining)
• FREE 24 Hour room service
• Cinemas available on all ships
• Free Guest Launderettes
• Weddings & Renewal of Vows
at sea
3-34 NIGHTS PRICES FROM
£279PER PERSON
Prices are
changing daily
NO-FLY AMSTERDAM
STAY & THE
NORWEGIAN FJORDS
No-fly cruises from Amsterdam
onboard the ms Koningsdam
Conveniently travel from London to Amsterdam onboard the Eurostar
for a one night stay. After arriving in Amsterdam enjoy a full afternoon
and evening to explore this charming capital with its endless canals
and bridges that criss-cross the city. Then embark ms Koningsdam,
the newest addition to the Holland America Line Fleet and choose
from two itineraries to the breathtaking Norwegian Fjords.
Included in the price:
• Return rail journey from London
St Pancras to Amsterdam
onboard Eurostar in Standard
seats.
Upgrades to Standard Premier
available at a supplement
• 1 night's four-star Bed-andbreakfast
hotel accommodation
in Amsterdam
• 7- nights' full-board cruise
onboard the 5-star ms
Koningsdam
• All port taxes and port charges
8 NIGHTS PRICES FROM
£999PER PERSON
INTRODUCING MS KONINGSDAM
Koning means "king" in Dutch, and the name celebrates
Holland America Line's majestic new ship, as well as paying
homage to His Majesty King Willem-Alexander, first king of
the Netherlands in over a century.
The first in a new, but still mid-sized Pinnacle class,
2,650-guest ms Koningsdam blends a fresh, contemporary
styling in harmony with Holland America Line's classic elegance. Interiors by Adam
D. Tihany, one of the world's pre-eminent hospitality designers, are inspired by the
"architecture of music" - focusing on fluid curves, graceful lines and light-filled places.
Amsterdam. Below: Geirangerfjord
Discover the
breathtaking
beauty of the
Norwegian Fjords
on the brand new
ms Koningsdam
Date Interior Oceanview Balcony
27-Aug-16 SOLD OUT £1159 £1369
13-May-17 £1049 £1199 £1299
24-Jun-17 £999 £1199 £1299
22-Jul-17 £1169 £1289 £1479
19-Aug-17 £1169 £1299 £1389
9
Call now to book: 0800 082 2170
8
VIKING SAGAS
Enjoy a visit to Norway's buzzing capital Oslo, before heading North through
breathtaking scenery. In Stavanger, take a trip to the famous Pulpit Rock, one
of Norway's many natural wonders. Relax on Kristiansand beach and explore
its charming surrounding areas, and learn about local traditions in Ulvik
before cruising through the spectacular Hardangerfjord.
CRUISE ITINERARY: Amsterdam - Flam, Norway - scenic cruising Sognefjord -
Stavanger, Norway - Kristiansand, Norway - scenic cruising Oslo Fjord - Oslo, Norway
- Amsterdam
Date Interior Oceanview Balcony
03-Jun-17 £999 £1199 £1299
01-Jul-17 £1169 £1289 £1479
29-Jul-17 £1169 £1369 £1479
26-Aug-17 £1169 £1289 £1479
NORSE LEGENDS
Discover Bergen, surrounded by steep forested mountains. Enjoy scenic
cruising through the UNESCO World Heritage site of Geirangerfjord. Visit
the delightful Norwegian towns of Alesund and Eidfjord before sailing
through Hardangerfjord with its spectacular glaciers and grand waterfalls.
CRUISE ITINERARY: Amsterdam - Eidfjord, Norway - scenic cruising Hardangerfjord
- Alesund, Norway - Geiranger, Norway - cruising Geirangerfjord - Bergen, Norway -
Amsterdam
Pulpit Rock, Stavenger
Bergen
Mandraki Harbour, Rhodes