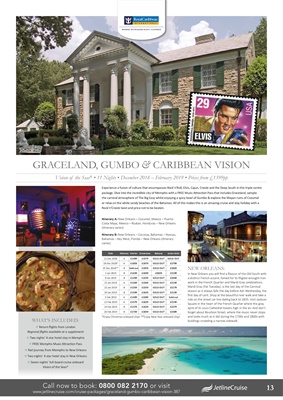 Itinerary A: New Orleans - Cozumel, Mexico - Puerto
Costa Maya, Mexico - Roatan, Honduras - New Orleans
(itinerary varies)
Itinerary B: New Orleans - Cococay, Bahamas - Nassau,
Bahamas - Key West, Florida - New Orleans (itinerary
varies)
Experience a fusion of culture that encompasses Rock'n'Roll, Elvis, Cajun, Creole and the Deep South in this triple centre
package. Dive into the incredible city of Memphis with a FREE Music Attraction Pass that includes Graceland, sample
the carnival atmosphere of The Big Easy whilst enjoying a spicy bowl of Gumbo & explore the Mayan ruins of Cozumel
or relax on the white sandy beaches of the Bahamas. All of this makes this is an amazing cruise and stay holiday with a
Rock'n'Creole twist and price not to be beaten.
Date Itinerary Interior Oceanview Balcony Junior-Suite
11 Dec 2018 A £1499 £1579 SOLD OUT SOLD OUT
18 Dec 2018* A £1859 £1979 SOLD OUT £2799
25 Dec 2018** B Sold out £1959 SOLD OUT £2829
1 Jan 2019 B £1639 £1699 £2029 £2199
8 Jan 2019 B £1399 £1559 SOLD OUT £2049
15 Jan 2019 A £1569 £1569 SOLD OUT £2149
22 Jan 2019 B £1559 £1559 SOLD OUT £2179
29 Jan 2019 B £1599 £1629 SOLD OUT £2139
5 Feb 2019 A £1499 £1589 SOLD OUT Sold out
12 Feb 2019 A £1579 £1629 SOLD OUT £2149
19 Feb 2019 B £1579 £1639 SOLD OUT £2279
26 Feb 2019 B £1739 £1839 SOLD OUT £2389
*Enjoy Christmas onboard ship! **Enjoy New Year onboard ship!
NEW ORLEANS:
In New Orleans you will find a flavour of the Old South with
a distinct French accent, famed for its filigree wrought-iron
work in the French Quarter and Mardi Gras celebrations.
Mardi Gras (Fat Tuesday), is the last day of the Carnival
season as it always falls the day before Ash Wednesday, the
first day of Lent. Shop at the beautiful river walk and take a
ride on the street car line dating back to 1835. Visit Jackson
Square in the heart of the French Quarter where the gray
spire of St Louis Cathedral towers high in the air. And don't
forget about Bourbon Street, where the music never stops
and looks much as it did during the 1700s and 1800s with
buildings crowding a narrow sidewalk.
GRACELAND, GUMBO & CARIBBEAN VISION
Vision of the Seas® • 11 Nights • December 2018 - February 2019 • Prices from £1399pp
WHAT'S INCLUDED:
✥ Return flights from London
Regional flights available at a supplement
✥ Two nights' 4-star hotel stay in Memphis
✥ FREE Memphis Music Attraction Pass
✥ Rail journey from Memphis to New Orleans
✥ Two nights' 4-star hotel stay in New Orleans
✥ Seven nights' full-board cruise onboard
Vision of the Seas®
13
Call now to book: 0800 082 2170 or visit
www.jetlinecruise.com/cruise-packages/graceland-gumbo-caribbean-vision-387