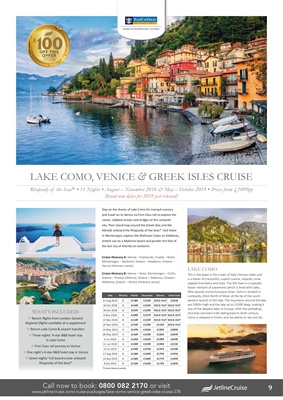 Cruise itinerary A: Venice - Dubrovnik, Croatia - Kotor,
Montenegro - Santorini, Greece - Katakolon, Greece -
Venice (itinerary varies)
Cruise itinerary B: Venice - Kotor, Montenegro - Corfu,
Greece - Piraeus (Athens), Greece - Mykonos, Greece -
Kefalonia, Greece - Venice (itinerary varies)
LAKE COMO, VENICE & GREEK ISLES CRUISE
Rhapsody of the Seas® • 11 Nights • August - November 2018 & May - October 2019 • Prices from £1099pp
Brand new dates for 2019 just released!
WHAT'S INCLUDED:
✥ Return flights from London Gatwick
Regional flights available at a supplement
✥ Return Lake Como & airport transfers
✥ Three nights' 4-star B&B hotel stay
in Lake Como
✥ First Class rail journey to Venice
✥ One night's 4-star B&B hotel stay in Venice
✥ Seven nights' full-board cruise onboard
Rhapsody of the Seas®
Stay on the shores of Lake Como for tranquil scenery
and travel on to Venice via First Class rail to explore the
canals, cobbled streets and bridges of this romantic
city. Then island hop around the Greek Isles and the
Adriatic onboard the Rhapsody of the Seas®. Visit Kotor
in Montenegro, explore the Melissani Caves on Kefalonia,
stretch out on a Mykonos beach and ponder the fate of
the lost city of Atlantis on Santorini.
LAKE COMO
This is the jewel in the crown of Italy's famous lakes and
is a haven of tranquillity, superb cuisine, majestic snow
capped mountains and style. The Old Town is a typically
Italian network of pavements which is lined with cafes,
little squares and picturesque lanes. Como is located in
Lombardy, 45km North of Milan at the tip of the southwestern
branch of the lake. The mountains around the lake
are 2000m high and the lake up to 1350ft deep, making it
one of the deepest lakes in Europe. With the cathedrals,
churches and town halls dating back to tenth century,
Como is steeped in history and has plenty to see and do.
Date Itinerary Interior Oceanview Balcony Junior-Suite
21 Aug 2018 B £1389 £1529 SOLD OUT £2339
16 Oct 2018 B £1449 £1559 SOLD OUT SOLD OUT
30 Oct 2018 B £1279 £1399 SOLD OUT SOLD OUT
6 Nov 2018 A £1099 £1379 SOLD OUT SOLD OUT
13 Nov 2018 B £1149 £1249 SOLD OUT SOLD OUT
20 Nov 2018 A £1249 £1299 £1529 SOLD OUT
14 May 2019 A £1479 £1659 £1959 £2099
28 May 2019 A £1429 £1599 £1929 £2079
4 Jun 2019 B £1459 £1659 £1999 £2249
11 Jun 2019 A £1499 £1599 £1949 £2159
23 Jul 2019 A £1449 £1559 £1979 £2199
27 Aug 2019 B £1389 £1499 £1799 £1959
10 Sep 2019 B £1369 £1469 £1779 £1959
8 Oct 2019 B £1329 £1429 £1729 £1959
*Cruise itinerary varies
£
10 0OFF THIS
OFFERPlease refer to
page 2 for details
9
Call now to book: 0800 082 2170 or visit
www.jetlinecruise.com/cruise-packages/lake-como-venice-greek-isles-cruise-278