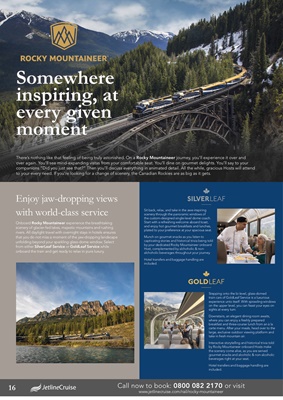 Enjoy jaw-dropping views
with world-class service
Onboard Rocky Mountaineer experience the breathtaking
scenery of glacier-fed lakes, majestic mountains and rushing
rivers. All daylight travel with overnight stays in hotels ensures
that you do not miss a moment of the jaw-dropping landscape
unfolding beyond your sparkling glass-dome window. Select
from either SilverLeaf Service or GoldLeaf Service while
onboard the train and get ready to relax in pure luxury.
There's nothing like that feeling of being truly astonished. On a Rocky Mountaineer journey, you'll experience it over and
over again. You'll see mind-expanding vistas from your comfortable seat. You'll dine on gourmet delights. You'll say to your
companions "Did you just see that?" Then you'll discuss everything in animated detail. All the while, gracious Hosts will attend
to your every need. If you're looking for a change of scenery, the Canadian Rockies are as big as it gets.
Sit back, relax, and take in the awe-inspiring
scenery through the panoramic windows of
the custom-designed single-level dome coach.
Start with a refreshing welcome aboard toast,
and enjoy hot gourmet breakfasts and lunches,
plated to your preference at your spacious seat.
Munch on gourmet snacks as you listen to
captivating stories and historical trivia being told
by your dedicated Rocky Mountaineer onboard
Host, complemented by alchoholic & nonalchoholic beverages throughout
your journey.
Hotel transfers and baggage handling are
included.
Stepping onto the bi-level, glass-domed
train cars of GoldLeaf Service is a luxurious
experience unto itself. With sprawling windows
on the upper level, you can feast your eyes on
sights at every turn.
Downstairs, an elegant dining room awaits,
where you can enjoy a freshly prepared
breakfast and three-course lunch from an à la
carte menu. After your meals, head over to the
large, exclusive outdoor viewing platform and
take in fresh mountain air.
Interactive storytelling and historical trivia told
by Rocky Mountaineer onboard Hosts make
the scenery come alive, as you are served
gourmet snacks and alcoholic & non-alcoholic
beverages right at your seat.
Hotel transfers and baggage handling are
included.
Somewhere
inspiring, at
every given
moment
16 Call now to book: 0800 082 2170 or visit