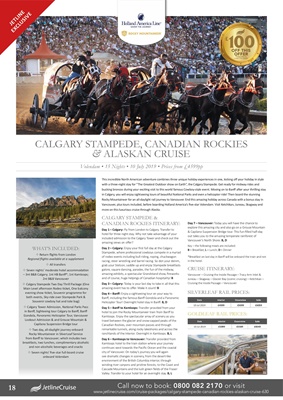 Day 7 - Vancouver: Today you will have the chance to
explore this amazing city and also go on a Grouse Mountain
& Capilano Suspension Bridge tour. This fun-filled half-day
out takes you to the amazing temperate rainforest of
Vancouver's North Shore. B, D
Key - the following meals are included:
B = Breakfast; L = Lunch; D = Dinner
*Breakfast on last day in Banff will be onboard the train and not
in the hotel.
CRUISE ITINERARY:
Vancouver - Cruising the Inside Passage - Tracy Arm Inlet &
Juneau - Skagway - Glacier Bay (scenic cruising) - Ketchikan -
Cruising the Inside Passage - Vancouver
SILVERLEAF RAIL PRICES:
Date Interior Oceanview Suite
10 Jul 2019 £4599 £5099 £6059
GOLDLEAF RAIL PRICES:
Date Interior Oceanview Suite
10 Jul 2019 £5099 £5589 £6549
WHAT'S INCLUDED:
✥ Return flights from London
Regional flights available at a supplement
✥ All transfers
✥ Seven nights' moderate hotel accommodation
- 3nt B&B Calgary; 1nt HB Banff*; 1nt Kamloops;
2nt B&B Vancouver
✥ Calgary Stampede Two Day Thrill Package (One
Main Level afternoon Rodeo ticket, One balcony
evening show ticket, Souvenir programme for
both events, Sky-ride over Stampede Park &
Souvenir cowboy hat and tote bag)
✥ Calgary Tower Admission, National Parks Pass
in Banff, Sighteeing tour Calgary to Banff, Banff
Gondola, Panoramic Helicopter Tour, Vancouver
Lookout Admission & and Grouse Mountain &
Capilano Suspension Bridge tour
✥ Two day, all-daylight journey onboard
Rocky Mountaineer in SilverLeaf Service
from Banff to Vancouver; which includes two
breakfasts, two lunches, complimentary alcoholic
and non-alcoholic beverages and snacks
✥ Seven nights' five-star full-board cruise
onboard Volendam
This incredible North American adventure combines three unique holiday experiences in one, kicking off your holiday in style
with a three-night stay for "The Greatest Outdoor show on Earth", the Calgary Stampede. Get ready for midway rides and
bucking broncos during your exciting visit to this world famous Cowboy-style event. Moving on to Banff after your thrilling stay
in Calgary, you will enjoy sightseeing tours of beautiful National Parks and even a helicopter ride! Then board the stunning
Rocky Mountaineer for an all-daylight rail journey to Vancouver. End this amazing holiday across Canada with a bonus stay in
Vancouver, plus tours included, before boarding Holland America's five-star Volendam. Visit Ketchikan, Juneau, Skagway and
more on this luxurious cruise through Alaska.
CALGARY STAMPEDE, CANADIAN ROCKIES
& ALASKAN CRUISE
Volendam • 15 Nights • 10 July 2019 • Prices from £4599pp
JETLINE
EXCLUSIVE
CALGARY STAMPEDE &
CANADIAN ROCKIES ITINERARY:
Day 1 - Calgary: Fly from London to Calgary. Transfer to
hotel for three night stay. Why not take advantage of your
included admission to the Calgary Tower and check out the
amazing views on offer?
Day 2 - Calgary: Enjoy your first full day at the Calgary
Stampede, where professional cowboys compete in a myriad
of rodeo events including bull riding, roping, chuckwagon
racing, steer wrestling and barrel racing. So don your denim,
grab your Stetson, saddle up and enjoy Stampede breakfasts
galore, square dancing, parades, the fun of the midway,
amazing exhibits, a spectacular Grandstand show, fireworks
and of course, huge helpings of Canadian hospitality! B
Day 3 - Calgary: Today is your last day to take in all that this
amazing event has to offer. Make it count! B
Day 4 - Banff: Enjoy a sightseeing tour on your way to
Banff, including the famous Banff Gondola and a Panoramic
Helicopter Tour! Overnight hotel stay in Banff. B, D
Day 5 - Banff to Kamloops: Transfer provided from your
hotel to join the Rocky Mountaineer train from Banff to
Kamloops. Enjoy the spectacular array of scenery as you
travel between the glacier and snow-capped peaks of the
Canadian Rockies, over mountain passes and through
remarkable tunnels, along rocky lakeshores and across the
ranchlands of the Interior. Overnight in Kamloops. B, L
Day 6 - Kamloops to Vancouver: Transfer provided from
Kamloops hotel to the train station where your journey
continues west towards the Pacific Ocean and the coastal
city of Vancouver. On today's journey you will again
see dramatic changes in scenery, from the desert-like
environment of the British Columbia interior, through
winding river canyons and pristine forests, to the Coast and
Cascade Mountains and the lush green fields of the Fraser
Valley. Transfer to your hotel for an overnight stay. B, L
£
10 0OFF THIS
OFFERPlease refer to
page 2 for details
18 Call now to book: 0800 082 2170 or visit
www.jetlinecruise.com/cruise-packages/calgary-stampede-canadian-rockies-alaskan-cruise-630