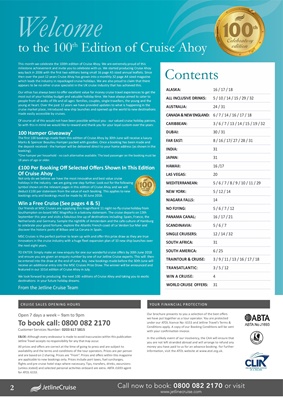 Open 7 days a week - 9am to 9pm
To book call: 0800 082 2170
Customer Services Number: 0203 617 5815
E&OE: Although every endeavour is made to avoid inaccuracies within this publication
Jetline Travel accepts no responsibility for any that may occur.
All prices and offers are correct at the time of going to press and are subject to
availability and the terms and conditions of the tour operators. Prices are per person
and are based on 2 sharing. Prices are "From". Prices and offers within this magazine
are applicable to new bookings only. Prices include port taxes, fuel surcharges,
flights and pre cruise hotel stays where necessary. Tips, transfers, drinks, excursions
(unless stated) and selected personal activities onboard are extra. ABTA J1693 agent
for ATOL 6153.
CRUISE SALES OPENING HOURS
Our brochure presents to you a selection of the best offers
we have put together as a tour operator. You are protected
under our ATOL licence No: 6153 and Jetline Travel's Terms &
Conditions apply. A copy of our Booking Conditions will be sent
with your confirmation invoice.
In the unlikely event of our insolvency, the CAA will ensure that
you are not left stranded abroad and will arrange to refund any
money you have paid to us for an advance booking. For further
information, visit the ATOL website at www.atol.org.uk.
YOUR FINANCIAL PROTECTION
ALASKA: 16 / 17 / 18
ALL INCLUSIVE DRINKS: 5 / 10 / 14 / 15 / 29 / 32
AUSTRALIA: 24 / 31
CANADA & NEW ENGLAND: 6 / 7 / 14 / 16 / 17 / 18
CARIBBEAN: 3 / 6 / 7 / 13 / 14 / 15 / 19 / 32
DUBAI: 30 / 31
FAR EAST: 8 / 16 / 17/ 27 / 28 / 31
INDIA: 31
JAPAN: 31
HAWAII: 16 /17
LAS VEGAS: 20
MEDITERRANEAN: 5 / 6 / 7 / 8 / 9 / 10 / 11 / 29
NEW YORK: 5 / 12 / 14
NIAGARA FALLS: 14
NO FLYING: 5 / 6 / 7 / 12
PANAMA CANAL: 16 / 17 / 21
SCANDINAVIA: 5 / 6 / 7
SINGLE CRUISERS: 12 / 14 / 32
SOUTH AFRICA: 31
SOUTH AMERICA: 6 / 25
TRAINTOUR & CRUISE: 3 / 9 / 11 / 13 / 16 / 17 / 18
TRANSATLANTIC: 3 / 5 / 12
WIN A CRUISE: 4
WORLD CRUISE OFFERS: 31
Contents
This month we celebrate the 100th edition of Cruise Ahoy. We are extremely proud of this
milestone achievement and invite you to celebrate with us. We started producing Cruise Ahoy
way back in 2006 with the first two editions being small 16 page A5 sized annual leaflets. Since
then over the past 12 years Cruise Ahoy has grown into a monthly 32 page A4 sized magazine
which leads the industry in repackaged cruise holidays. We are also proud to claim that there
appears to be no other cruise specialist in the UK cruise industry that has achieved this.
Our ethos has always been to offer excellent value for money cruise travel experiences to get the
most out of your holiday budget and valuable holiday time. We have always aimed to cater to
people from all walks of life and all ages: families, couples, single travellers, the young and the
young at heart. Over the past 12 years we have provided updates to what is happening in the
cruise market place, introduced new ship launches and opened up the world to new destinations
made easily accessible by cruises.
Of course all of this would not have been possible without you - our valued cruise holiday patrons.
So with this in mind we would like to reward and thank you for your loyal custom over the years:
100 Hamper Giveaway*
The first 100 bookings made from this edition of Cruise Ahoy by 30th June will receive a luxury
Marks & Spencer Beaulieu Hamper packed with goodies. Once a booking has been made and
the deposit received - the hamper will be delivered direct to your home address (as shown in the
booking).
*One hamper per household - no cash alternative available. The lead passenger on the booking must be
18 years of age or older.
£100 Per Booking Off Selected Offers Shown In This Edition
Of Cruise Ahoy
Not only do we believe we have the most innovative and best value cruise
holidays in the industry - we are going one step further. Look out for the following
symbol shown on the relevant pages in this edition of Cruise Ahoy and we will
deduct £100 per stateroom from the value of each booking. This applies to new
bookings only and bookings must be made by 30 June 2018.
Win a Free Cruise (See pages 4 & 5)
Our friends at MSC Cruises are supplying this magnificent 11 night no-fly cruise holiday from
Southampton on-board MSC Magnifica in a balcony stateroom. The cruise departs on 13th
September this year and visits a fabulous line up of destinations including: Spain, France, the
Netherlands and Germany. Sample the nightlife of Amsterdam and the cafe culture of Hamburg
to celebrate your good fortune, explore the Atlantic French coast of Le Verdon Sur Mer and
discover the historic ports of Bilbao and La Coruna in Spain.
MSC Cruises is the perfect partner to team up with and offer this prize draw as they are true
innovators in the cruise industry with a huge fleet expansion plan of 10 new ship launches over
the next eight years.
TO ENTER: Simply make an new enquiry for one our wonderful cruise offers by 30th June 2018
and ensure you are given an enquiry number by one of our Jetline Cruise experts. This will then
be entered into the draw at the end of June. Any new bookings made before the 30th June will
receive an additional entry into the MSC Cruises Prize Draw. The winner will be announced and
featured in our 101st edition of Cruise Ahoy in July.
We look forward to producing the next 100 editions of Cruise Ahoy and taking you to exotic
destinations in your future holiday dreams.
From the Jetline Cruise Team
Welcometo the 100th Edition of Cruise Ahoy 10 0 th
Celebratory
edition
£
10 0OFF THIS
OFFER
2 Call now to book: 0800 082 2170 or visit