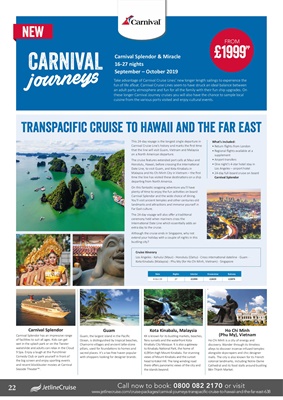 22 CARNIVAL
journeys
NEW
Cruise itinerary
Los Angeles - Kahului (Maui) - Honolulu (Oahu) - Cross international dateline - Guam -
Kota Kinabalu (Malaysia) - Phu My (for Ho Chi Minh, Vietnam) - Singapore
What's included:
• Return flights from London
• Regional flights available at a
supplement
• Airport transfers
• One night's 4-star hotel stay in
Los Angeles - airport hotel
• 24-day full-board cruise on board
Carnival Splendor
Date Nights Interior Oceanview Balcony
4 Oct 19 27 £1999 £2429 £2879
FROM
£1999
PP
Take advantage of Carnival Cruise Lines' new longer length sailings to experience the
fun of life afloat. Carnival Cruise Lines seem to have struck an ideal balance between
an adult party atmosphere and fun for all the family with their fun ship upgrades. On
these longer Carnival Journey cruises you will also have the chance to sample local
cuisine from the various ports visited and enjoy cultural events.
Carnival Splendor & Miracle
16-27 nights
September - October 2019
Transpacific Cruise to Hawaii and the Far East
This 24-day voyage is the longest single departure in
Carnival Cruise Line's history and marks the first time
that the line will visit Guam, Vietnam and Malaysia
on a North American departure.
The cruise features extended port calls at Maui and
Honolulu, Hawaii, before crossing the International
Date Line, to visit Guam, and Kota Kinabalu in
Malaysia and Ho Chi Minh City in Vietnam - the first
time the line has visited these destinations on a ship
departing from North America.
On this fantastic seagoing adventure you'll have
plenty of time to enjoy the fun activities on board
Carnival Splendor and the wide choice of dining.
You'll visit ancient temples and other centuries-old
landmarks and attractions and immerse yourself in
Far East culture.
The 24-day voyage will also offer a traditional
ceremony held when mariners cross the
International Date Line which essentially adds an
extra day to the cruise.
Although the cruise ends in Singapore, why not
extend your holiday with a couple of nights in this
bustling city?
Guam
Guam, the largest island in the Pacific
Ocean, is distinguished by tropical beaches,
Chamorro villages and ancient latte-stone
pillars, used for foundations to homes and
sacred places. It's a tax-free haven popular
with shoppers looking for designer brands.
Kota Kinabalu, Malaysia
KK is known for its bustling markets, beaches,
fiery sunsets and the waterfront Kota
Kinabalu City Mosque. It is also a gateway
to Kinabalu National Park, the home of
4,095m-high Mount Kinabalu. For stunning
views of Mount Kinabalu and the sunset
head to Kokol Hill. The long winding road
there offers panoramic views of the city and
the islands beyond.
Ho Chi Minh
(Phu My), Vietnam
Ho Chi Minh is a city of energy and
discovery. Wander through its timeless
alleys to discover incense-infused temples
alongside skyscrapers and chic designer
malls. The city is also known for its French
colonial landmarks, including Notre-Dame
Cathedral and its food stalls around bustling
Bên Thành Market.
Carnival Splendor
Carnival Splendor has an impressive range
of facilities to suit all ages. Kids can get
wet in the splash park or on the Twister
waterslide and adults can relax in the Cloud
9 Spa. Enjoy a laugh at the Punchliner
Comedy Club or park yourself in front of
the big screen and enjoy sporting events
and recent blockbuster movies at Carnival
Seaside Theater™.
22 Call now to book: 0800 082 2170 or visit
www.jetlinecruise.com/cruise-packages/carnival-journeys-transpacific-cruise-to-hawaii-and-the-far-east-638