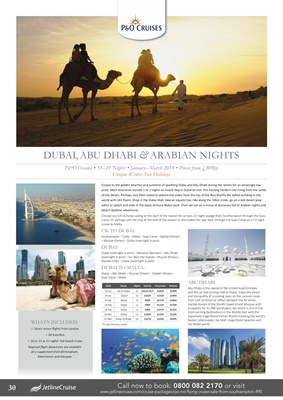 DUBAI, ABU DHABI & ARABIAN NIGHTS
P&O Oceana • 11-21 Nights • January-March 2019 • Prices from £989pp
Unique Winter Sun Holidays
WHAT'S INCLUDED:
✥ Direct return flights from London
✥ All transfers
✥ 10 or 13 or 21 nights' full-board cruise
Regional flight departures are available
at a supplement from Birmingham,
Manchester and Glasgow
Escape to the golden beaches and sunshine of sparkling Dubai and Abu Dhabi during the winter for an amazingly low
price. Most itineraries include 1 or 2 nights on board ship in Dubai to visit this exciting modern city rising from the sands
of the desert. Perhaps visit Palm Island or admire the views from the top of the Burj Khalifa the tallest building in the
world with 163 floors. Shop in the Dubai Mall, take an aquatic taxi ride along the 10km creek, go on a 4x4 desert jeep
safari or splash and slide in the Aqua-venture Water-park. Then set sail on a cruise of discovery full of Arabian nights and
desert daytime adventures.
Choose our UK to Dubai sailing at the start of the season for an epic 21 night voyage from Southampton through the Suez
Canal. Or perhaps join the ship at the end of the season as she makes her way back through the Suez Canal on a 13 night
cruise to Malta.
UK TO DUBAI:
Southampton - Cadiz - Malta - Suez Canal - Salalah (Oman)
- Muscat (Oman) - Dubai (overnight in port)
DUBAI:
Dubai (overnight in port) - Manama (Bahrain) - Abu Dhabi
(overnight in port) - Sur Bani (Yas Island) - Muscat (Oman) -
Khasab (UAE) - Dubai (overnight in port)
DUBAI TO MALTA:
Dubai - Abu Dhabi - Muscat (Oman) - Salalah (Oman) -
Suez Canal - Malta
2019 Route Nights Interior Oceanview Balcony
10 Jan UK to Dubai 21 SOLD OUT £1829 £2399
29 Jan  Dubai* 11 £1029 £1429 £1999
8 Feb Dubai 11 £989 £1279 £1869
18 Feb Dubai 11 £989 £1329 £1799
28 Feb Dubai 11 £989 £1279 £1729
10 Mar Dubai 11 £1029 £1329 £2199
21 Mar Dubai to Malta 14 £1279 £1629 £2499
*Cruise itinerary varies
ABU DHABI
Abu Dhabi is the capital of the United Arab Emirates
and the up and coming rival to Dubai. Enjoy the peace
and tranquillity of a cooling oasis on the caravan route
from UAE to Oman or reflect beneath the 82 whitemarble domes of the Sheikh Zayed
Grand Mosque with
a capacity for 41,000 worshipers. Yas Island is one of the
most exciting destinations in the Middle East with the
supremely magnificent Ferrari World including the world's
fastest rollercoaster, Yas Mall, magnificent beaches and
Yas Water world.
30 Call now to book: 0800 082 2170 or visit
www.jetlinecruise.com/cruise-packages/po-no-flying-cruise-sale-from-southampton-490