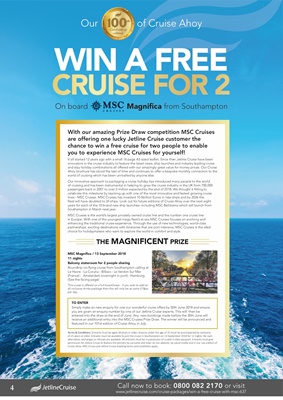 Our of Cruise Ahoy
On board Magnifica from Southampton
WIN A FREE
CRUISE FOR 2
With our amazing Prize Draw competition MSC Cruises
are offering one lucky Jetline Cruise customer the
chance to win a free cruise for two people to enable
you to experience MSC Cruises for yourself!
It all started 12 years ago with a small 16 page A5 sized leaflet. Since then Jetline Cruise have been
innovators in the cruise industry to feature the latest news, ship launches and industry leading cruise
and stay holiday combinations all offered with our amazingly great value for money prices. Our Cruise
Ahoy brochure has stood the test of time and continues to offer a bespoke monthly connection to the
world of cruising which has been unrivalled by anyone else.
Our innovative approach to packaging a cruise holiday has introduced many people to the world
of cruising and has been instrumental in helping to grow the cruise industry in the UK from 700,000
passengers back in 2007 to over 2 million expected by the end of 2018. We thought it fitting to
celebrate this milestone by teaming up with one of the most innovative and fastest growing cruise
lines - MSC Cruises. MSC Cruises has invested 10.5billion Euros in new ships and by 2026 the
fleet will have doubled to 24 ships. Look out for future editions of Cruise Ahoy over the next eight
years for each of the 10 brand new ship launches- including MSC Bellissima which will launch from
Southampton in March next year.
MSC Cruises is the world's largest privately owned cruise line and the number one cruise line
in Europe. With one of the youngest mega fleet's at sea MSC Cruises focuses on evolving and
enhancing the traditional cruise experience. Through the use of new technologies, world-class
partnerships, exciting destinations with itineraries that are port intensive, MSC Cruises is the ideal
choice for holidaymakers who want to explore the world in comfort and style.
THE MAGNIFICENT PRIZE
Terms & Conditions: Entrants must be aged 18 years or older. Anyone under the age of 25 must be accompanied by someone
of 25 years or older. Entrants must be available to join the cruise in Southampton on 13 September 2018 for 11 nights. No cash
alternative, exchanges or refunds are available. All entrants must be in possession of a valid in date passport. Entrants must give
permission for Jetline Cruise to feature the winners by surname and town on our website, by social media and in our July edition of
Cruise Ahoy. MSC Cruise and Jetline Cruise booking terms and conditions apply.
TO ENTER
Simply make an new enquiry for one our wonderful cruise offers by 30th June 2018 and ensure
you are given an enquiry number by one of our Jetline Cruise experts. This will then be
entered into the draw at the end of June. Any new bookings made before the 30th June will
receive an additional entry into the MSC Cruises Prize Draw. The winner will be announced and
featured in our 101st edition of Cruise Ahoy in July.
MSC Magnifica / 13 September 2018
11 nights
Balcony stateroom for 2 people sharing
Roundtrip no-flying cruise from Southampton calling at
Le Havre - La Coruna - Bilbao - Le Verdon Sur Mer
(France) - Amsterdam (overnight in port) - Hamburg.
(See the facing page)
This cruise is offered on a full board basis - if you wish to add an
all-inclusive drinks package then this will only be an extra £18pp
per day.
10 0 th
Celebratory
edition
4 Call now to book: 0800 082 2170 or visit
www.jetlinecruise.com/cruise-packages/win-a-free-cruise-with-msc-637