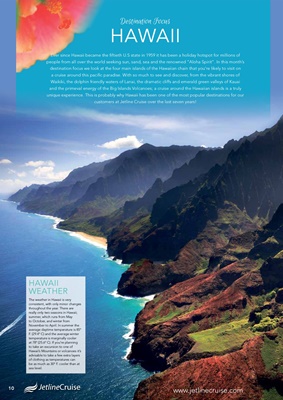 10
HAWAII
WEATHER
The weather in Hawaii is very
consistent, with only minor changes
throughout the year. There are
really only two seasons in Hawaii;
summer, which runs from May
to October, and winter from
November to April. In summer the
average daytime temperature is 85º
F. (29.4º C) and the average winter
temperature is marginally cooler
at 78º (25.6º C). If you're planning
to take an excursion to one of
Hawaii's Mountains or volcanoes it's
advisable to take a few extra layers
of clothing as temperatures can
be as much as 30º F. cooler than at
sea level.
Destination Focus
HAWAII
Ever since Hawaii became the fiftieth U.S state in 1959 it has been a holiday hotspot for millions of
people from all over the world seeking sun, sand, sea and the renowned "Aloha Spirit". In this month's
destination focus we look at the four main islands of the Hawaiian chain that you're likely to visit on
a cruise around this pacific paradise. With so much to see and discover, from the vibrant shores of
Waikiki, the dolphin friendly waters of Lanai, the dramatic cliffs and emerald green valleys of Kauai
and the primeval energy of the Big Islands Volcanoes; a cruise around the Hawaiian islands is a truly
unique experience. This is probably why Hawaii has been one of the most popular destinations for our
customers at Jetline Cruise over the last seven years!