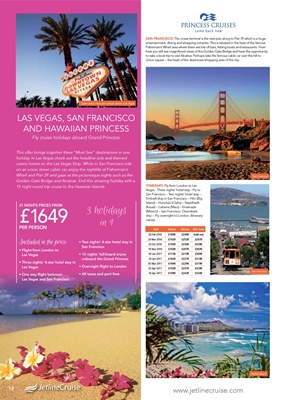 12 LAS VEGAS, SAN FRANCISCO
AND HAWAIIAN PRINCESS
Fly cruise holidays aboard Grand Princess
This offer brings together three "Must See" destinations in one
holiday. In Las Vegas check out the headline acts and themed
casino hotels on the Las Vegas Strip. While in San Francisco ride
on an iconic street cable car, enjoy the nightlife of Fisherman's
Wharf and Pier 39 and gaze at the picturesque sights such as the
Golden Gate Bridge and Alcatraz. End this amazing holiday with a
15 night round trip cruise to the Hawaiian Islands.
Included in the price:
• Flight from London to
Las Vegas
• Three nights' 4-star hotel stay in
Las Vegas
• One way flight between
Las Vegas and San Francisco
21 NIGHTS PRICES FROM
£1649PER PERSON
SAN FRANCISCO: The cruise terminal is the next pier along to Pier 39 which is a huge
entertainment, dining and shopping complex. This is situated in the heat of the famous
Fisherman's Wharf area where there are lots of bars, fishing boats and restaurants. From
here you will see magnificent views of the Golden Gate Bridge and have the opportunity
to take a boat trip to visit Alcatraz. Perhaps take the famous cable car over the hill to
Union square - the heart of the downtown shopping area of the city.
ITINERARY: Fly from London to Las
Vegas - Three nights' hotel stay - Fly to
San Francisco - Two nights' hotel stay -
Embark ship in San Francisco - Hilo (Big
Island) - Honolulu (Oahu) - Nawilliwilli
(Kauai) - Lahaina (Maui) - Ensenada
(Mexico) - San Francisco. Disembark
ship - Fly overnight to London. (Itinerary
varies).
Date Interior Balcony Mini-Suite
28 Feb 2016 £1899 £2499 Sold out
29 Mar 2016 £1929 £2529 £2979
24 Oct 2016 £1949 £2349 £3299
18 Nov 2016 £1649 £2079 £3039
04 Jan 2017 £1739 £2199 £3099
29 Jan 2017 £1829 £2279 £3199
05 Mar 2017 £1849 £2299 £3199
03 Apr 2017 £1929 £2379 £3299
18 Apr 2017 £1999 £2429 £3349
San Francisco
• Two nights' 4-star hotel stay in
San Francisco
• 15 nights' full-board cruise
onboard the Grand Princess
• Overnight flight to London
• All taxes and port fees
San Francisco
3 holidays
in 1
Waikiki Beach
Learn about Hawaiian culture. Below: Las Vegas