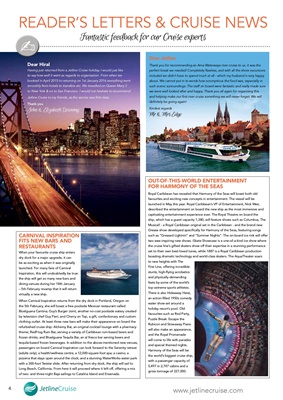 4 READER'S LETTERS & CRUISE NEWS
Fantastic feedback for our Cruise experts
Dear Hiral
Having just returned from a Jetline Cruise holiday, I would just like
to say how well it went as regards to organisation. From when we
booked in April 2015 to returning on 1st January 2016 everything went
smoothly from hotels to transfers etc. We travelled on Queen Mary 2
to New York & on to San Francisco. I would not hesitate to recommend
Jetline Cruise to my friends, as the service was first class.
Thank you
John & Elizabeth Downing.
CARNIVAL INSPIRATION
FITS NEW BARS AND
RESTAURANTS
When your favourite cruise ship enters
dry dock for a major upgrade, it can
be as exciting as when it was originally
launched. For many fans of Carnival
Inspiration, this will undoubtedly be true:
the ship will get so many new bars and
dining venues during her 18th January
- 5th February revamp that it will return
virtually a new ship.
When Carnival Inspiration returns from the dry dock in Portland, Oregon on
the 5th February, she will boast a free poolside Mexican restaurant called
Bluelguana Cantina; Guy's Burger Joint, another no-cost poolside eatery created
by television chef Guy Fieri; and Cherry on Top, a gift, confectionary and custom
clothing outlet. At least three new bars will make their appearance on board the
refurbished cruise ship: Alchemy Bar, an original cocktail lounge with a pharmacy
theme; RedFrog Rum Bar, serving a variety of Caribbean rum-based beers and
frozen drinks; and Bluelguana Tequila Bar, an al fresco bar serving beers and
tequila-based frozen beverages. In addition to the above-mentioned new venues,
passengers on board Carnival Inspiration can look forward to the Serenity retreat
(adults only); a health/wellness centre; a 12,000-square-foot spa; a casino; a
pizzeria that stays open around the clock; and a stunning WaterWorks water park
with a 300-foot Twister slide. After returning from dry dock, the ship will sail to
Long Beach, California. From here it will proceed where it left off, offering a mix
of two- and three-night Baja sailings to Catalina Island and Ensenada.
Dear Jetline
Thank you for recommending an Ama Waterways river cruise to us, it was the
perfect break we needed! Completely flawless, and with all the shore excursions
included we didn't have to spend much at all - which my husband is very happy
about. We cannot put in to words how scrumptious the food was, especially in
such scenic surroundings. The staff on board were fantastic and really made sure
we were well looked after and happy. Thank you all again for organising this
and helping make our first river cruise something we will never forget. We will
definitely be going again!
Kindest regards
Mr & Mrs Edge
OUT-OF-THIS-WORLD ENTERTAINMENT
FOR HARMONY OF THE SEAS
Royal Caribbean has revealed that Harmony of the Seas will boast both old
favourites and exciting new concepts in entertainment. The vessel will be
launched in May this year. Royal Caribbean's VP of Entertainment, Nick Weir,
described the entertainment on board the new ship as the most immersive and
captivating entertainment experience ever. The Royal Theatre on board the
ship, which has a guest capacity 1,380, will feature shows such as Columbus, The
Musical! - a Royal Caribbean original set in the Caribbean - and the brand new
Grease show developed specifically for Harmony of the Seas, featuring songs
such as "Greased Lightnin" and "Summer Nights". The on-board ice rink will offer
two awe-inspiring new shows. iSkate Showcase is a one-of-a-kind ice show where
the cruise line's gifted skaters show off their expertise in a stunning performance
set to their own best-loved tunes, while 1887 is a Royal Caribbean production
boasting dramatic technology and world-class skaters. The AquaTheater soars
to new heights with The
Fine Line, offering incredible
stunts, high-flying acrobatics
and physically-demanding
feats by some of the world's
top extreme sports athletes.
There is also Hideaway Heist,
an action-filled 1950s comedy
water show set around a
holiday resort's pool. Old
favourites such as Red Party,
Puzzle Break: Escape the
Rubicon and Stowaway Piano
will also make an appearance,
and the Royal Promenade
will come to life with parades
and special themed nights.
Harmony of the Seas will be
the world's biggest cruise ship,
with a passenger capacity of
5,497 in 2,747 cabins and a
gross tonnage of 227,000.