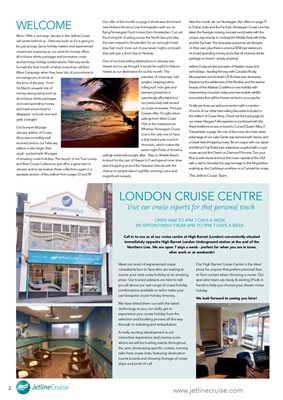 2 WELCOME
Wow ! With a non-stop January in the Jetline Cruise
call centre behind us - February looks as if it is going to
be just as busy. Savvy holiday makers and experienced
cruisers are snapping up our value-for-money offers,
all-inclusive drinks packages and innovative cruise
and land stay holiday combinations. February tends
to mark the final month of what cruise lines call their
Wave Campaign when they have lots of promotions to
encourage you to book at
this time of the year . From
1st March onwards lots of
money saving extras such as
all-inclusive drinks packages,
on-board spending money
and lower prices tend to
disappear- so book now and
grab a bargain.
Our bumper 68 page
January edition of Cruise
Ahoy was incredibly well
received and so our February
edition is also larger than
usual - packed with 44 pages
of amazing cruise holidays. The launch of our True Luxury
and River Cruise Collections got off to a great start in
January and so we feature these collections again in a
separate section of this edition from pages 33 and 39.
Our offer of the month on page 5 showcases the brand
new Holland America Line Koningsdam with our no
flying Norwegian Fjord cruises from Amsterdam. Cut out
the boring bit of sailing across the North Sea and take
the train instead to Amsterdam for an overnight hotel
stay. Get much more out of your seven nights on board
ship with just a short hop to Norway.
One of our best selling destinations in January was
Hawaii and so we thought it would be useful to feature
Hawaii as our destination focus this month. This
paradise of volcanoes, lush
jungles, swaying palms,
rolling surf, hula girls and
sweeping beaches is
surprisingly affordable but
not particularly well served
on cruise itineraries. Princess
Cruises offer 15 night return
sailings from West Coast
USA at the lowest prices.
Whereas Norwegian Cruise
Line is the only one to have
a ship based year round in
Honolulu- which makes the
seven night Pride of America
sailings extremely sought after . Stay on Waikiki Beach,
lookout for the cast of Hawaii-5-O and spend more time
island hopping around the Hawaiian Islands with the
chance to sample island nightlife, evening Luaus and
magnificent sunsets.
New this month are our Norwegian Star offers on page 17
to Dubai, India and the Far East. Norwegian Cruise Line has
taken the freestyle cruising concept world-wide with the
unique opportunity to contrast the Middle East with India
and the Far East. The itineraries and prices are fantastic
on their own; plus there is a bonus $100 per stateroom
on board spending money and a free all-inclusive drinks
package on-board - simply amazing!
Jetline Cruise are the pioneers of Alaskan cruise and
rail holidays - leading the way with Canada's Rocky
Mountaineer and Amtrak's US Rockies train itineraries.
Experience the wilderness of the Rockies and the serene
beauty of the Alaskan Coastline in one holiday with
mesmerising mountain vistas and memorable wildlife
encounters that will be forever etched in your psyche.
Finally we close our welcome section with a mention
of some of our other best selling favourites included in
this edition of Cruise Ahoy. Check out the back page for
our classic Niagara Falls experience combined with the
finest traditions at sea on board a Cunard Queen Mary 2
Transatlantic voyage. Be one of the many who have taken
advantage of our Lake Garda stay twinned with Venice and
a Greek Island hopping cruise. Be en-vogue with our Japan
and Mount Fuji Bullet train adventure coupled with a royal
cruise around the Orient on Diamond Princess. Don your
Blue Suede shoes and tour the music capitals of the USA
with a visit to Graceland to pay homage to the King before
soaking up the Caribbean sunshine on a Carnival fun cruise.
The Jetline Cruise Team.
Call in to see us at our cruise centre at High Barnet (London) conveniently situated
immediately opposite High Barnet London Underground station at the end of the
Northern Line. We are open 7 days a week - perfect for when you are in town,
after work or at weekends!
Meet our team of experienced cruise
consultants face to face who are waiting to
source your next cruise holiday at an amazing
price. Our trained advisors are here to tell
you all about our vast range of cruise holiday
combinations available or tailor make your
own bespoke cruise holiday itinerary.
We have kitted them out with the latest
technology so you can really get to
experience your cruise holiday from the
selection and booking process all the way
through to ticketing and embarkation.
A really exciting development is our
interactive experience and cinema room
where we will be hosting events throughout
the year, showcasing specific cruises, running
talks from cruise lines, featuring destination
tourist boards and showing footage of cruise
ships and ports of call.
Our High Barnet Cruise Centre is the ideal
place for anyone that prefers personal face
to face contact when choosing a cruise. Our
specialist team are ready & waiting (iPads in
hand) to help you choose your dream cruise
holiday.
We look forward to seeing you here!
OPEN 9AM TO 6PM 7 DAYS A WEEK
BY APPOINTMENT FROM 6PM TO 9PM 7 DAYS A WEEK
LONDON CRUISE CENTRE
Visit our cruise experts for that personal touch