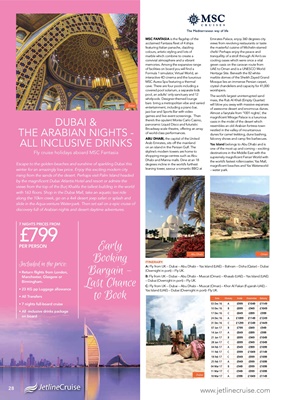 MSC FANTASIA is the flagship of the
acclaimed Fantasia fleet of 4 ships
featuring Italian panache, dazzling
colours, artistic styling and lots of
marble which combine to create a
convivial atmosphere and a vibrant
memories. Among the expansive range
of facilities on board you will find a
Formula 1 simulator, Virtual World, an
interactive 4D cinema and the luxurious
MSC Aurea Spa featuring a thermal
cave. There are four pools including a
covered pool solarium, a separate kids
pool, an adults' only sanctuary and 12
whirlpools. Designer-themed lounge
bars bring a metropolitan vibe and varied
entertainment, including a piano bar,
jazz bar and Sports Bar with video
games and live event screenings. Then
there's the opulent Monte Carlo Casino,
panoramic Liquid Disco and futuristic
Broadway-scale theatre, offering an array
of world-class performances.
ABU DHABI, the capital of the United
Arab Emirates, sits off the mainland
on an island in the Persian Gulf. The
skyline's modern towers are home to
shopping mega-centres such as Abu
Dhabi and Marina malls. Dine at an 18
degrees incline in the world's furthest
leaning tower, savour a romantic BBQ at
DUBAI &
THE ARABIAN NIGHTS -
ALL INCLUSIVE DRINKS
Fly cruise holidays aboard MSC Fantasia
Escape to the golden beaches and sunshine of sparkling Dubai this
winter for an amazingly low price. Enjoy this exciting modern city
rising from the sands of the desert. Perhaps visit Palm Island headed
by the magnificent Dubai Atlantis Hotel and resort or admire the
views from the top of the Burj Khalifa the tallest building in the world
with 163 floors. Shop in the Dubai Mall, take an aquatic taxi ride
along the 10km creek, go on a 4x4 desert jeep safari or splash and
slide in the Aqua-venture Water-park. Then set sail on a epic cruise of
discovery full of Arabian nights and desert daytime adventures.
Included in the price:
• Return flights from London,
Manchester, Glasgow or
Birmingham.
• 23 KG pp Luggage allowance
• All Transfers
• 7 nights full-board cruise
• All -inclusive drinks package
on board
7 NIGHTS PRICES FROM
£799PER PERSON
28
Dubai
Oman
Early
Booking
Bargain -
Last Chance
to Book
Emirates Palace, enjoy 360 degrees city
views from revolving restaurants or taste
the masterful cuisine of Michelin-starred
chefs! Perhaps enjoy the peace and
tranquillity of a stroll through Al Ain's six
cooling oases which were once a vital
green oasis on the caravan route from
UAE to Oman and is a UNESCO World
Heritage Site. Beneath the 82 whitemarble domes of the Sheikh Zayed Grand
Mosque lies an immense Persian carpet,
crystal chandeliers and capacity for 41,000
worshipers.
The world's largest uninterrupted sand
mass, the Rub Al Khali (Empty Quarter)
will blow you away with massive expanses
of awesome desert and enormous dunes.
Almost a fairytale from '1001 nights', the
magnificent Mirage Palace is a luxurious
oasis in the midst of the desert which
resembles an old Arabian fortress town
nestled in the valley of mountainous
dunes for camel trekking, dune bashing,
falconry shows and camp fire barbecues.
Yas Island belongs to Abu Dhabi and is
one of the most up and coming - exciting
destinations in the Middle East with the
supremely magnificent Ferrari World with
the world's fastest rollercoaster, Yas Mall,
magnificent beaches and Yas Waterworld
- water park.
Date Itinerary Inside Oceanview Balcony
03 Dec 16 A £999 £1049 £1149
10 Dec 16 B £899 £949 £1049
17 Dec 16 C £849 £899 £999
24 Dec 16 A £1099 £1149 £1249
31 Dec 16 C £1299 £1349 £1449
07 Jan 17 B £799 £849 £949
14 Jan 17 A £849 £899 £999
21 Jan 17 B £899 £949 £1049
28 Jan 17 C £899 £949 £1049
04 Feb 17 A £949 £999 £1099
11 Feb 17 C £999 £1049 £1149
18 Feb 17 C £949 £999 £1099
25 Feb 17 A £949 £999 £1099
04 Mar 17 B £949 £999 £1099
11 Mar 17 C £949 £999 £1099
18 Mar 17 A £999 £1049 £1149
ITINERARY:
A: Fly from UK - Dubai - Abu Dhabi - Yas Island (UAE) - Bahrain - Doha (Qatar) - Dubai
(Overnight in port) - Fly UK.
B: Fly from UK - Dubai - Abu Dhabi - Muscat (Oman) - Khasab (UAE) - Yas Island (UAE)
- Dubai (Overnight in port) - Fly UK.
C: Fly from UK - Dubai - Abu Dhabi - Muscat (Oman) - Khor Al Fakan (Fujairah-UAE) -
Yas Island (UAE) - Dubai (Overnight in port)- Fly UK.
Dubai
Abu Dhabi