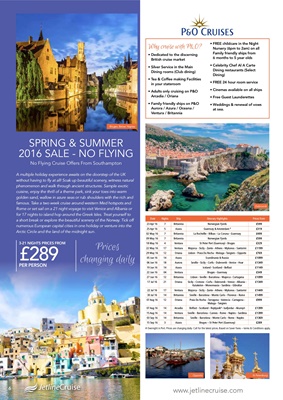 Date Nights Ship Itinerary Highlights Prices from
23 Apr 16 7 Britannia Norwegian Fjords £599
25 Apr 16 5 Azura Guernsey & Amsterdam # £319
02 May 16 7 Britannia La Rochellle - Bilbao - La Coruna - Guernsey £499
09 May 16 7 Britannia Norwegian Fjords £599
18 May 16 4 Ventura St Peter Port (Guernsey) - Bruges £329
22 May 16 17 Ventura Majorca - Sicily - Zante - Athens - Mykonos - Santorini £1199
29 May 16 12 Oriana Lisbon - Praia Da Rocha - Malaga - Tangiers - Opporto £769
05 Jun 16 14 Azura Scandinavia & Russia £1099
06 Jun 16 18 Aurora Seville - Sicily - Corfu - Dubrovnik - Venice - Hvar £1349
19 Jun 16 14 Azura Iceland - Scotland - Belfast £1149
22 Jun 16 04 Ventura Bruges - Guernsey £349
27 Jun 16 12 Britannia Lisbon - Seville - Barcelona - Majorca - Cartagena £1099
17 Jul 16 21 Oriana Sicily - Crotone - Corfu - Dubrovnik - Venice - Albania -
Katakolon - Monemvasia - Sardinia - Gibraltar
£1349
22 Jul 16 17 Ventura Majorca - Sicily - Zante - Athens - Mykonos - Santorini £1449
30 Jul 16 14 Britannia Seville - Barcelona - Monte Carlo - Florence - Rome £1499
07 Aug 16 12 Oriana Praia Da Rocha - Tarragona - Valencia - Cartagena -
Malaga - Tangiers
£999
07 Aug 16 14 Arcadia Belfast - Scotland - Reykjavik# - Isafjordur - Akureyri £1399
15 Aug 16 14 Ventura Seville - Barcelona - Cannes - Rome - Naples - Sardinia £1399
03 Sep 16 14 Britannia Seville - Barcelona - Monte Carlo - Rome - Naples £1369
15 Sep 16 3 Azura Bruges - St Peter Port (Guernsey) £289
# Overnight in Port. Prices are changing daily- Call for the latest prices. Based on Saver Fares - terms & Conditions apply.
SPRING & SUMMER
2016 SALE - NO FLYING
No Flying Cruise Offers From Southampton
A multiple holiday experience awaits on the doorstep of the UK
without having to fly at all! Soak up beautiful scenery, witness natural
phenomenon and walk through ancient structures. Sample exotic
cuisine, enjoy the thrill of a theme park, sink your toes into warm
golden sand, wallow in azure seas or rub shoulders with the rich and
famous. Take a two week cruise around western Med hotspots and
Rome or set sail on a 21 night voyage to visit Venice and Albania or
for 17 nights to island hop around the Greek Isles. Treat yourself to
a short break or explore the beautiful scenery of the Norway. Tick off
numerous European capital cities in one holiday or venture into the
Arctic Circle and the land of the midnight sun.
Why cruise with P&O?
• Dedicated to the discerning
British cruise market
• Silver Service in the Main
Dining rooms (Club dining)
• Tea & Coffee making Facilities
in your stateroom
• Adults only cruising on P&O
Arcadia / Oriana
• Family friendly ships on P&O
Aurora / Azura / Oceana /
Ventura / Britannia
• FREE childcare in the Night
Nursery (6pm to 2am) on all
Family friendly ships from
6 months to 5 year olds
• Celebrity Chef Al A Carte
Dining restaurants (Select
Dining)
• FREE 24 hour room service
• Cinemas available on all ships
• Free Guest Launderettes
• Weddings & renewal of vows
at sea.
3-21 NIGHTS PRICES FROM
£289PER PERSON
6
Bruges. Below: Naples
Opporto St Petersburg
Dubrovnik
Prices
changing daily