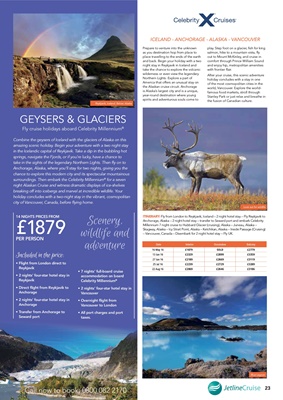 GEYSERS & GLACIERS
Fly cruise holidays aboard Celebrity Millennium®
Combine the geysers of Iceland with the glaciers of Alaska on this
amazing scenic holiday. Begin your adventure with a two night stay
in the Icelandic capital of Reykjavik. Take a dip in the bubbling hot
springs, navigate the Fjords, or if you're lucky, have a chance to
take in the sights of the legendary Northern Lights. Then fly on to
Anchorage, Alaska, where you'll stay for two nights, giving you the
chance to explore this modern city and its spectacular mountainous
surroundings. Then embark the Celebrity Millennium® for a seven
night Alaskan Cruise and witness dramatic displays of ice-shelves
breaking off into icebergs and marvel at incredible wildlife. Your
holiday concludes with a two-night stay in the vibrant, cosmopolitan
city of Vancouver, Canada, before flying home.
Included in the price:
• Flight from London direct to
Reykjavik
• 2 nights' four-star hotel stay in
Reykjavik
• Direct flight from Reykjavik to
Anchorage
• 2 nights' four-star hotel stay in
Anchorage
• Transfer from Anchorage to
Seward port
14 NIGHTS PRICES FROM
£1879PER PERSON
Prepare to venture into the unknown
as you destination hop from place to
place travelling to the ends of the earth
and back. Begin your holiday with a two
night stay in Reykjavik in Iceland and
take the chance to explore the volcanic
wilderness or even view the legendary
Northern Lights. Explore a part of
America that offers an unusual stay on
the Alaskan cruise circuit. Anchorage
is Alaska's largest city and is a unique,
year-round destination where young
spirits and adventurous souls come to
play. Step foot on a glacier, fish for king
salmon, hike to a mountain vista, fly
out to Mount McKinley, and cruise in
comfort through Prince William Sound
and enjoy hip, metropolitan amenities
with frontier flair.
After your cruise, this scenic adventure
holiday concludes with a stay in one
of the most cosmopolitan cities in the
world, Vancouver. Explore the worldfamous food markets, stroll
through
Stanley Park or just relax and breathe in
the fusion of Canadian culture.
Reykjavik, Iceland. Below: Alaska
Scenery,
wildlife and
adventure Date Interior Oceanview Balcony
16 May 16 £1879 SOLD £2779
13 Jun 16 £2329 £2899 £3359
27 Jun 16 £2189 £2669 £3119
25 Jul 16 £2239 £2729 £3289
22 Aug 16 £2069 £2646 £3186
• 7 nights' full-board cruise
accommodation on board
Celebrity Millennium®
• 2 nights' four-star hotel stay in
Vancouver
• Overnight flight from
Vancouver to London
• All port charges and port
taxes.
Look out for wildlife
ICELAND - ANCHORAGE - ALASKA - VANCOUVER
Blue Lagoon
23
Call now to book: 0800 082 2170
ITINERARY: Fly from London to Reykjavik, Iceland - 2 night hotel stay - Fly Reykjavik to
Anchorage, Alaska - 2 night hotel stay - transfer to Seward port and embark Celebrity
Millennium 7 night cruise to Hubbard Glacier (cruising), Alaska - Juneau, Alaska -
Skagway, Alaska - Icy Strait Point, Alaska - Ketchikan, Alaska - Inside Passage (Cruising)
- Vancouver, Canada - Disembark for 2 night hotel stay - Fly UK.