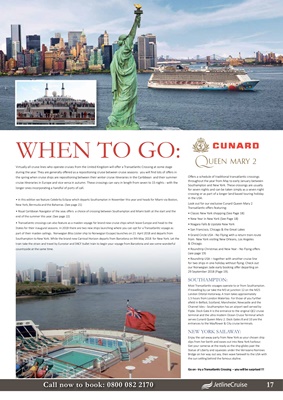 Call now to book: 0800 082 2170 17
WHEN TO GO: Offers a schedule of traditional transatlantic crossings
throughout the year from May to early January between
Southampton and New York. These crossings are usually
for seven nights and can be taken simply as a seven night
crossing or as part of a longer land based touring holiday
in the USA.
Look out for our exclusive Cunard Queen Mary 2
Transatlantic offers featuring:
• Classic New York shopping (See Page 18)
• New Year in New York (See Page 18)
• Niagara Falls & Upstate New York
• San Francisco, Chicago & the Great Lakes
• Grand Circle USA - No Flying with a return train route
from New York visiting New Orleans, Los Angeles
& Chicago.
• Roundtrip Christmas and New Year - No Flying offers
(see page 19)
• Roundtrip USA - together with another cruise line
for two ships in one holiday without flying. Check out
our Norwegian Jade early booking offer departing on
29 September 2018 (Page 19).
SOUTHAMPTON:
Most Transatlantic voyages operate to or from Southampton.
If travelling by car take the M3 at junction 12 on the M25
London Orbital motorway. A train takes approximately
1.5 hours from London Waterloo. For those of you further
afield in Belfast, Scotland, Manchester, Newcastle and the
Channel Isles - Southampton has an airport well served by
Flybe. Dock Gate 4 is the entrance to the original QE2 cruise
terminal and the ultra modern Ocean Cruise Terminal which
serves Cunard Queen Mary 2. Dock Gates 8 and 10 are the
entrances to the Mayflower & City cruise terminals.
NEW YORK SAILAWAY:
Enjoy the sail-away party from New York as your chosen ship
slips from her berth and eases out into New York harbour.
Get your cameras at the ready as the ship glides past the
Statue of Liberty and squeezes under the Verrazano Narrows
Bridge on her way out sea, then wave farewell to the USA with
the sun setting behind the famous skyline.
Go on - try a Transatlantic Crossing - you will be surprised !!!
Virtually all cruise lines who operate cruises from the United Kingdom will offer a Transatlantic Crossing at some stage
during the year. They are generally offered as a repositioning cruise between cruise seasons: you will find lots of offers in
the spring when cruise ships are repositioning between their winter cruise itineraries in the Caribbean and their summer
cruise itineraries in Europe and vice versa in autumn. These crossings can vary in length from seven to 15 nights - with the
longer ones incorporating a handful of ports of call.
• In this edition we feature Celebrity Eclipse which departs Southampton in November this year and heads for Miami via Boston,
New York, Bermuda and the Bahamas. (See page 21)
• Royal Caribbean Navigator of the seas offers a choice of crossing between Southampton and Miami both at the start and the
end of the summer this year. (See page 22)
• Transatlantic crossings can also feature as a maiden voyage for brand new cruise ships which leave Europe and head to the
States for their inaugural seasons. In 2018 there are two new ships launching where you can opt for a Transatlantic voyage as
part of their maiden sailings. Norwegian Bliss (sister ship to Norwegian Escape) launches on 21 April 2018 and departs from
Southampton to New York. While the brand new Carnival Horizon departs from Barcelona on 9th May 2018 for New York. Let the
train take the strain and travel by Eurostar and SNCF bullet train to begin your voyage from Barcelona and see some wonderful
countryside at the same time.