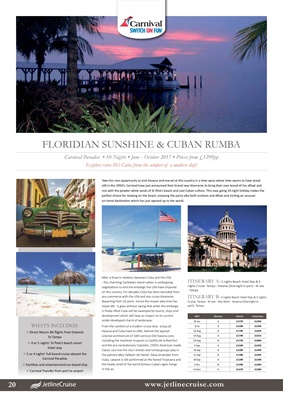 20
WHAT'S INCLUDED:
✥ Direct Return BA flights from Gatwick
To Tampa
✥ 4 or 5 nights' St Pete's beach resort
hotel stay
✥ 5 or 4 nights' full board cruise aboard the
Carnival Paradise
✥ Facilities and entertainment on-board ship
✥ Carnival Transfer from port to airport
Take this rare opportunity to visit Havana and marvel at this country in a time warp where time seems to have stood
still in the 1950's. Carnival have just announced their brand new itineraries to bring their own brand of fun afloat and
mix with the powder white sands of St Pete's beach and cool Cuban culture. This easy going 10 night holiday makes the
perfect choice for relaxing on the beach, enjoying the party vibe both onshore and afloat and visiting an unusual
on-trend destination which has just opened up to the world. ITINERARY A: 5 nights Beach Hotel Stay & 4
nights Cruise: Tampa - Havana (Overnight in port) - At sea
- Tampa
ITINERARY B: 4 nights Beach Hotel Stay & 5 nights
Cruise: Tampa - At sea - Key West - Havana (Overnight in
port)- Tampa
FLORIDIAN SUNSHINE & CUBAN RUMBA
Carnival Paradise • 10 Nights • June - October 2017 • Prices from £1299pp
Explore retro 50's Cuba from the comfort of a modern ship!
After a thaw in relations between Cuba and the USA
- this charming Caribbean island nation is undergoing
negotiations to end the embargo the USA have imposed
on this country. For decades Cuba has been excluded from
any commerce with the USA and any cruise itineraries
departing from US ports- hence the reason why time has
stood still . It goes without saying that when the embargo
is finally lifted Cuba will be swamped by tourist, ships and
development which will have an impact on its current
under-developed charm of yesteryear.
From the comfort of a modern cruise ship - enjoy all
Havana and Cuba have to offer. Admire the Spanish
colonial architecture of 16th-century Old Havana core,
including the maritime museum in Castillo de la Real fort
and the pre-revolutionary Capitolio. 1950's American-made
classic cars line the city's streets and rumba groups play in
the painted alley Callejón de Hamel. Salsa emanates from
clubs, cabaret is still performed at the famed Tropicana and
the heady smell of the world famous Cuban cigars hangs
in the air.
2017 Itinerary Interior Oceanview
24 Jun A £1379 £1499
8 Jul A £1499 £1599
10 Aug B £1799 £1949
19 Aug A £1799 £1919
24 Aug B £1759 £1889
2 Sep A £1349 £1459
16 Sep A £1399 £1499
21 Sep B £1389 £1499
30 Sep A £1299 £1399
5 Oct B £1399 £1499
14 Oct A £1479 £1589
Key West