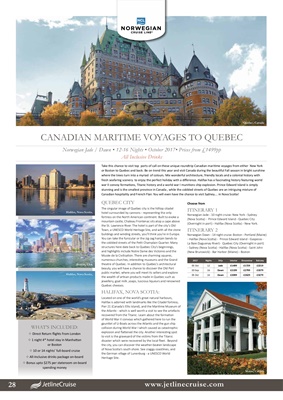 28
Maine, Canada
QUEBEC CITY
The singular image of Quebec city is the hilltop citadel
hotel surrounded by cannons - representing the only
fortress on the North American continent. Built to evoke a
mountain castle, Chateau Frontenac sits atop a cape above
the St. Lawrence River. The hotel is part of the city's Old
Town, a UNESCO World Heritage Site, and with all the stone
buildings and winding streets, you'll think you're in Europe.
You can take the funicular or the zig-zag hairpin bends to
the cobbled streets of the Petit Champlain Quarter. Many
structures here date back to Quebec City's beginnings,
and highlights include Notre Dame des Victoires and the
Musée de la Civilisation. There are charming squares,
numerous churches, interesting museums and the Grand
theatre of Quebec. In addition to Quebec's architectural
beauty, you will have a chance to discover the Old Port
public market, where you will meet its sellers and explore
the wealth of artisan products made in Quebec such as
jewellery, goat milk ,soaps, luscious liqueurs and renowned
Quebec cheeses.
HALIFAX, NOVA SCOTIA:
Located on one of the world's great natural harbours,
Halifax is adorned with landmarks like the Citadel fortress,
Pier 21 (Canada's Ellis Island), and the Maritime Museum of
the Atlantic - which is well worth a visit to see the artefacts
recovered from the Titanic. Learn about the formation
of World War II convoys which gathered here to run the
gauntlet of U-Boats across the Atlantic and the gun ship
collision during World War I which caused as catastrophic
explosion and flattened the city. Another interesting spot
to visit is the graveyard of the victims from the Titanic
disaster which were recovered by the local fleet. Beyond
the city, you can discover the weather-beaten landscape
of Nova Scotia's south shore. See craggy coastlines, and
the German village of Lunenburg - a UNESCO World
Heritage Site.
WHAT'S INCLUDED:
✥ Direct Return flights from London
✥ 1 night 4* hotel stay in Manhattan
or Boston
✥ 10 or 14 nights' full-board cruise
✥ All-Inclusive drinks package on-board
✥ Bonus upto $275 per stateroom on-board
spending money
Quebec, Canada
Take this chance to visit top ports of call on these unique roundtrip Canadian maritime voyages from either New York
or Boston to Quebec and back. Be on trend this year and visit Canada during the beautiful Fall season in bright sunshine
where the trees turn into a myriad of colours. Mix wonderful architecture, friendly locals and a colonial history with
fresh seafaring scenery to enjoy the perfect holiday with a difference. Halifax has a fascinating history featuring world
war II convoy formations, Titanic history and a world war I munitions ship explosion. Prince Edward Island is simply
stunning and is the smallest province in Canada , while the cobbled streets of Quebec are an intriguing mixture of
Canadian hospitality and French Flair. You will even have the chance to visit Sydney.... in Nova Scotia!
Choose from
ITINERARY 1
Norwegian Jade - 10 night cruise: New York - Sydney
(Nova Scotia) - Prince Edward Island - Quebec City
(Overnight in port) - Halifax (Nova Scotia) - New York.
ITINERARY 2
Norwegian Dawn - 14 night cruise: Boston - Portland (Maine)
- Halifax (Nova Scotia) - Prince Edward Island - Gaspesia -
La Baie (Saguenay River)- Quebec City (Overnight in port)
- Sydney (Nova Scotia) - Halifax (Nova Scotia) - Saint John
(New Brunswick) - Bar Harbor (Maine) - Boston
2017 Nights Ship Interior Oceanview Balcony
05 Oct 12 Jade £1499 £1729 £2219
20 Sep 16 Dawn £2199 £2799 £3379
05 Oct 16 Dawn £2099 £2629 £3279
Boston, USA
Halifax, Nova Scotia,
Halifax, Nova Scotia,
CANADIAN MARITIME VOYAGES TO QUEBEC
Norwegian Jade / Dawn • 12-16 Nights • October 2017• Prices from £1499pp
All Inclusive Drinks