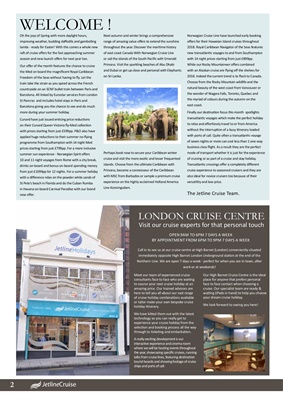 2
Call in to see us at our cruise centre at High Barnet (London) conveniently situated
immediately opposite High Barnet London Underground station at the end of the
Northern Line. We are open 7 days a week - perfect for when you are in town, after
work or at weekends!
Meet our team of experienced cruise
consultants face to face who are waiting
to source your next cruise holiday at an
amazing price. Our trained advisors are
here to tell you all about our vast range
of cruise holiday combinations available
or tailor make your own bespoke cruise
holiday itinerary.
We have kitted them out with the latest
technology so you can really get to
experience your cruise holiday from the
selection and booking process all the way
through to ticketing and embarkation.
A really exciting development is our
interactive experience and cinema room
where we will be hosting events throughout
the year, showcasing specific cruises, running
talks from cruise lines, featuring destination
tourist boards and showing footage of cruise
ships and ports of call.
Our High Barnet Cruise Centre is the ideal
place for anyone that prefers personal
face to face contact when choosing a
cruise. Our specialist team are ready &
waiting (iPads in hand) to help you choose
your dream cruise holiday.
We look forward to seeing you here!
OPEN 9AM TO 6PM 7 DAYS A WEEK
BY APPOINTMENT FROM 6PM TO 9PM 7 DAYS A WEEK
LONDON CRUISE CENTRE
Visit our cruise experts for that personal touch
Oh the joys of Spring with more daylight hours,
improving weather, budding daffodils and gambolling
lambs - ready for Easter! With this comes a whole new
raft of cruise offers for the fast approaching summer
season and new launch offers for next year too.
Our offer of the month features the chance to cruise
the Med on board the magnificent Royal Caribbean
Freedom of the Seas without having to fly. Let the
train take the strain as you speed across the French
countryside on an SCNF bullet train between Paris and
Barcelona. All linked by Eurostar services from London
St Pancras and includes hotel stays in Paris and
Barcelona giving you the chance to see and do much
more during your summer holiday.
Cunard have just issued enticing price reductions
on their Cunard Queen Victoria fly-Med collection
with prices starting from just £599pp. P&O also have
applied huge reductions to their summer no-flying
programme from Southampton with 14 night Med
prices starting from just £799pp. For a more inclusive
summer sun experience - Norwegian Spirit offers
10 and 11 night voyages from Rome with a city break,
drinks on-board and bonus on-board spending money
from just £1099pp for 12 nights. For a summer holiday
with a difference relax on the powder white sands of
St Pete's beach in Florida and do the Cuban Rumba
in Havana on-board Carnival Paradise with our brand
new offer.
Next autumn and winter brings a comprehensive
range of amazing value offers to extend the sunshine
throughout the year. Discover the maritime history
of east coast Canada With Norwegian Cruise Line
or sail the islands of the South Pacific with Emerald
Princess. Visit the sparkling beaches of Abu Dhabi
and Dubai or get up close and personal with Elephants
on Sri Lanka.
Perhaps book now to secure your Caribbean winter
cruise and visit the more exotic and lesser frequented
islands. Choose from the ultimate Caribbean with
Princess, become a connoisseur of the Caribbean
with MSC from Barbados or sample a premium cruise
experience on the highly acclaimed Holland America
Line Konningsdam.
Norwegian Cruise Line have launched early booking
offers for their Hawaiian Island cruises throughout
2018. Royal Caribbean Navigator of the Seas features
new transatlantic voyages to and from Southampton
with 14 night prices starting from just £899pp.
While our Rocky Mountaineer offers combined
with an Alaskan cruise are flying off the shelves for
2018. Indeed the current trend is to flock to Canada.
Choose from the Rocky Mountain wildlife and the
natural beauty of the west coast from Vancouver or
the wonder of Niagara Falls, Toronto, Quebec and
the myriad of colours during the autumn on the
east coast.
Finally our destination focus this month spotlights
transatlantic voyages which make the perfect holiday
to relax and effortlessly travel to or from America
without the interruption of a busy itinerary loaded
with ports of call. Quite often a transatlantic voyage
of seven nights or more can cost less than 1 one-way
business class flight. As a result they are the perfect
mode of transport whether it is just for the experience
of cruising or as part of a cruise and stay holiday.
Transatlantic crossings offer a completely different
cruise experience to seasoned cruisers and they are
also ideal for novice cruisers too because of their
versatility and low price.
The Jetline Cruise Team.
WELCOME !
Sri Lanka