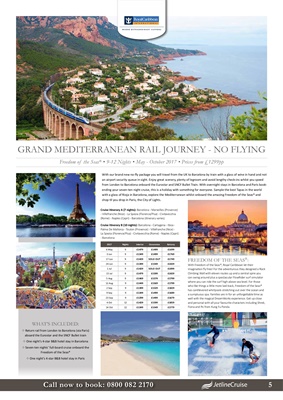 Call now to book: 0800 082 2170 5
WHAT'S INCLUDED:
✥ Return rail from London to Barcelona (via Paris)
aboard the Eurostar and the SNCF Bullet train
✥ One night's 4-star B&B hotel stay in Barcelona
✥ Seven-ten nights' full-board cruise onboard the
Freedom of the Seas®
✥ One night's 4-star B&B hotel stay in Paris
With our brand new no-fly package you will travel from the UK to Barcelona by train with a glass of wine in hand and not
an airport security queue in sight. Enjoy great scenery, plenty of legroom and avoid lengthy check-ins whilst you speed
from London to Barcelona onboard the Eurostar and SNCF Bullet Train. With overnight stays in Barcelona and Paris bookending
your seven-ten night cruise, this is a holiday with something for everyone. Sample the best Tapas in the world
with a glass of Rioja in Barcelona, explore the Mediterranean whilst onboard the amazing Freedom of the Seas® and
shop til you drop in Paris, the City of Lights.
2017 Nights Interior Oceanview Balcony
6 May 9 £1479 £1499 £1699
3 Jun 9 £1349 £1499 £1769
17 Jun 9 £1429 SOLD OUT £1749
24 Jun 9 £1399 £1549 £1829
1 Jul 9 £1429 SOLD OUT £1899
15 Jul 9 £1479 £1599 £1829
5 Aug 9 £1469 £1579 £1799
12 Aug 9 £1449 £1569 £1799
2 Sep 9 £1399 £1529 £1829
9 Sep 9 £1349 £1499 £1689
23 Sep 9 £1299 £1499 £1679
4 Oct 12 £1429 £1599 £1859
14 Oct 12 £1349 £1549 £1779
FREEDOM OF THE SEAS®:
With Freedom of the Seas®, Royal Caribbean let their
imagination fly free! For the adventurous they designed a Rock
Climbing Wall with eleven routes up and a central spire you
can swing around plus a spectacular FlowRider surf simulator
where you can ride the surf high above sea level. For those
who like things a little more laid-back, Freedom of the Seas®
has cantilevered whirlpools stretching out over the ocean and
a sumptuous spa. Families are in for an unforgettable time as
well with the magical DreamWorks experience. Get up close
and personal with all your favourite characters including Shrek,
Fiona and Po from Kung Fu Panda.
Cruise itinerary A (7 nights): Barcelona - Marseilles (Provence)
- Villefranche (Nice) - La Spezia (Florence/Pisa) - Civitavecchia
(Rome) - Naples (Capri) - Barcelona (itinerary varies)
Cruise itinerary B (10 nights): Barcelona - Cartagena - Ibiza -
Palma De Mallorca - Toulon (Provence) - Villefranche (Nice) -
La Spezia (Florence/Pisa) - Civitavecchia (Rome) - Naples (Capri)
- Barcelona
GRAND MEDITERRANEAN RAIL JOURNEY - NO FLYING
Freedom of the Seas® • 9-12 Nights • May - October 2017 • Prices from £1299pp