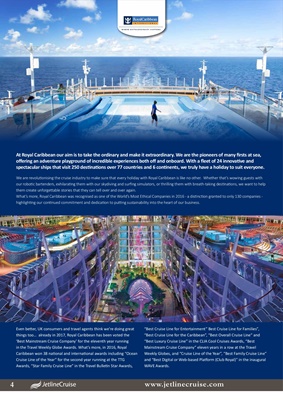 4 We are revolutionising the cruise industry to make sure that every holiday with Royal Caribbean is like no other. Whether that's wowing guests with
our robotic bartenders, exhilarating them with our skydiving and surfing simulators, or thrilling them with breath-taking destinations, we want to help
them create unforgettable stories that they can tell over and over again.
What's more, Royal Caribbean was recognised as one of the World's Most Ethical Companies in 2016 - a distinction granted to only 130 companies -
highlighting our continued commitment and dedication to putting sustainability into the heart of our business.
At Royal Caribbean our aim is to take the ordinary and make it extraordinary. We are the pioneers of many firsts at sea,
offering an adventure playground of incredible experiences both off and onboard. With a fleet of 24 innovative and
spectacular ships that visit 250 destinations over 77 countries and 6 continents, we truly have a holiday to suit everyone.
Even better, UK consumers and travel agents think we're doing great
things too… already in 2017, Royal Caribbean has been voted the
'Best Mainstream Cruise Company' for the eleventh year running
in the Travel Weekly Globe Awards. What's more, in 2016, Royal
Caribbean won 38 national and international awards including "Ocean
Cruise Line of the Year" for the second year running at the TTG
Awards, "Star Family Cruise Line" in the Travel Bulletin Star Awards,
"Best Cruise Line for Entertainment" Best Cruise Line for Families",
"Best Cruise Line for the Caribbean", "Best Overall Cruise Line" and
"Best Luxury Cruise Line" in the CLIA Cool Cruises Awards, "Best
Mainstream Cruise Company" eleven years in a row at the Travel
Weekly Globes, and "Cruise Line of the Year", "Best Family Cruise Line"
and "Best Digital or Web-based Platform (Club Royal)" in the inaugural
WAVE Awards.