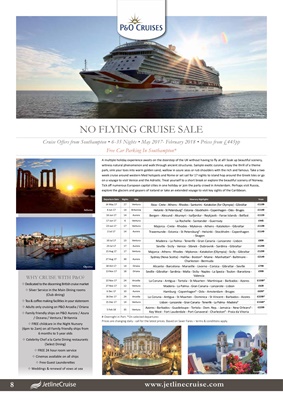 8
Departure Date Nights Ship Itinerary Highlights From
14 May 17 17 Ventura Ibiza - Crete - Athens - Rhodes - Santorini - Katakolon (for Olympia) - Gibraltar £1199
4 Jun 17 14 Britannia Helsinki - St Petersburg# - Estonia - Stockholm - Copenhagen - Oslo - Bruges £1149
16 Jun 17 14 Aurora Bergen - Alesund - Akureyri - Isafjordur - Reykjavik - Faroe Islands - Belfast £1159
17 Jun 17 6 Ventura La Rochelle - Santander - Guernsey £445
23 Jun 17 17 Ventura Majorca - Crete - Rhodes - Mykonos - Athens - Katakolon - Gibraltar £1199
2 Jul 17 14 Aurora Travemunde - Estonia - St Petersburg# - Helsinki - Stockholm - Copenhagen
- Skagen
£1149
10 Jul 17 13 Ventura Madeira - La Palma - Tenerife - Gran Canaria - Lanzarote - Lisbon £899
23 Jul 17 17 Aurora Seville - Sicily - Venice - Sibnek - Dubrovnik - Sardinia - Gibraltar £1299
15 Aug 17 17 Ventura Majorca - Athens - Rhodes - Mykonos - Katakolon (Olympia) - Sicily - Gibraltar £1299
27 Aug 17 30 Aurora
Sydney (Nova Scotia) - Halifax - Boston# - Maine - Manhattan# - Baltimore -
Charleston - Bermuda
£2149
30 Oct 17 14 Oriana Alicante - Barcelona - Marseille - Livorno - Corsica - Gibraltar - Seville £799
13 Nov 17 18 Oriana Seville - Gibraltar - Sardinia - Malta - Sicliy - Naples - La Spezia - Toulon - Barcelona -
Valencia
£999
22 Nov 17 24 Arcadia La Coruna - Antigua - Tortola - St Maarten - Martinique - Barbados - Azores £1599*
27 Nov 17 12 Ventura Madeira - La Palma - Gran Canaria - Lanzarote - Lisbon £639
6 Dec 17 10 Aurora Hamburg - Copenhagen# - Oslo - Amsterdam - Bruges £699*
16 Dec 17 24 Arcadia La Coruna - Antigua - St Maarten - Dominica - St Vincent - Barbados - Azores £2299*
21 Dec 17 14 Ventura Lisbon - Lanzarote - Gran Canaria - Tenerife - La Palma - Madeira# £1569*
5 Feb 18 35 Ventura Azores - Barbados - Guadeloupe - Tortola - Dom. Rep. - Jamaica - New Orleans# -
Key West - Fort Lauderdale - Port Canaveral - Charleston# - Praia da Vitoria
£2299
# Overnight in Port. *On selected departures
Prices are changing daily - call for the latest prices. Based on Saver Fares - terms & conditions apply.
NO FLYING CRUISE SALE
Cruise Offers from Southampton • 6-35 Nights • May 2017- February 2018 • Prices from £445pp
Free Car Parking In Southampton*
WHY CRUISE WITH P&O?
✥ Dedicated to the discerning British cruise market
✥ Silver Service in the Main Dining rooms
(Club dining)
✥ Tea & coffee making facilities in your stateroom
✥ Adults only cruising on P&O Arcadia / Oriana
✥ Family friendly ships on P&O Aurora / Azura
/ Oceana / Ventura / Britannia
✥ FREE childcare in the Night Nursery
(6pm to 2am) on all Family friendly ships from
6 months to 5 year olds
✥ Celebrity Chef a la Carte Dining restaurants
(Select Dining)
✥ FREE 24 hour room service
✥ Cinemas available on all ships
✥ Free Guest Launderettes
✥ Weddings & renewal of vows at sea
P&O Britannia
A multiple holiday experience awaits on the doorstep of the UK without having to fly at all! Soak up beautiful scenery,
witness natural phenomenon and walk through ancient structures. Sample exotic cuisine, enjoy the thrill of a theme
park, sink your toes into warm golden sand, wallow in azure seas or rub shoulders with the rich and famous. Take a two
week cruise around western Med hotspots and Rome or set sail for 17 nights to island hop around the Greek Isles or go
on a voyage to visit Venice and the Adriatic. Treat yourself to a short break or explore the beautiful scenery of Norway.
Tick off numerous European capital cities in one holiday or join the party crowd in Amsterdam. Perhaps visit Russia,
explore the glaciers and geysers of Iceland or take an extended voyage to visit key sights of the Caribbean.
Athens
Oporto
Santorini
Rome