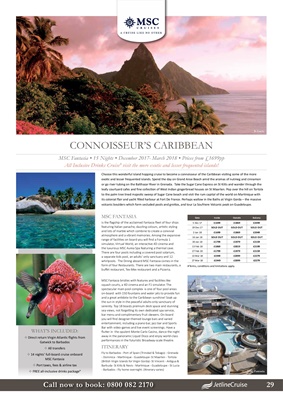 Call now to book: 0800 082 2170 29
MSC FANTASIA
is the flagship of the acclaimed Fantasia fleet of four ships
featuring Italian panache, dazzling colours, artistic styling
and lots of marble which combine to create a convivial
atmosphere and a vibrant memories. Among the expansive
range of facilities on board you will find a Formula 1
simulator, Virtual World, an interactive 4D cinema and
the luxurious MSC Aurea Spa featuring a thermal cave.
There are four pools including a covered pool solarium,
a separate kids pool, an adults' only sanctuary and 12
whirlpools. The Dining aboard MSC Fantasia comes in the
form of four Restaurants. There are two main restaurants, a
buffet restaurant, Tex-Mex restaurant and a Pizzeria.
MSC Fantasia bristles with features and facilities like
squash courts, a 4D cinema and an F1 simulator. The
spectacular main pool complex is one of four pool areas
on-board with 150 fountains and water jets to provide fun
and a great antidote to the Caribbean sunshine! Soak up
the sun in style in the peaceful adults-only sanctuary of
serenity. Top 18 boasts premium deck space and stunning
sea views, not forgetting its own dedicated spa service,
bar menu and complimentary fruit skewers. On-board
you will find designer-themed lounge bars and varied
entertainment, including a piano bar, jazz bar and Sports
Bar with video-games and live event screenings. Have a
flutter in the opulent Monte Carlo Casino, dance the night
away in the panoramic Liquid Disco and enjoy world-class
performances in the futuristic Broadway-scale theatre.
ITINERARY
Fly to Barbados - Port of Spain (Trinidad & Tobago) - Grenada
- Dominica - Martinique - Guadeloupe- St Maarten - Tortola
(British Virgin Islands for Virgin Gorda)- St Vincent - Antigua &
Barbuda- St Kitts & Nevis - Martinique - Guadeloupe - St Lucia
- Barbados - Fly home overnight. (Itinerary varies)
CONNOISSEUR'S CARIBBEAN
MSC Fantasia • 15 Nights • December 2017- March 2018 • Prices from £1699pp
All Inclusive Drinks Cruise# visit the more exotic and lesser frequented islands!
WHAT'S INCLUDED:
✥ Direct return Virgin Atlantic flights from
Gatwick to Barbados
✥ All transfers
✥ 14 nights' full-board cruise onboard
MSC Fantasia
✥ Port taxes, fees & airline tax
✥ FREE all-inclusive drinks package#
St Lucia
Choose this wonderful island hopping cruise to become a connoisseur of the Caribbean visiting some of the more
exotic and lesser frequented islands. Spend the day on Grand Anse Beach amid the aromas of nutmeg and cinnamon
or go river tubing on the Balthazar River in Grenada. Take the Sugar Cane Express on St Kitts and wander through the
leafy courtyard cafes and fine collection of West Indian gingerbread houses on St Maarten. Pop over the hill on Tortola
to the palm tree lined majestic sweep of Sugar Cane beach and visit the rum capital of the world on Martinique with
its colonial flair and yacht filled harbour at Fort De France. Perhaps wallow in the Baths at Virgin Gorda - the massive
volcanic boulders which form secluded pools and grottos, and tour La Soufriere Volcanic peak on Guadeloupe.
Virgin Gorda
MSC Fantasia
Date Inside Outside Balcony
5 Dec 17 £1699 £1869 £2049
19 Dec 17 SOLD OUT SOLD OUT SOLD OUT
2 Jan 18 £1699 £1869 £2049
16 Jan 18 SOLD OUT SOLD OUT SOLD OUT
30 Jan 18 £1799 £1979 £2159
13 Feb 18 £1869 £2019 £2199
27 Feb 18 £1799 £1979 £2159
13 Mar 18 £1949 £2099 £2279
27 Mar 18 £1949 £2099 £2279
#Terms, conditions and limitations apply.