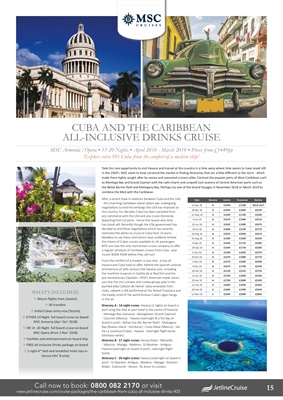 After a recent thaw in relations between Cuba and the USA
- this charming Caribbean island nation was undergoing
negotiations to end the embargo the USA has imposed on
this country. For decades Cuba has been excluded from
any commerce with the USA and any cruise itineraries
departing from US ports - hence the reason why time
has stood still. Recently though the USA government has
decided to end these negotiations which has severely
restricted the ability to cruise to Cuba from US ports.
Needless to say these restrictions have suddenly limited
the choice of Cuban cruises available to UK passengers.
MSC are now the only mainstream cruise company to offer
a regular schedule of Caribbean cruises from Cuba - year
round. BOOK NOW before they sell out!
From the comfort of a modern cruise ship - enjoy all
Havana and Cuba have to offer. Admire the Spanish colonial
architecture of 16th-century Old Havana core, including
the maritime museum in Castillo de la Real fort and the
pre-revolutionary Capitolio. 1950's American-made classic
cars line the city's streets and rumba groups play in the
painted alley Callejón de Hamel. Salsa emanates from
clubs, cabaret is still performed at the famed Tropicana and
the heady smell of the world famous Cuban cigars hangs
in the air.
Itinerary A - 14 night cruise: Havana (2 nights on board in
port using the ship as your hotel in the centre of Havana)
- Montego Bay (Jamaica) - Georgetown (Grand Cayman)
- Cozumel (Mexico) - Havana (overnight & a full day on
board in port) - Belize City (for Barrier Reef) - Mahogany
Bay (Roatan island - Honduras) - Costa Maya (Mexico) - Isla
De La Juventud (Cuba) - Havana - overnight flight home.
(Itinerary varies)
Itinerary B - 17 night cruise: Genoa (Italy) - Marseille
- Valencia - Malaga - Madeira - St Maarten - Antigua -
Havana (overnight on board in port) - overnight flight
home.
Itinerary C - 20 night cruise: Havana (overnight on board in
port) - St Maarten- Antigua - Madeira - Malaga - Alicante -
Malta - Dubrovnik - Venice - fly direct to London.
CUBA AND THE CARIBBEAN
ALL-INCLUSIVE DRINKS CRUISE
MSC Armonia /Opera • 15-20 Nights • April 2018 - March 2019 • Prices from £1449pp
Explore retro 50's Cuba from the comfort of a modern ship!
WHAT'S INCLUDED:
✥ Return flights from Gatwick
✥ All transfers
✥ Initial Cuban entry visa (Tarjeta)
✥ EITHER 14 Night full board cruise on-board
MSC Armonia (Apr'-Oct' 2018)
✥ OR 14 -20 Night full board cruise on-board
MSC Opera (from 2 Nov' 2018)
✥ Facilities and entertainment on-board ship
✥ FREE all-inclusive Drinks package on-board
✥ 1 night 4* bed-and-breakfast hotel stay in
Genoa (Itin' B only)
Take this rare opportunity to visit Havana and marvel at this country in a time warp where time seems to have stood still
in the 1950's. MSC seem to have cornered the market in finding itineraries that are a little different to the norm - which
make them highly sought after by novice and seasoned cruisers alike. Contrast the popular ports of West Caribbean such
as Montego Bay and Grand Cayman with the Latin charm and unspoilt lush scenery of Central American ports such as
the Belize Barrier Reef and Mahogany Bay. Perhaps try one of the Grand Voyages in November 2018 or March 2019 to
combine the Med with the Caribbean.
Date Itinerary Interior Oceanview Balcony
14 Apr 18 A £1499 £1769 SOLD OUT
28 Apr 18 A £1469 £1669 £2239
12 May 18 A £1499 £1769 £2589
9 Jun 18 A £1679 £1949 £2519
23 Jun 18 A £1639 £1899 £2479
28 Jul 18 A £1899 £2139 £2719
18 Aug 18 A £1819 £2049 £2619
25 Aug 18 A £1589 £1859 £2429
8 Sep 18 A £1449 £1719 £2289
29 Sep 18 A £1449 £1719 £2289
6 Oct 18 A £1589 £1819 £2379
20 Oct 18 A £1679 £1899 £2779
2 Nov 18 B £1579 £1699 £2499
4 Dec 18 A £1679 £1749 £2249
18 Dec 18 A £2139 £2219 £2729
15 Jan 19 A £1769 £1849 £2349
29 Jan 19 A £1769 £1849 £2349
12 Feb 19 A £1869 £1939 £2349
26 Feb 19 A £1869 £1939 £2349
12 Mar 19 C £1969 £2099 £2869 15
Call now to book: 0800 082 2170 or visit
www.jetlinecruise.com/cruise-packages/the-caribbean-from-cuba-all-inclusive-drinks-403