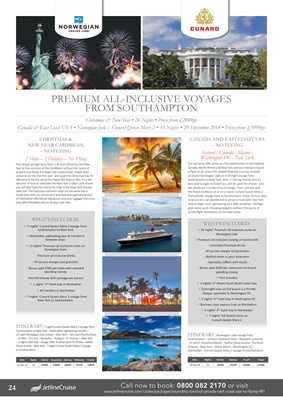 PREMIUM ALL-INCLUSIVE VOYAGES
FROM SOUTHAMPTON
Christmas & New Year • 26 Nights • Prices from £2849pp
Canada & East Coast USA • Norwegian Jade / Cunard Queen Mary 2 • 33 Nights • 29 September 2018 • Prices from £3999pp
CANADA AND EAST COAST USA
- NO FLYING
Iceland - Canada - Miami -
Washington DC - New York
Our exclusive offer gives you the opportunity to visit Iceland,
Canada, North America & New York without having to board
a flight at all. Enjoy the relaxed freestyle cruising concept
on-board Norwegian Jade on a 16 night voyage from
Southampton to New York. With 17 dining choices and 15
bars and lounges on board you will be spoilt for choice - plus
the drinks are included free of charge. Then contrast with
the finest traditions at se on a classic Cunard Queen Mary 2
Transatlantic voyage back to Southampton. Enjoy 25 hour days
at sea as you sail westbound to arrive in tune with new York
time to begin your sightseeing tour after breakfast. Perhaps
grab some quick shopping bargains without the worry of
airline flight restrictions on the way home.
WHAT'S INCLUDED:
✥ 16 nights' Premium all-inclusive cruise on
Norwegian Jade
✥ Premium all-inclusive cruising on-board with:
- Unlimited Premium drinks
- All service charges and gratuities
- Bottled water in your stateroom
- Speciality coffees with meals
- Bonus upto $500 per stateroom on-board
spending money
✥ Port transfers
✥ 4 nights' 4* Miami South Beach hotel stay
✥ Overnight train on full board in a Private
Sleeper roomette to Washington DC
✥ 2 nights' 4* hotel stay in Washington DC
✥ Business class express train to Manhattan
✥ 3 nights' 4* hotel stay in Manhattan
✥ 7 nights' full-board cruise on
Cunard Queen Mary 2
ITINERARY: Norwegian Jade voyage from
Southampton - Lerwick (Shetland Isles) - Reykjavik (Iceland)
- St John's (Newfoundland) - Halifax (Nova Scotia) - Portland
(Maine) - New York - Miami Beach - Washington DC -
Manhattan - Cunard Queen Mary 2 voyage to Southampton.
CHRISTMAS &
NEW YEAR CARIBBEAN
- NO FLYING
2 Ships - 1 Holiday - No Flying
Plan ahead and get away from it all over Christmas and New
Year to the sunshine of the Caribbean without the hassle of
airports and flying. Put down the turkey baster, forget what
colour to do the tree this year and avoid the Christmas Day TV
dilemma of Strictly versus the latest 007 feature film. Plus the
decision of how to celebrate the New Year is taken care of and
you will also have the chance to shop in the New York January
sales too. The transition between ships on the same day is
made easy with our convenient and exclusive sightseeing tour
of Manhattan effortlessly taking you and your luggage from one
ship after breakfast and on to your next ship.
WHAT'S INCLUDED:
✥ 7 nights' Cunard Queen Mary 2 voyage from
Southampton to New York
✥ Manhattan sightseeing tour & transfer in
between ships
✥ 11 nights' Premium all-inclusive cruise on
Norwegian Gem
- Premium all-inclusive drinks
- All service charges and gratuities
- Bonus upto $500 per stateroom onboard
spending money
-Free 60 miniute WiFi package per person
✥ 1 nights' 4* hotel stay in Manhattan
✥ All transfers in Manhattan
✥ 7 nights' Cunard Queen Mary 2 voyage from
New York to Southampton
ITINERARY: 7 night Cunard Queen Mary 2 voyage from
Southampton to New York - Manhattan sightseeing transfer -
11 night Norwegian Gem cruise - New York - San Juan (Puerto Rico)
- St Kitts - St Lucia - Barbados - Antigua - St Thomas - New York
- 1 night hotel stay - voyage from Southampton to Azores- Halifax
(Nova Scotia) - New York - 7 night Cunard Queen Mary 2 voyage
to Southampton
Date Nights Interior Oceanview Balcony Minisuite H.Suite
15 Dec 18 26 £2849 £3069 £3669 £5219 £9839
Date Nights Interior Balcony Pr grill Single
29 Sep 18 33 £3999 £5379 £6269 £7399
24 Call now to book: 0800 082 2170 or visit
www.jetlinecruise.com/cruise-packages/roundtrip-iceland-canada-east-coast-usa-no-flying-481