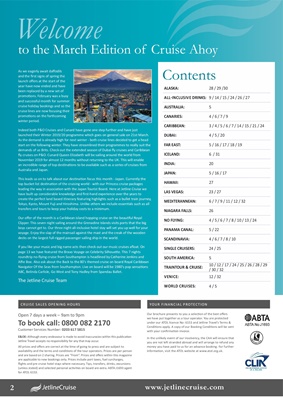 Open 7 days a week - 9am to 9pm
To book call: 0800 082 2170
Customer Services Number: 0203 617 5815
E&OE: Although every endeavour is made to avoid inaccuracies within this publication
Jetline Travel accepts no responsibility for any that may occur.
All prices and offers are correct at the time of going to press and are subject to
availability and the terms and conditions of the tour operators. Prices are per person
and are based on 2 sharing. Prices are "From". Prices and offers within this magazine
are applicable to new bookings only. Prices include port taxes, fuel surcharges,
flights and pre cruise hotel stays where necessary. Tips, transfers, drinks, excursions
(unless stated) and selected personal activities on board are extra. ABTA J1693 agent
for ATOL 6153.
CRUISE SALES OPENING HOURS
Our brochure presents to you a selection of the best offers
we have put together as a tour operator. You are protected
under our ATOL licence No: 6153 and Jetline Travel's Terms &
Conditions apply. A copy of our Booking Conditions will be sent
with your confirmation invoice.
In the unlikely event of our insolvency, the CAA will ensure that
you are not left stranded abroad and will arrange to refund any
money you have paid to us for an advance booking. For further
information, visit the ATOL website at www.atol.org.uk.
YOUR FINANCIAL PROTECTION
ALASKA: 28 / 29 /30
ALL-INCLUSIVE DRINKS: 9 / 14 / 15 / 24 / 26 / 27
AUSTRALIA: 5
CANARIES: 4 / 6 / 7 / 9
CARIBBEAN: 3 / 4 / 5 / 6 / 7 / 14 / 15 / 21 / 24
DUBAI: 4 / 5 / 20
FAR EAST: 5 / 16 / 17 / 18 / 19
ICELAND: 6 / 31
INDIA: 20
JAPAN: 5 / 16 / 17
HAWAII: 27
LAS VEGAS: 23 / 27
MEDITERANNEAN: 6 / 7 / 9 / 11 / 12 / 32
NIAGARA FALLS: 26
NO FLYING: 4 / 5 / 6 / 7 / 8 / 10 / 13 / 24
PANAMA CANAL: 5 / 22
SCANDINAVIA: 4 / 6 / 7 / 8 / 10
SINGLE CRUISERS: 24 / 25
SOUTH AMERICA: 5
TRAINTOUR & CRUISE:
10 / 12 / 17 / 24 / 25 / 26 / 28 / 29
/ 30 / 32
VENICE: 12 / 32
WORLD CRUISES: 4 / 5
Contents
As we eagerly await daffodils
and the first signs of spring the
launch offers at the start of the
year have now ended and have
been replaced by a new set of
promotions. February was a busy
and successful month for summer
cruise holiday bookings and so the
cruise lines are now focusing their
promotions on the forthcoming
winter period.
Indeed both P&O Cruises and Cunard have gone one step further and have just
launched their Winter 2019/20 programme which goes on general sale on 21st March.
As the demand is already high for next winter - both cruise lines decided to get a head
start on the following winter. They have streamlined their programmes to really suit the
demands of us Brits. Check out the extended season of Dubai fly cruises and Caribbean
fly cruises on P&O. Cunard Queen Elizabeth will be sailing around the world from
November 2019 for almost 12 months without returning to the UK. This will enable
an incredible range of top destinations to be available such as a series of cruises from
Australia and Japan.
This leads us on to talk about our destination focus this month - Japan. Currently the
top bucket list destination of the cruising world - with our Princess cruise packages
leading the way in association with the Japan Tourist Board. Here at Jetline Cruise we
have built up considerable knowledge and first-hand experience over the years to
create the perfect land based itinerary featuring highlights such as a bullet train journey,
Tokyo, Kyoto, Mount Fuji and Hiroshima. Unlike others we include essentials such as all
transfers and tours to keep your holiday costs to a minimum.
Our offer of the month is a Caribbean island hopping cruise on the beautiful Royal
Clipper. This seven night sailing around the Grenadine Islands visits ports that the big
boys cannot get to. Our three night all-inclusive hotel stay will set you up well for your
voyage. Enjoy the slap of the mainsail against the mast and the creak of the wooden
decks on the largest full-rigged passenger sailing ship in the world.
If you like your music and big name acts then check out our music cruises afloat. On
page 13 we have featured the Bravo Voyage on Celebrity Silhouette. This 7 nights
roundtrip no-flying cruise from Southampton is headlined by Catherine Jenkins and
Alfie Boe. Also ask about the Back to the 80's themed cruise on board Royal Caribbean
Navigator Of the Seas from Southampton. Live on board will be 1980's pop sensations
ABC, Belinda Carlisle, Go West and Tony Hadley from Spandau Ballet.
The Jetline Cruise Team
Welcome to the March Edition of Cruise Ahoy