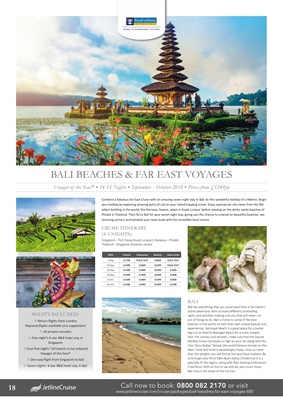 BALI BEACHES & FAR EAST VOYAGES
Voyager of the Seas® • 14-15 Nights • September - October 2018 • Prices from £1249pp
WHAT'S INCLUDED:
✥ Return flights from London
Regional flights available at a supplement
✥ All private transfers
✥ One night's 4-star B&B hotel stay in
Singapore
✥ Four-five nights' full-board cruise onboard
Voyager of the Seas®
✥ One way flight from Singapore to Bali
✥ Seven nights' 4-star B&B hotel stay in Bali
Combine a fabulous Far East Cruise with an amazing seven night stay in Bali on this wonderful holiday of a lifetime. Begin
your holiday by exploring amazing ports of call on your island hopping cruise. Enjoy spectacular city views from the 8th
tallest building in the world, the Petronas Towers, when in Kuala Lumpur before relaxing on the white sandy beaches of
Phuket in Thailand. Then fly to Bali for your seven night stay, giving you the chance to unwind on beautiful beaches, see
stunning scenery and tantalise your taste buds with the incredible local cuisine.
BALI
Bali has everything that you could want from a Far Eastern
island adventure, with so many different contrasting
sights and activities making sure you that will never run
out of things to do. Bali is home to some of the best
beaches in the world, all with their own unique beauty and
experiences. Seminyak Beach is a great place for a livelier
day out or head to Balangan Beach for a more relaxed
vibe. For scenery and temples, make sure that the Sacred
Monkey Forest Sanctuary is high on your list along with the
Ulun Danu Bratan Temple (the world famous temple on the
lake). Food and drink is exceedingly cheap, none so more
than the delights you will find at the local food markets. Be
sure to get your fill of Sate Ayam (Satay Chicken) as it is a
specialty of the region, along with Nasi Goreng (Indonesian
Fried Rice). With all this to see and do, plus much more,
Bali truly is the Jewel of the Far East.
CRUISE ITINERARY
(4-5 NIGHTS):
Singapore - Port Klang (Kuala Lumpur), Malaysia - Phuket,
Thailand - Singapore (itinerary varies)
2018 Interior Oceanview Balcony Junior-Suite
7 Sep £1729 SOLD OUT £1839 SOLD OUT
15 Sep £1499 £1669 £1699 SOLD OUT
22 Sep £1429 £1499 £1599 £1829
29 Sep £1439 £1499 £1649 £1849
6 Oct £1429 £1469 £1599 £1829
16 Oct £1249 £1369 £1499 £1699
18 Call now to book: 0800 082 2170 or visit
www.jetlinecruise.com/cruise-packages/bali-beaches-far-east-voyages-600