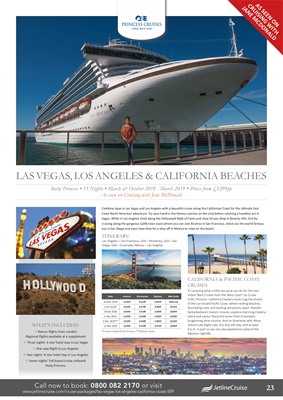 ITINERARY:
Los Angeles - San Francisco, USA - Monterey, USA - San
Diego, USA - Ensenada, Mexico - Los Angeles
Date Interior Oceanview Balcony Mini-Suite
26 Mar 2018 £1429 £1529 £1659 Sold out
1 Oct 2018* £1649 £1749 £1899 £2229
29 Oct 2018 £1449 £1549 £1699 £2049
5 Nov 2018 £1299 £1499 £1639 £1989
5 Mar 2019** £1599 £1689 £1849 £2169
12 Mar 2019 £1499 £1599 £1749 £2069
*Cruise is onboard Star Princess. **Itinerary varies.
LAS VEGAS, LOS ANGELES & CALIFORNIA BEACHES
Ruby Princess • 13 Nights • March & October 2018 - March 2019 • Prices from £1299pp
As seen on Cruising with Jane McDonald
WHAT'S INCLUDED:
✥ Return flights from London
Regional flights available at a supplement
✥ Three nights' 4-star hotel stay in Las Vegas
✥ One way flight to Los Angeles
✥ Two nights' 4-star hotel stay in Los Angeles
✥ Seven nights' full-board cruise onboard
Ruby Princess
Combine stays in Las Vegas and Los Angeles with a beautiful cruise along the Californian Coast for the ultimate East
Coast North American adventure. Try your hand in the famous casinos on the strip before catching a headline act in
Vegas. While in Los Angeles stroll along the Hollywood Walk of Fame and shop-til-you-drop in Beverly Hills. End by
cruising along the gorgeous Californian coast where you can visit Alcatraz in San Francisco, check out the world famous
zoo in San Diego and even have time for a stop off in Mexico to relax on the beach.
CALIFORNIA & PACIFIC COAST
CRUISES
It's amazing what a little sea spray can do for the soul.
Voted "Best Cruises from the West Coast" by Cruise
Critic, Princess' California Coastal cruises hug the shores
of the sun-kissed Pacific Coast, where inviting beaches,
fascinating cities and exciting attractions await. Wander
Santa Barbara's historic mission, explore charming Catalina
Island and savour flavourful wines from Ensenada's
burgeoning wine country. And on itineraries with More
Ashore Late Night calls, the ship will stay until at least
9 p.m. in port so you can also experience some of the
fabulous nightlife.
AS SEEN ON
CRUISING WITH
JANE MCDONALD
23
Call now to book: 0800 082 2170 or visit
www.jetlinecruise.com/cruise-packages/las-vegas-los-angeles-california-coast-509