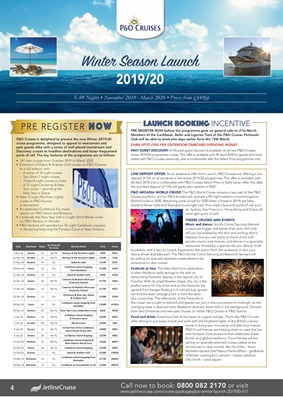 Winter Season Launch
2019/20
P&O Cruises is delighted to present the new Winter 2019/20
cruise programme, designed to appeal to newcomers and
past guests alike with a series of well placed mainstream and
Discovery cruises to headline destinations and lesser frequented
ports of call. The key features of the programme are as follows:
• 181 new cruises from October 2019 to March 2020
• Extension of Dubai & Arabian Gulf cruises on P&O Oceana
to a full season, with:
- A series of 10 night cruises
- Two Short 7 night cruises
- Three14 night cruises to India
- A 12 night Christmas & New
Year cruise - spending the
New Year in Dubai
• New 12 night Northern Lights
cruise on P&O Aurora
in November
• An extended Caribbean Fly cruise
season on P&O Azura and Britannia
• Celebrate the New Year with a 5 night Short Break cruise
on P&O Ventura or Arcadia
• P&O Ventura will operate two 35 night Caribbean voyages
in the spring featuring the Panama Canal or New Orleans
LAUNCH BOOKING INCENTIVE
PRE REGISTER NOW before the programme goes on general sale on 21st March.
Members of the Caribbean, Baltic and Ligurian Tiers of the P&O Cruises Peninsula
Club will be able to book two days earlier form the 19th March.
EARN UPTO £950 PER STATEROOM ONBOARD SPENDING MONEY.
PAST GUEST DISCOUNT: A 5% past guest discount is available on all new P&O Cruises
winter 2019/20 programme cruises. This offer is available until 30 April 2018 for guests who have
sailed with P&O Cruises previously, and is combinable with the Select Price programme only.
LOW DEPOSIT OFFER: As an additional offer from Launch, P&O Cruises are offering a low
deposit of 5% on all products in the winter 2019/20 programme. This offer is available until
30 April 2018 and is combinable with P&O Cruises Select Price or Early Saver. After this date
the standard deposit of 15% will apply (also applies to RWC
P&O ARCADIA WORLD CRUISE The P&O World Cruise remains a key part of the P&O
Cruises portfolio, and so P&O Arcadia will operate a 99 night western circumnavigation
World Cruise in 2020. Returning ports of call for 2020 (after a break in 2019) are New
Zealand (three calls) and Shanghai (overnight call). Plus classic favourite ports of call such
as: Sydney, San Francisco, Hong Kong and Dubai (all
overnight ports of call).
THEME CRUISES AND EVENTS
Music and dance: Strictly Come Dancing themed
cruises are bigger and better than ever. Not only
will you be wowed by the slick and sizzling dance
displays, but you can enjoy so much more with
private one-to-one lessons, and dinner in a speciality
restaurant hosted by a spectacular pro dancer, both
bookable, with a fee, on board. Experience the action from the audience or don your
dance shoes and take part. The P&O Strictly Come Dancing professional dancers will
be sailing on specially selected cruises (dates to be
announced in due course).
Festivals at Sea: The New Year's Eve celebration
is when Madeira really springs to life with an
astounding fireworks display in the capital city of
Funchal. With its amphitheatre shape, the city is the
perfect arena for the show and as the fireworks are
ignited from barges floating in Funchal's bay, guests
will find the best vantage point is from the deck
of a cruise ship. The reflections of the fireworks in
the ocean are a sight to behold and guests can join in the countdown to midnight as the
changing date is beamed onto Madeira's dramatic black hills in the background. Choose
from two Christmas and new year cruises on either P&O Oriana or P&O Aurora.
Food and drink: Great food lies at the heart of a great holiday. That's why P&O Cruises
offer dining to suit every mood and work with the brightest lights of the British culinary
scene to bring you innovative and delicious menus.
P&O Food Heroes are helping them to raise the bar
with fantastic food and wine that celebrates Great
British and global traditions. Food Heroes will be
sailing on specially selected cruises (dates to be
announced in due course). Atul Kochhar - twice
Michelin-starred chef Marco Pierre White - godfather
of British cooking Eric Lanlard - master pâtissier
Olly Smith - wine expert.
5-99 Nights • November 2019 - March 2020 • Prices from £649pp
Date Ship Name Nights No Flying OR
Fly Cruise
Itinerary Name From Cruise
3 Nov 19 Aurora 12 No Fly Norway & the Northern Lights £999 R921
26 Nov 19 Arcadia 12 No Fly Norway & the Northern Lights £1049 J918
27 Nov 19 Oceana 14 Fly Dubai & India £1549 E927
29 Nov 19 Azura 14 Fly
Caribbean island Hopping
from Barbados
£1399 A930
11 Dec 19 Oceana 10 Fly Dubai & Arabian Gulf £999 E928
21 Dec 19 Oriana 16 No Fly
Canaries & Madeira New year
Fireworks festival
£1759 X926
21 Dec 19 Oriana 14 No Fly
Canaries & Madeira New year
Fireworks festival
£1729 R927
21 Dec 19 Oceana 12 Fly
Christmas & New Yea: Dubai
& Arabian Gulf
£1999 E929
28 Dec 19 Azura 14 Fly
Caribbean island Hopping from
Barbados
£1699 A932A
29 Dec 19 Ventura 05 No Fly New Year's Eve celebration cruise £649 N938
3 Jan 20 Ventura 35 No Fly
Caribbean island Hopping
& Panama Canal
£2499 N001
3 Jan 20 Arcadia 99 No Fly World Cruise £9999 J001
4 Jan 20 Aurora 55 No Fly
Grand Tour of the Caribbean,
New Orleans & the USA
£4899 R001
6 Jan 20 Oriana 28 No Fly Caribbean Island Hopping £2299 X001
11 Feb 20 Ventura 35 No Fly
Caribbean island Hopping &
New Orleans Mardi Gras
£2849 N003
15 Feb 20 Oriana 28 No Fly Caribbean island Hopping £2399 X003
15 Feb 20 Oceana 7 Fly Dubai & Arabian Gulf £1099 E005N
14 Mar 19 Britannia 14 Fly
Caribbean island Hopping from
Barbados
£1799 B006A
28 Mar 20 Britannia 13 Fly Caribbean & Transatlantic to UK £1049 B007A
PRE REGISTER NOW
4 Call now to book: 0800 082 2170 or visit
www.jetlinecruise.com/cruise-packages/po-winter-launch-201920-611