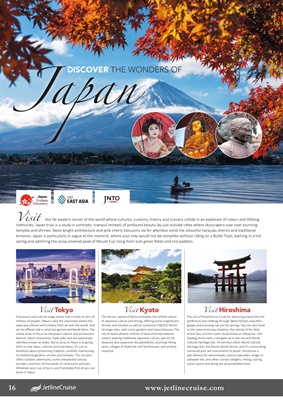 Visit Tokyo
A business and cultural mega centre that's home to tens of
millions of people, Tokyo is also the crossroads where the
Japanese interact with citizens from all over the world. And
yet its offbeat side is what has gained worldwide fame. The
media loves to focus on Harajuku's vibrant and evanescent
fashion, robot restaurants, maid cafes and the passionate
uberfans known as otaku. But as busy as Tokyo is at giving
birth to new ideas, cultures and inventions, it's just as
fastidious about preserving tradition, carefully maintaining
its traditional gardens, shrines and temples. The city also
offers outdoor adventures, some unexpected natural
wonders, and tens of thousands of restaurants and bars.
Whatever your cup of tea is, you'll probably find all you can
drink in Tokyo.
Visit Kyoto
The former capital of Kyoto embodies the refined nature
of Japanese culture and dining, offering many magnificent
shrines and temples as well as numerous UNESCO World
Heritage sites, with iconic gardens and natural beauty. The
city of Kyoto attracts millions of local and international
visitors seeking traditional Japanese culture, yet not far
away are also expansive tea plantations, stunning hiking
spots, villages of thatched-roof farmhouses, and pristine
coastline.
Visit Hiroshima
The city of Hiroshima is a hub for venturing inland into the
prefecture and trekking through dense forests, beautiful
gorges and enjoying natural hot springs. You can also head
to the coast and enjoy beaches, the islands of the Seto
Inland Sea, and the iconic Itsukushima on Miyajima-the
floating shrine with a red gate set in the sea and World
Cultural Heritage Site. Hiroshima's other World Cultural
Heritage Site, the Atomic Bomb Dome, and it's surrounding
memorial park are monuments to peace. Hiroshima is
also famous for okonomiyaki, savoury pancakes, anago or
saltwater eel, and other culinary delights. Hiking, cycling,
ocean sports and skiing are all possibilities here.
DISCOVER THE WONDERS OF
Visit this far eastern corner of the world where cultures, customs, history and scenery collide in an explosion of colour and lifelong
memories. Japan truly is a study in contrasts: tranquil retreats of profound beauty lay just outside cities where skyscrapers soar over stunning
temples and shrines. Neon-bright architecture and pink cherry blossoms vie for attention amid the colourful Harajuku district and traditional
kimonos. Japan is particularly in vogue at the moment, where your stay would not be complete without riding on a Bullet Train, bathing in a hot
spring and admiring the snow covered peak of Mount Fuji rising from lush green fields and rice paddies.
Japan